What a start this season by the Halifax Mooseheads and their all-star forward Nathan MacKinnon! After 13 games, the team from Nova-Scotia is boasting an impressive 12-1 record along with a +32 goal differential (66 GFs and 34 GAs). This impressive record ranks them first overall in the QMJHL with 24 points, four points in front of the Quebec Remparts and the Blainville-Boisbriand Armada with 20 points apiece.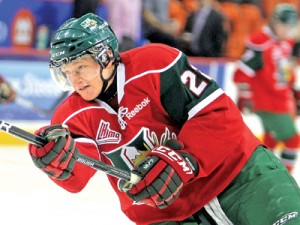 The star-studded Mooseheads are led by über-talented forward Nathan MacKinnon who is having a dream season so far with 15 goals and 9 assists for 24 points in a mere 13 contests. These numbers rank MacKinnon fourth in the QMJHL scoring race only behind Jean-Sebastien Dea, Sven Andrighetto and Phillip Danault. The Cole Harbour native, who had his most productive week this season, collecting four goals and six points, was named the TELUS offensive star of the week on Monday.
The Mooseheads have won ten straight behind MacKinnon, who is on a seven-game goal-scoring streak and a nine-game point-scoring streak (18 points). As a result, top prospect Nathan MacKinnon highlights the team the QMJHL will use for its games against Team Russia in the 2012 Subway Super Series.
Considered by many scouts as a lock to be the first or second player picked in the 2013 NHL Draft, MacKinnon is one of four players who earned "A" ratings in Central Scouting's preliminary rankings of players to watch for the 2013 NHL Entry Draft who will play for Team Quebec in early November (Nov. 5 and 7). Two of the players are MacKinnon's teammates in Halifax, netminder Zachary Fucale and left winger Jonathan Drouin (albeit currently injured), as well as Cape Breton Screaming Eagles centre William Carrier. After the games against Team Quebec, Team Russia will play two games against Team OHL (Nov. 8 and 12) and Team WHL (Nov. 14-15).
With a 5.07 goals-per-game average, the Mooseheads aren't relying only on MacKinnon to score goals. They can count on Stefan Fournier (6-10-16 pts in 12 gms), Luca Campini (9-6-15 pts in 12 gms), Matthew Boudreau (9-6-15 pts in 13 gms), and highly-regarded prospect Jonathan Drouin (5-10-15 pts in only 7 gms). Defenseman Konrad Abelshauser is also contributing offensively with 15 points in 13 games.
The 5'11", 180-lb centre is almost a perfect clone of fellow Nova Scotian Sidney "The Kid" Crosby, in that he has dominated at every level where he played and he could very well end up being the first overall draft pick in June 2013 like Crosby was in 2005. Both players attended the hockey factory that is Shattuck-St. Mary's prep school in Minnesota and both players were also drafted first overall in the QMJHL.
With the NHL lock-out currently casting a gloomy shadow over hockey fans, MacKinnon's emergence and continued progress has become one of the good-news stories in the sport of hockey so far this season. The 17 year-old excels on face-offs, is not afraid to drive the net and skate in heavy traffic to create scoring chances, and is blessed with above-average hockey acumen. He is also very strong on the puck, holds off defenders with his strength and his first few steps are explosive, giving him tremendous speed.
In his first season with the Mooseheads, MacKinnon recorded 31 goals and 47 assists for 78 points in 58 games, still a far outcry from Cosby's rookie-season production of 135 points (54 g-81 a) in 59 contests with the Rimouski Oceanic back in 2003-04. Crosby followed with a spectacular season of 168 points (66 g-102 a) in 62 games during his second and last year in the QMJHL. With 24 points in 13 games this season, MacKinnon is currently on pace for a little more than 125 points in 2012-13 (he will likely miss some games around Christmas as he will play for Team Canada at the World Junior Championship), which is still a fairly good offensive production despite the 43-point difference with Crosby's draft year.
While Crosby and MacKinnon are not close friends, they skated together on a regular basis in Halifax last summer which helped MacKinnon learn a lot from the Pittsburgh Penguins' captain. Among other things, he learned how to handle the spotlight, talk to the media and give his maximum effort every shift despite the rigour of the long QMJHL season, the long-distance travel from the Maritimes and the studies while playing hockey and practising.
Should the NHL season be wiped out entirely, it will be interesting to see what happens at the 2013 NHL Entry Draft. Will a lottery be used as in 2005 when Crosby was drafted by the Penguins?