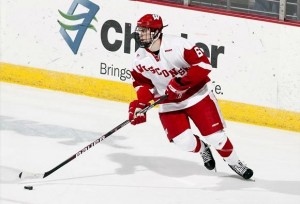 One of the biggest dramas surrounding the NHL this past summer involved a player who had never actually played a National Hockey League game. NCAA defenceman Justin Schultz was the target of many an NHL team, and for such an unproven commodity, teams went to great lengths to try and woo him. Originally drafted by Anaheim in 2008, Schultz became a free agent in the off-season after refusing to sign a contract with the Ducks. The reasons for that still aren't totally clear, and the Ducks were understandably miffed, but the choice was made. Schultz was free to pick where he would start his NHL career, and there was no shortage in options.
The Toronto Maple Leafs were thought to be one of the front runners for Schultz's services, but in the end, they didn't have the horses to get to the deal done. And by horses, I mean one of the greatest players ever to put on skates. The Edmonton Oilers needed a top blueliner, and had Schultz on their radar. And what better way to try and get a player to sign than to have Wayne Gretzky call him on the phone. The Oilers were already on Schultz's list, and while a chat with the Great One wasn't necessarily the difference, it certainly helped.
Schultz signed with the Oilers, and fans are eagerly waiting his NHL debut. They may have to wait a long time, with the state of the current CBA negotiations  But one cities loss is another cities gain. Schultz was assigned to the Oklahoma City Barons, the Oilers' AHL affiliate. And so far, so good. Schultz has been tearing up the AHL, clearly far better than many of his opponents. Through four games, the defenceman leads the Barons with four goals and six points. He has 17 shots on goal and is a plus-six. His coaches are continually impressed with high hockey IQ and ability to adjust to all situations.
The Barons are 2-2 on the season despite having NHL talent on their roster. Jordan Eberle has just one goal on the year and Ryan Nugent-Hopkins has yet to light the lamp. But it's only been four games, and all of the attention seems to be on the 22-year old from Kelowna. Schultz has already been getting comparisons to Los Angeles Kings d-man Drew Doughty because of his strong two-way play. That may be a little premature, but it's clear that Schultz is NHL-ready, and has the chance to make an impact on the big stage. The Edmonton Oilers and their fans are hoping that they don't have to wait till next season to see it happen.