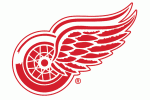 Few things are as frustrating as seeking out news, attention and acknowledgment, and coming up with nothing.  Silence isn't deafening, it's deadening.  Hockey fans have become familiar with this feeling.  This staleness is what made the sentimental Tweeting this morning from Yahoo! NHL writer, Nick Cotsonika, a welcomed gesture:
Just spent an hour with Sergei Fedorov, now the GM of CSKA Moscow. He said to say hello to Detroit, where he still has a place.
One cool detail for Detroiters: Fedorov has a picture in his office of him, his family and the Ilitches the night he won the Hart Trophy.
Fedorov is gone.  He has not been a Red Wing since 2003.  Letting go of things, and people, is not easy for some of us, and no Red Wing was harder to lose than 91.  And in case the name "Lidstrom" comes to mind, we didn't lose Nick.  We had him until the end.  Not so with Sergei.
Red Wings announcer Ken Daniels called the Grand Rapids Griffins game on friday night.  He assured fans that we would have a season, most likely starting in December.
Until then, Tweets and highlights will have to make do.  I thought this one was worth mentioning.
Go Wings.