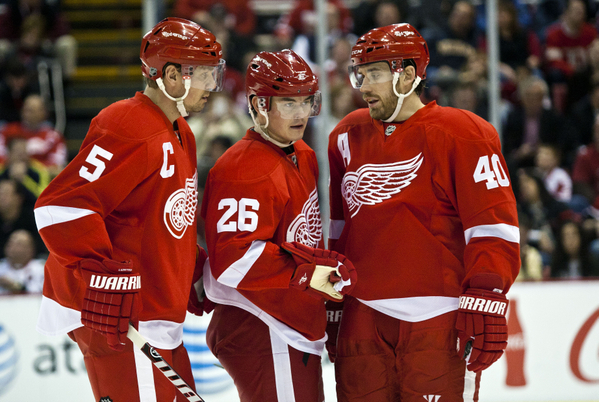 Many adjectives have been used to describe the Detroit Red Wings off-season disastrous, disappointing, sub-par  unproductive, ineffective, fruitless – the list can go on and on. For such a storied franchise that always seems to be the talk of the NHL in terms of getting it right they seemed to have done a 180 and been painted by many commentators in the hockey world as one of the losers  this past off season. Writers and bloggers have proclaimed doom and gloom for the upcoming season (lockout pending); however I have a different outlook. Disappointing? Ineffective? I say smart, competitive and overall a success!
"[T]he Wings clearly regressed over the summer. Their 21-year playoff streak is in jeopardy. GRADE: D"

Read more: Western Conference Grades
If I listen closely enough I can almost hear the "Oh come on" you most likely scoffed – but hear me out. The main argument people use when sentencing the Wings off season is that they did not land a big fish free agent like Ryan Suter or Zach Parise. While many see this as defeat it should be recognized as a blessing in disguise. Both players signed astronomical contracts that would financially inhibit a team for years to come. Their identical 13 year 98 million dollar contracts will have annual cap hits of 7.5 million. While I admit I was happy to hear the Wings brass did heavily court Suter and Parise during the off season I think a retrospective look by their office would tend to agree that it is better that they weren't able to close the deal. I think we all can agree that this year's free agent crop was thin at best, and just like basic economics teaches us when supply is low the prices go up – or skyrocket as was the case for free agents this off season. Just look at the contract the Vancouver Canucks gave Jason Garrison, six years $27.6 million. Is it worth it? Are they worth it?  The Wings were ultimately successful by failing to sign two overpriced free agents. Yes, they are elite talents in the NHL but they are also overpaid talent with long contracts attached to them.
Quoted from Mlive:
"A Red Wings' contingent that included owner Mike Ilitch, general manager Ken Holland and advisor Chris Chelios flew to Madison Tuesday on Ilitch's private plane to make a pitch to Suter in person."
On top of dodging a bullet with the big name free agents, the Red Wings were also successful in signing many key free agents. They may not have garnered the attention or contracts of Suter or Parise but what they do offer is a solid competitive line-up. Let's take a look at each one individually: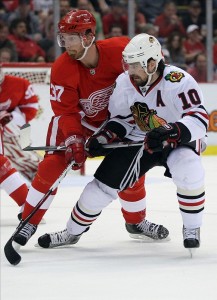 Mikael Samuelsson
Samuelsson is no stranger to Red Wings fans having played in Detroit for four seasons and amassing 159 points in 278 games (67G, 92A). From 2009 to 2012 Samuelsson split time between Vancouver and Florida playing in 203 games and scoring 62 goals and adding 72 assists for a total of 134 points.
What stands out to me about Samuelsson is that he is a right-handed shot, something the Red Wings don't have too many of. He also has decent size (6 foot 2, 218lbs) so he is harder to knock off the puck. Samuelsson's best quality for the Wings is his love of shooting the puck. If you don't put pucks on net you will not score, plain and simple. I know it is a cliché but it is true. In the past many Wings players were guilty of passing the puck rather than shooting it on net. I believe Samuelsson will help to balance this and the end result will be more goals for the Wings.
Jordin Tootoo
Jordin Tootoo was not signed specifically for offensive production however he does bring a little with him. The reason the Wings signed him is for his physical presence and his ability to agitate opponents and keep the so called flies off the star players. Tootoo's physicality and ability to fight will allow a player like Bertuzzi to focus on playing the game rather than standing up for teammates. At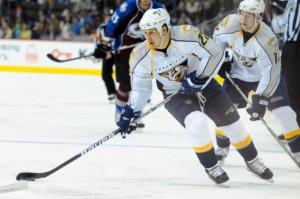 age 37 Bertuzzi's energy would be better spent on offense rather than fisticuffs. Other teams will think twice about abusing the Wings stars like Datsyuk and Zetterberg because Tootoo will be ready and willing to make them pay.
The Wings like toughness but they do not like to sacrifice skill for physicality. Detroit always wants every player to be able to contribute offensively. Tootoo comes from a defence first team in Nashville where he played 77 games in 2011/12. Tootoo contributed 6 goals and 24 assists for a total of 30 points. No doubt Tootoo will have to get accustomed to the Wings puck possession style of play, but once he does I can see his offensive numbers increasing. However if Tootoo brings a physical edge to the wings and can chip in 30-40 points a season he would be well worth the $1.9M cap hit.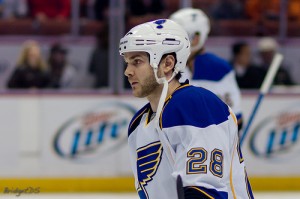 Carlo Colaiacovo
No one can deny the Wings defence is going to look drastically different this year without "the perfect human" donning the number 5 jersey on the backend. Carlo Colaiacovo will not replace Lidstrom nor is he expected too. A player of Lidstrom's caliber is a rarity and the Wings management know that as well as anyone. Wings fans should not look at Colaiacovo's signing that way because the moment they do people will want him benched or traded. Colaiacovo was brought in for leadership, experience, and insurance. The Wings defence is much younger with the loss of Lidstrom and Stuart; however there is a positive in that. The Wings can give youngsters Smith and Kindl a chance to shine. The new NHL is full of young superstars and for the Wings this is a chance to see if they have one of their own.
However, with young players you always get growing pains and Colaiacovo will help ease those pains. Adding Colaiacovo creates friendly competition amongst the defense. The Wings have seven D-men who could crack the roster however they only have six spots available. This means that at every practice they will all be working hard to make sure their spot in the line-up is safe. If someone is not producing or they have an off night, Detroit will have NHL-ready defensemen available to step right into the line-up. Colaiacovo also comes with cap friendly hit of 2.5M. Considering some of the deals defensemen were getting this off-season I believe Colaiacovo is worth the risk-reward scenario for the Wings.
Damien Brunner
The signing of Brunner is an interesting one and if it pays off then the Wings management will be praised (and if it doesn't then most will forget about it by this time next year). Brunner, 27 signed a one year deal for a cap hit of $925K. He led the Swiss A league in scoring last season totalling 60 points in 45 games. He is considered a more mature player at 27 but the risk lies in how well he can adapt to the NHL. If Brunner can acclimatize and contribute to the team offensively, he could likely be the best off-season acquisition by any team in the NHL. He also adds to the Wings depth at forward and like Colaiacovo, Brunner will create healthy competition on a daily basis that will make all the Wings forwards better. While the wings defence will never be the same it could be argued that they have the most depth at forward and according to Babcock that is something that they sorely need after last season's early exit from the playoffs at the hands of the Nashville Predators.
 

"I thought Zetterberg was fantastic in the series, but when you go through and look at our group, as a group of forwards … I like the depth on our back end, but I didn't think we had enough up front and it showed in our scoring," Babcock said.

Read More Here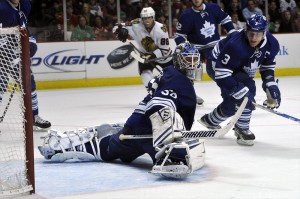 Jonas Gustavsson
One thing you do not often hear the media talk about is the Wings goaltending. Not since the days of Hasek, while Jimmy Howard has been great for the Wings he is not considered an elite goaltender, yet. It has been some time since the Wings have had a backup goalie that would be considered a starting goaltender in the NHL. While Gustavsson did not turn out to be the number one goaltender the Toronto Maple Leafs expected when they signed him, let's face it Toronto is not an easy place to play and most players who leave end up doing much better because they do not have the pressure of the hockey mad Toronto market watching their every move. It would be a good time to remember what happened with Larry Murphy and the Wings, back to back cups. Gustavsson did not have a stellar year last year but he had admirable numbers going 17-17 with 2.92GAA and a .902 save percentage. Let's not forget to take into account that he did not have the most dependable team in front of him. It seems as though the Wings off season moves are all about creating competition and making the whole team play its best. Gustavsson will provide motivation to Jimmy Howard because if Howard stumbles there will be an NHL tender ready to take over the starting position.
If we consider point production and the cap hit carried by each player we see that the Wings bang for their buck is much better on the free agents they did sign compared to that of Parise and Suter. Yes each player will bring more to the table than just points but the chart below does offer an interesting perspective.
| | | | | | | | |
| --- | --- | --- | --- | --- | --- | --- | --- |
| Player | Cap Hit | GP | Goals | Assists | Points | Points per Game | Points Per Dollar |
| Suter | 7.5M | 389 | 29 | 169 | 198 | 0.51 | $179,693 |
| Parise | 7.5M | 339 | 149 | 167 | 316 | 0.93 | $98,121 |
| Colaiacovo | 2.5M | 269 | 18 | 89 | 107 | 0.40 | $76,647 |
| Tootoo | 1.9M | 317 | 35 | 63 | 98 | 0.31 | $74,950 |
| Samuelsson | 3M | 357 | 92 | 122 | 214 | 0.60 | $61,033 |
| Brunner | 925K | 232 | 84 | 117 | 201 | 0.87 | $13,020 |
Even though Red Wings fans would have loved to see Suter or Parise wearing the winged wheel on their chest (myself included), in retrospect I believe the Wings will be better in the long run by not having those two players on the books.
The off season signings that the Wings did make will create a competitive atmosphere among all the players. It will also allow the Wings flexibility in the future when signing free agents and home grown talent such as Brendan Smith, Gustav Nyqvist, Thomas Tatar, and Martin Frk.  Wings fans should be excited for the upcoming season if and when it happens because this group of Wings will be a competitive bunch and as always a joy to watch.