Washington Capitals prospect Beck Malenstyn sits in his stall at Kettler Capitals Iceplex, taking a well-deserved breather after an entire day on the ice. Still, despite the exhaustion, he'a full of enthusiasm and excitement as he discusses his past year and third development camp.
"It hasn't quite hit me yet, but it's getting close," Malenstyn said of having attending three camps now. "It's a great experience, you get to meet a lot of really great people and hopefully, as we o through this roller coaster of pro hockey lots of us will have familiar faces as we go along here."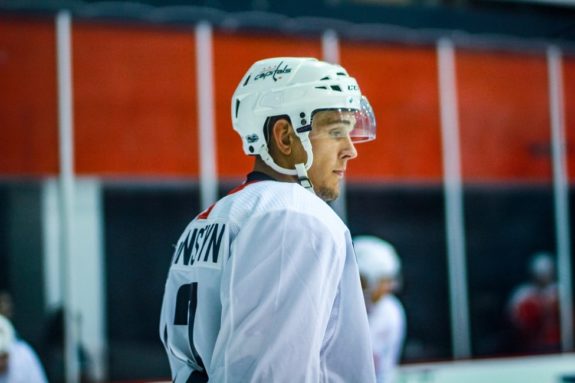 The 20-year-old had a whirlwind of a season, one that consisted of his second year of Capitals training camp, as well as a first half filled with adversity and ultimately, a championship before getting to take a break then return to Washington yet again, this time, to reunite with fellow prospects and meet new ones.
"It's cool, I think the longer you're here, the more cycle through there is," Malenstyn said. "The guys you know from the beginning are starting to move on to bigger things, whether they're playing pro or going somewhere else so that's always really cool," Malenstyn said, then joked, "to see those younger guys come through, I mean you start to feel old by the end of it."
Malenstyn's Year, From Calgary to Swift Current
After a stint at camp, Malenstyn was reassigned to juniors, where he would begin his third season with the Calgary Hitmen. He played four games with the Hitmen to start the year, registering three assists but fell victim to an upper-body injury in late September, one that would keep him out of the lineup for weeks to come. Then, on Nov. 25, Malenstyn was part of a nine-player trade that sent him from Calgary Swift Current Broncos.
"I gelled right in with Swift Current. The guys were great, super welcoming, billet family was great, so it was a really easy transition for me, which made it a lot more fun, too," Malenstyn said. "Leaving Calgary was tough, I was there since I was drafted there at 14, with my billets all four years that I lived there, so it was really sad to say goodbye to them, say goodbye to those teammates who I was really close with, but like I said, it was super welcoming at Swift Current, and the end result makes it a lot better, too."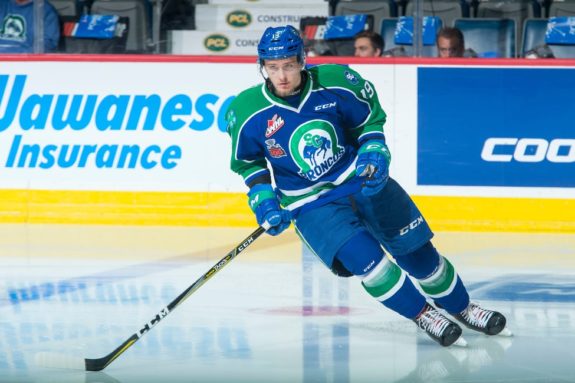 Malenstyn returned in January, and through 38 games with the Broncos, he registered 17 goals and 29 points, finishing seventh in goals and ninth in scoring on the team. Swift Current finished the year with the second-best record, while the Hitmen failed to make the playoffs and ranked 20th among all teams.
Through 26 playoff games, Malenstyn made himself four goals and 11 points as one of the team's top contributors, helping the Broncos eventually capture their first WHL championship title in 25 years.
"We ended up winning it all, so it was really exciting, it was definitely a positive way to finish off the season," Malenstyn said. "I was hurt for the whole front half, so to come in there and win at the end, I wouldn't trade that for the world."
Malenstyn Putting Trust in the Process
This coming year, Malenstyn will likely make the jump to Hershey as his WHL eligibility comes to an end. He inked a three-year, entry-level deal with Washington back in April 2017, and following a 56-point performance in 2016-17 and a strong performance and championship despite a long-term injury this season, he continues to work toward the NHL and impress the organization.
As he looks ahead toward his next training camp, Malenstyn said he wants to foucus in on a few elements of his game in order to not only prepare, but to continue the process and climb a steep learning curve.
"I've gotten a lot of really good feedback, whether it's from coaches here or in junior, and the biggest thign for me, I think, is just little plays around the net, having quick hands, being able to finish little plays," Malenstyn said. "I think that's going to give me the best chance to make that jump to the next level."