The Chicago Blackhawks headed into July 1 with plenty of holes to fill and, for the first time in a long while, salary cap space to work with. However, their trio of new additions has left much to be desired for a fan base who wanted a big splash. The Blackhawks added to key areas of need but did not become a better team in the process.
Bowman Overpays for Backup Goaltender
The Blackhawks were not happy with the performance of their backup goaltenders last season as no one provided consistent play in the absence of Corey Crawford. This was going to be one of the most interesting moves of the summer because if general manager Stan Bowman brought in a goaltender who was looking to be a starter, it would signal that Crawford's rehab from a concussion was not going well.
Bowman settled on veteran Cam Ward, who has spent his entire 13-year NHL career with the Carolina Hurricanes. There are pros and cons to this addition: the positive being this is a good sign that Crawford's health is trending in the right direction and the negative is giving $3 million to ageing netminder with bad numbers.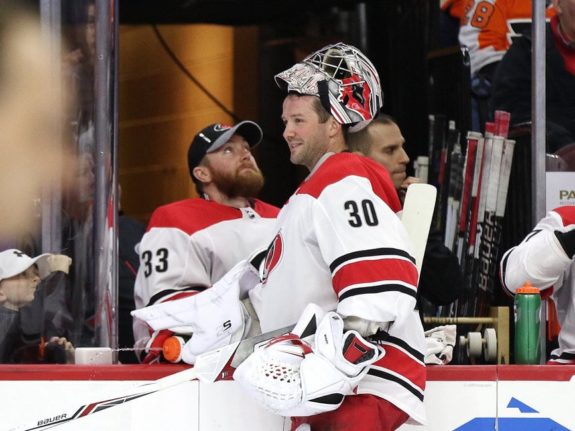 Ward's recent stats don't jump out at you. He has finished each of the last three seasons with a save percentage (SV%) below .910. The Los Angeles Kings are the only team who gave up fewer shots on goal over the last four seasons than the Hurricanes, but Carolina's goaltending was always a mess under Bill Peters. Even Scott Darling, who had a .923 SV% in three seasons with the Blackhawks, posted a .888 SV% in his first year in Carolina.
It's not just the numbers that make the acquisition a bit upsetting. In a perfect world, Ward will start 15-18 games this season and if his struggles continue, the team would have been no worse off playing Anton Forsberg for another year. If Ward becomes the number one goaltender at any point, the 2018-19 season is a lost cause.
Signing Ward for $3 million with a no-movement clause is a bad deal for a backup goaltender. The New York Islanders signed Robin Lehner for half the price and did not have to give him a ridiculous no-trade clause. Since the organization apparently has no confidence in Forsberg, the Lehner deal would have been a better move for the Blackhawks.
More "Veteran Leadership" Added to the Bottom Six
If watching an old and slow Patrick Sharp labor through the 2017-18 season gave you heartburn, you better stock up on antacid for a full season of Chris Kunitz. The Blackhawks needed to add depth down the middle but instead, Bowman brought in a left winger who will be 39 on opening night.
Kunitz, the only active four-time Stanley Cup winner in the NHL, is coming off a 13-goal, 28-point season with the Tampa Bay Lightning. Shortly after the deal was announced, the clichés about "veteran leadership" were spat out furiously. I'm not sure why a team that has Artem Anisimov, Duncan Keith, Brent Seabrook and Jonathan Toews in its locker room needs to add more veteran leadership. This is not exactly the Toronto Maple Leafs who added Patrick Marleau to a very young roster last summer. Bowman has made one of the oldest teams in the NHL even older with Kunitz.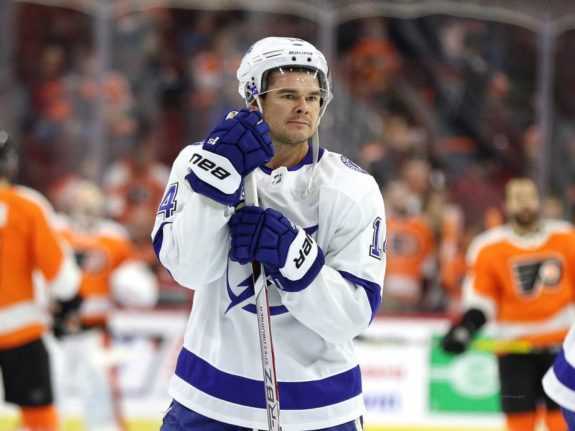 If Kunitz still has anything left in the tank, he will provide the Blackhawks with some quality depth. He can play up and down the lineup and plays very well in his own zone. His durability should not be an issue as he has only missed 25 games since 2013. At just $1 million for the season, he could turn out to be a bargain.
"I want to come on board and help any way I can," Kunitz recently told the Blackhawks official website. "Playing a checking role, going out and shutting other teams down or getting moved up once in a while. I'm ready for all facets of helping the team to win and maybe helping some of the young guys along the way."
The problem is that a team that has only won three playoff games over the past three seasons should not be hoping a proven veteran can still perform at a high level. The Blackhawks need to aim higher if they want to be contenders in a very tough Western Conference.
Blue Line Improves with a New Physical Presence
The addition of Brandon Manning is arguably Bowman's only free agent signing that makes the team better. While he is not the top four defenseman the team desperately needs, he will improve the bottom pairing.
Bowman called on Joel Quenneville to help recruit Manning to Chicago. According to Jimmy Greenfield of the Chicago Tribune, it worked as the 28-year-old defender turned down a three-year offer from the Nashville Predators to sign on with the Blackhawks for two years.
Stay-at-home defenseman Brandon Manning joins the #Blackhawks coming off a career season for the Flyers.

More on Brandon Manning: https://t.co/UTdM1tBI04 pic.twitter.com/kHY4tWGEUL

— Chicago Blackhawks (@NHLBlackhawks) July 1, 2018
Manning had a career year with seven goals and 12 assists. Those are not the numbers that made him attractive to the Blackhawks; it was more about his 113 hits and 76 blocked shots. The 6'1", 205-pound left-hander is a traditional stay-at-home defenseman who is not afraid to throw his body around.
He finished the 2017-18 with a 50.0% Corsi For percentage (CF%) in just under 18 minutes a game while starting 54.4% of his shifts in the defensive zone. Manning was a big contributor on the Philadelphia Flyers' penalty kill and even played himself onto the second power-play unit.
Manning was often criticized for making mistakes during the 2017-18 season, but much of that has to do with being asked to fill roles not suited to his ability. Injuries during the course of the season forced him to play outside of his comfort zone and yet he responded with decent numbers. Depending on whether or not the Blackhawks add another defender, Manning should be cemented on the third pairing where he can excel.
Blackhawks Surely Cannot Be Done This Summer
If the regular season were to start today, here is what the Blackhawks' lineup would look like:
Brandon Saad – Jonathan Toews – Vinnie Hinostroza
Alex DeBrincat – Nick Schmaltz – Patrick Kane
Victor Ejdsell – Artem Anisimov – Dylan Sikura
Chris Kunitz – David Kampf – John Hayden/Andrea Martinsen
Duncan Keith – Connor Murphy
Gustav Forsling/Erik Gustavsson – Jan Rutta
Brandon Manning – Brent Seabrook
Corey Crawford
Cam Ward
I find it hard to believe that this will be the opening night roster. There has to be at least one more move this summer. Even with a healthy Crawford in goal, this team will struggle to make the postseason and would not get very far if they did. So, where do they go from here?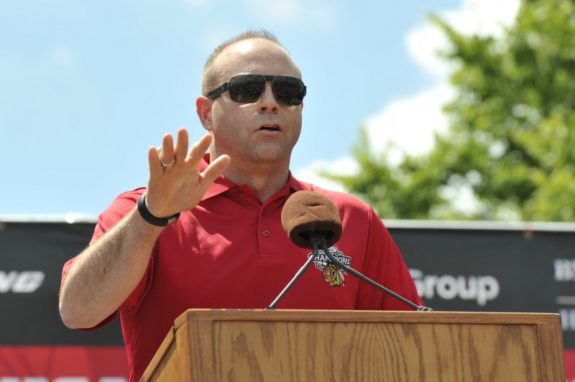 Bowman recently made some interesting comments to the Mully & Hanley Show on 670 The Score. The Blackhawks general manager suggested that he is likely done in the free agent market but is exploring multiple trade options.
"Our free agency signings are probably past us," Bowman said. "I think the other way to reshape your team is through trades, which is a little harder to predict if that's ever going to happen and if it is what the timing would be. Because you're reliant on another team and their needs. Our job is to call around and see which fits might be an upgrade at certain positions. That's what I've been doing and I plan to keep doing, but there's nothing really imminent on that front. We'll just have to keep having dialogue."
The trade market has been relatively quiet this summer and that likely has to do with the impending deal involving Ottawa Senators defenseman Erik Karlsson. If and when that trade is finally completed, that will not only set the market price for other top players but it will also make teams now in a holding pattern more active.
We wrote about the possible acquisition of Justin Faulk from the Carolina Hurricanes last month, but the asking price appears to be very high. According to Elliotte Friedman of Sportsnet, the Blackhawks "were in" on Faulk, but Carolina wants Brandon Saad in return and Bowman is not interested in moving him. Unfortunately, every trade negotiation for a top-four defenseman will start with Saad, DeBrincat or Schmaltz.
Another one of Bowman's top priorities this summer is moving Marian Hossa's contract for some salary cap relief over the next three years. The Senators could be an ideal trading partner after they rid themselves of Karlsson's cap hit. Hopefully, Stan can get creative and pull off a deal that includes Matt Duchene coming back, possibly for one of their defensive prospects, draft picks and Hossa's contract. If Ottawa is going to tank, they might as well go all the way!
One thing is for sure, Bowman is not acting like a general manager who feels his job is in jeopardy.