It was the moment Washington Capitals captain Alex Ovechkin had been waiting 13 years for. He hadn't stopped screaming since the final horn sounded to end Game 5; his excitement continued to spill over as he accepted the Conn Smythe. But the true moment didn't hit for him, the team or for the thousands fans watching from outside Capital One Arena and beyond, until he grabbed the Stanley Cup and raised it above his head in triumph, still screaming on the top of his lungs.
"It's just unbelievable," Ovechkin said. "Like… I don't know what to say. It's just unbelievable."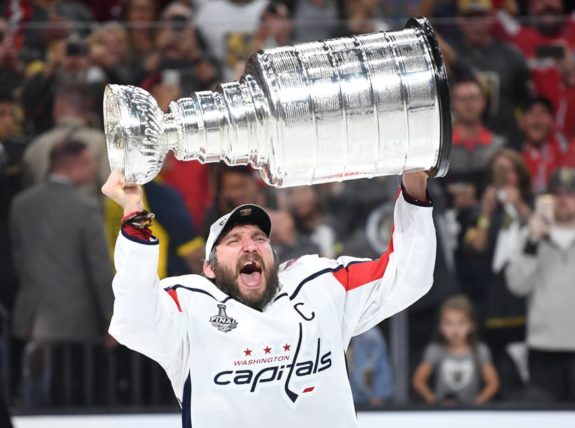 After trailing by one heading into the third period of Game 5, where the Golden Knights were literally playing like their season was on the line, the Capitals came out strong to start the third, never faltering in the face of adversity. Devante Smith-Pelly played hero again, tying the game at 3, and minutes later, Lars Eller scored on a loose puck that made it past Fleury, shooting it straight into the empty net.
"No one was panicking, everyone was confident," Holtby said of the team heading into the third period. "I'm so proud of [my teammates]."
Washington defeated Vegas 4-3 to clinch the franchise's first Cup championship, winning the series 3-1.
Capitals React to Emotional Win
The dying minutes of period three of Game 5 couldn't go fast enough for the Capitals. After a number of icings, a clock malfunction and a couple of missed attempts at the empty net, the final horn finally came, putting an end to the Cup Final series, the 2018 NHL season and most importantly, 44 years of heartbreak for Washington.
"You dream about it, but you never feel like it going to be so much fun and so much cool," Ovechkin said. "It's something special. We deserve it. This year we deserve it. We deserve it."
Additionally, becoming Stanley Cup champions hit home for a lot of Washington's players. Ovechkin and Nicklas Backstrom had been playing for a title together for over a decade, and finally got to share that moment together. The two linemates joined in a long embrace following the victory, and Ovechkin made a point of passing the Cup first to his long-time friend from day one.
"It meant a lot," Backstrom said. "He told me right away… he decided to give it to me. It was nice. We dreamed about lifting that Cup."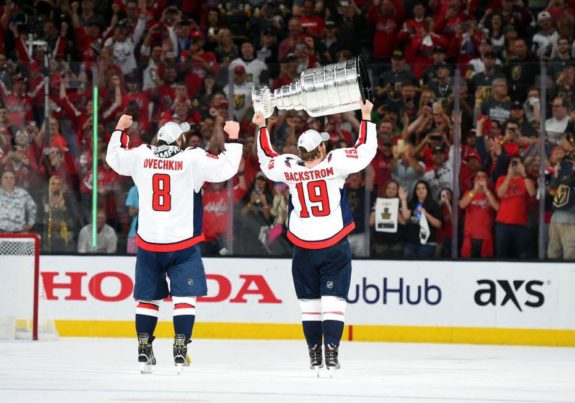 The Swedish forward had to battle a hand injury through the postseason, keeping him out of the end of the second round and the start of the Eastern Conference Final. He admitted he couldn't grip his stick and therefore had to sit out for a few games, but ultimately, he came back to be a force, even with his hand taped up underneath his glove. When his hand faltered while hoisting the Cup, Ovechkin stepped in, raising the prized trophy with him.
Braden Holtby, as well as John Carlson, had won a Calder Cup championship with Washington's AHL affiliate Hershey Bears. He rose to prominence in D.C. in 2012, when he went from a third-string goaltender to a young playoff starter following injuries to Semyon Varlamov and Michal Neuvirth. Since then, he's matured and become one of the best goaltenders in the NHL. Following years of playoff disappointment, he finally got to hoist the Stanley Cup.
"It's amazing, it's absolutely amazing," Holtby said. "It's a feeling you can't put into words and we did it."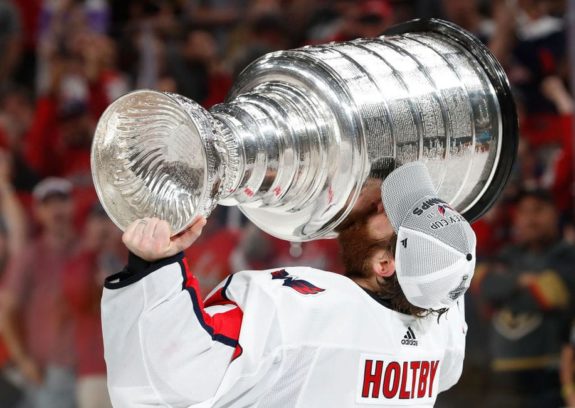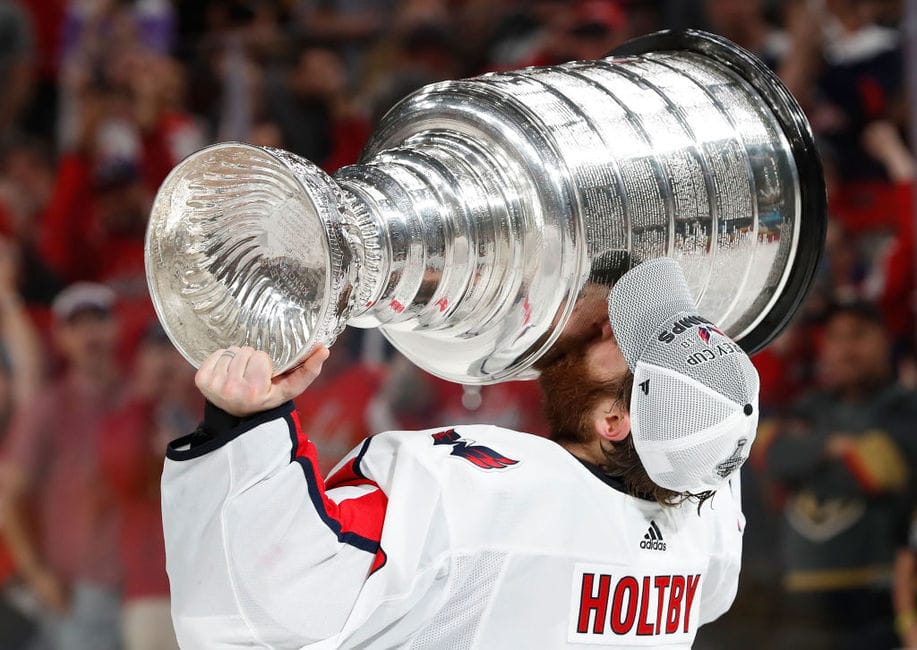 T.J. Oshie also claimed his first Cup victory, a special moment not only for him and his family, but especially for his father. Oshie broke into tears talking about his dad, who has been battling Alzheimer's.
"My dad, he doesn't remember a lot of stuff these days," Oshie said. "He remembers enough but I'll tell you what… this one will stick with him forever, you can guarantee that."
Additionally, only did Ovechkin become the first Russian-born captain to win a Stanley Cup, but Eller also became the first Danish player to win a title, just as Nathan Walker is the first Australian to play on a Cup-winning team.
Capitals Defy Expectations, Silence Critics
Heading into this season, many weren't sure of where the Capitals would end up. They'd lost key pieces in the offseason, including top forwards Marcus Johansson and Justin Williams, as well as defensemen Karl Alzner, Nate Schmidt and mid-season rental Kevin Shattenkirk. With Brian MacLellan instilling faith in the prospects to step up and fill these vacancies, some were curious if the team was too young to truly be top contenders, and saw the team less as the hunters and more as the hunted.
"Everybody thought we were going to be suck, and we're not," Ovechkin said.
For years now, the Capitals, as well as Ovechkin, have been somewhat of a playoff punchline. Their reputation of early exits and second-round disappointments plagued them, but with a resilience and young group, Washington exorcised their demons.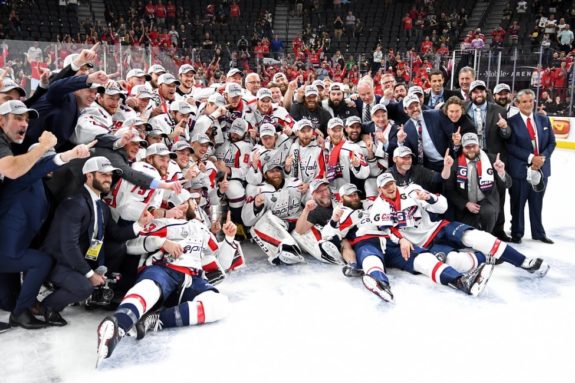 It all started with the first round, clawing their way out from a 2-0 deficit to Columbus to take the series in six games. Then came the Penguins, who has been perhaps the Capitals' biggest challenge considering they'd eliminated Washington in the second round three times over the last nine years. After that, the Capitals pulled off a seven-game series victory over Tampa to advance to the Cup Final for the first time in 20 years. It all came to a head Thursday, Washington writing the last words of the narrative in their Game 5 win.
"I've never seen a team come together like we did this year," Oshie said. "I've never seen the commitment from start to finish like we had here."
In addition, overcoming adversity took center stage during the postseason, with Washington finding a saving grace in Braden Holtby, who rebounded from a rough regular season campaign. Also, stars like Backstrom and Evgeny Kuznetsov, the leading scorer of the playoffs, who, despite injuries in the postseason, managed to be top producers. Then, there are players like Jakub Vrana and Andre Burakovsky were able to shake the monkeys off their backs. Washington's rookies were able to adapt and step up, and players like Smith-Pelly, who entered the year on a two-way deal, were able to transform into playoff heroes.
"I think that's one of the beautiful things about our profession and life in general is just anytime there's adversity, if you take the right mindset and surround yourself around the right people, you can come out stronger and it's fun," Holtby said. "That's why we play is to try to challenge yourself in different areas and see what you can push yourself through. Our group has done that as a whole this year, too. I think that's made us stronger individually and collectively through this year that we've had to work for everything. We just did it together and kept pushing forward."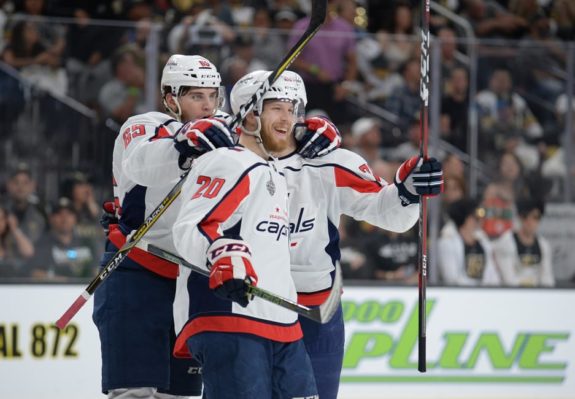 But ultimately, despite everything in their way, the Capitals have ended a 44-year drought, winning their first Stanley Cup title. Ovechkin is no longer one of the top players in NHL history without a championship.
"The organization want it so bad. It's nice to be a part of it. It's nice to be in this organization all 13 years, 14, whatever, it just was – joy. Was tough tough time, but we fight through it and we get result," Ovechkin said. "Now I'm going home to our family, our fans. It's just something special, you know. I don't know. I'm just very excited and happy right now."