Washington Capitals winger Tom Wilson had a season that's perhaps not one of a kind, but rather rare. In a season surrounding controversy, as well as increased ice time and career milestones, Wilson, whether critics like it or not, played an integral part in Washington's season that eventually led the team to its first Stanley Cup title.
Now a restricted free agent, general manager Brian MacLellan said it was imperative to bring him back, given what he's contributed to the organization not only over this last season, but the five years he's been with the team.
"It's a big priority," MacLellan said. "Tom's a big part of our team, a big part of what we got going and our playoff success. So, he's number one right now."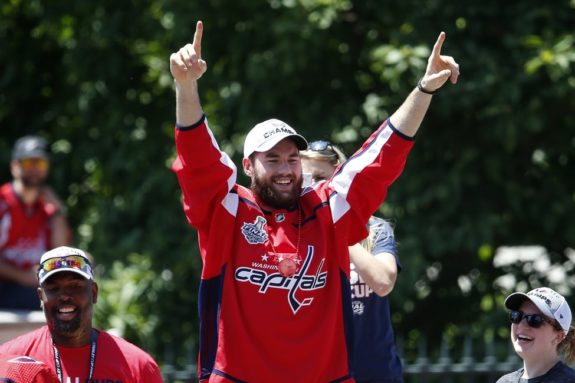 Wilson chose not to file for arbitration as the deadline came and went, a good sign that he and Washington are closing in on a deal. And, given his growth and development, as well as his increased offensive ability and physicality, he is not only worthy of a long-term deal but a pay raise as well.
Wilson Taking on Bigger Role
Prior to this season, Wilson had seen most of his minutes on the bottom-6, a fourth-line winger still developing his game as top guns like Justin Williams and Marcus Johansson took spots on the top-6 wing. However, free agency and offseason transactions led to vacancies through the Capitals' lineup, allowing Wilson the opportunity to slot in and earn a promotion to the top-6. Coming into the year, Wilson said he was aware that there was "going to be more responsibility this year, the role may be increased this year," and as the team started the season, he saw his ice time increase as the team sought out their top-line winger.
Many of Washington's right wings, including Wilson, T.J. Oshie, Devante Smith-Pelly, Jakub Vrana and Alex Chiasson, rotated on and off the top line, as the coaching staff was still feeling out the right player to come in and play alongside Evgeny Kuznetsov and Alex Ovechkin. The line appeared to lose its fire a bit in November, leading Nicklas Backstrom to re-join the top line. Eventually, with more shuffling, Wilson ultimately won that spot on the top line.
"Ovi and Nick, they're world-class talent, so it's exciting to kind of get up there and they complement each other very well," Wilson had said of his promotion. "It's kind of my job to get in there, try and fit in and bring whatever I can to the table and try and help that line."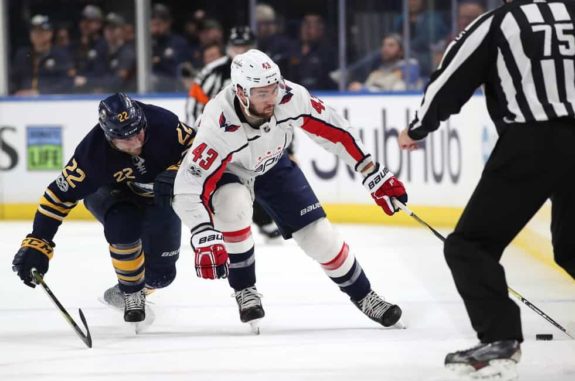 Throughout the year, Wilson moved around a bit, playing alongside Lars Eller and Brett Connolly among others, but ultimately, he ended up alongside Ovechkin and Kuznetsov, a line that has been tremendous for Washington. This meant that, as a top line winger, Wilson had to adapt his game to match the top line's speed as he took on more responsibility and a bigger role.
"For me, it's just keeping my feet moving, creating energy, creating an element that's hard to play against for that line, getting in on the forecheck and winning puck battles and getting the puck into [my linemates'] hands," Wilson said.
After 78 games, Wilson finished with a career-high 14 goals and 35 points, and also threw 250 hits to boot while also registering career highs in shots on goal and shooting percentage. His success carried over to the playoffs, where he played a majority of his 21 games on the top line and put up five goals and 15 points.
Evaluating a Potential Wilson Deal
Wilson was called upon to step up to the plate this season and he did so without a lot of issues. He was able to maintain his physicality and defend his teammates and was also able to produce on the top line and add an offensive edge to his game, one that he will likely continue to develop as he still has room to grow. He also proved that he was able to help spark any line and he was more aggressive on the forecheck, shooting the puck a lot more, winning battles in the corner and crashing the crease.
But most importantly, Wilson was able to contribute a lot and make an impact alongside Alex Ovechkin and Evgeny Kuznetsov, while fulfilling the organization's expectations in a contract year.
"You feel you're part of the line, you got to learn your Russian," Wilson said. "It was cool that the coaches had that trust in me. Obviously, if you're going to play with two of the best players in the world, you're going to be all right. It doesn't matter where I'm playing in the lineup, I'm going to help the team any way I can."
The 2017-18 campaign allowed Wilson to showcase his upside and continued development, as well as his versatility and toughness. However, there are still some areas of his game that need to be addressed and cleaned up.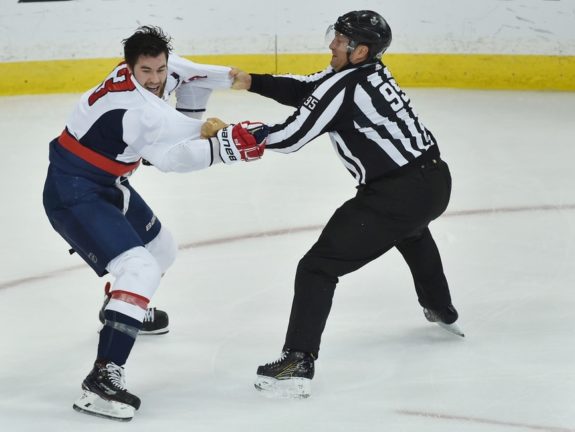 While Wilson has made many improvements to his game over time, he also has a history of controversial hits and has more often than not found himself "under the microscope" as he calls it, with the league. He received two suspensions in the preseason, the latter keeping him out for four games to start the year. While he went the entire regular season without a suspension, a blow to Zach Aston-Reese's head in Game 3 of the second round series against Pittsburgh resulted in a three-game suspension for Wilson, further tarnishing his reputation.
"I'm not intending to hurt anyone," Wilson said. "I think I'm an honest player, I hit and I had to fight. I had to defend myself and it was always in my mind that that's the way the game is intended to be played."
Wilson acknowledged the need to clean up aspects said that he plans to talk with his trainer in the offseason and focus on finishing his checks through the core. Ultimately, however, controversy and big hits aside, he has added an offensive edge to his game and has been an integral part of the team's make-up. MacLellan said that the two sides are still negotiating between a long-term deal or a bridge deal.
"There's a trade-off," MacLellan explained. "I would like long-term, but we'll see what his representatives want to do. I'd prefer to keep him around for as long as we can.
Wilson, who's been with the team since being taken 16th overall in the 2012 NHL Entry Draft, also expressed his desire to stay in D.C.
"This is a family in [this] room… I love it here, it feels like home. Toronto is my home, this is my home too, 100 percent," Wilson said. "I've had an amazing five years. We'll hope to be around and sort everything out."