The Washington Capitals inked another player to the prospect pipeline for the upcoming season on Friday, signing Swedish defenseman Christian Djoos to an entry level contract. Djoos was a seventh round selection (195th overall) in the 2012 draft and is the fourth current Capital of that draft class to sign. Washington hasn't had a seventh round pick play in an NHL game for them since Andrew Gordon of the 2004 draft.
Djoos, 19, is undersized at 5'11" and 158 pounds, meaning he's a long term project for the Washington organization. He'll likely begin his pro hockey career in North America after next season, spending one more season in Sweden, according to CSN Washington.
Many Capitals' fans remember Djoos from his two appearances for Sweden at the IIHF World Junior Championships where he earned silver medals in consecutive years (2013,2014). He played for Brynas IF Gavle of the Swedish Hockey League (SHL) along with  Sweden's junior team, accumulating 21 points in 95 career games. Last season, the slick moving blue liner netted one goal and 12 assists in 47 contests.
Elite Prospects describes Djoos: "Christian, does not have the same level of offensive flair as his father, but is on the other hand a much better skater (although not great) and more sound defensively. He likes to join the rush and is a good passer. Somewhat undersized and needs to bulk up. Defensive game needs fine-tuning as well."
Djoos was very effective on Sweden's power play during World Juniors and has good vision. His defensive game needs improvement for him to became an effective player at the professional level. Adding to his 158 pound frame is critical and will take time. He has the skating ability to become a strong breakout man from the blue line.
His skillset and size likely limits his potential to reach the NHL, but added weight could turn him into a solid AHL defenseman with upside.
Hershey Bears Re-Sign Captain                                        
Washington's AHL affiliate made their first big move of the offseason, retaining Captain Dane Byers on a one year AHL contract for the 2014-15 season. The club is still without their next coach since Mike Haviland left for Colorado College just last week. Their next head coach likely won't be hired until the Capitals have their next General Manager and head coach in place.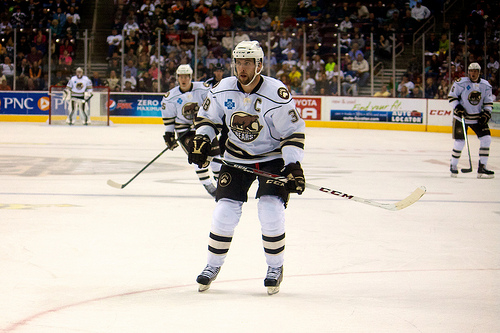 Byers, 28, served as Hershey's 41st Captain in team history last season, taking over for Boyd Kane after he left for the KHL with former Bears coach Mark French following the 2012-13 campaign. Byers finished with 37 points on 15 goals and 22 assists for the Bears, who missed the playoffs for the first time since their affiliation with Washington began. His 15 goals ranked him fifth on the club. He was previously a Captain for the Hartford Wolf Pack and Springfield Falcons.
With the Byers signing, Hershey has two players under AHL deals for the 2014-15 campaign, including young forward Dustin Gazley, who impressed when he joined the Bears roster last season. Gazley could be sent to the ECHL depending on how Hershey's training camp pans out.
Byers on Herbert, Stephenson and expected youth: "Those guys bring up our energy. They will be key factors next year." #HBH

— Scott Stuccio (@ScottStuccio) May 16, 2014
Veterans Jeff Taffe, Ryan Potulny and Patrick Wellar are big names on AHL deals that will become free agents in July if not re-signed. Taffe is the most likely to stay.
You can follow Matthew on twitter @m_speck and email him at mspeck21@yahoo.com with any questions or comments.
Matthew Speck covers the Washington Capitals organization for The Hockey Writers. He provides coverage of both Washington at the NHL level and prospect related content. Matthew also covers local sports for the Lebanon Daily News in Central Pennsylvania. You can email him at mspeck21@yahoo.com with any questions or comments.