On your left, we have superstar and future Hall-of-Famer Alex Ovechkin. And, on your right, we have … well until recently, it was anybody's guess. After a shrewd few days last week, the Washington Capitals' general manager Brian MacLellan changed all that when he obtained the services of Justin Williams and T.J. Oshie.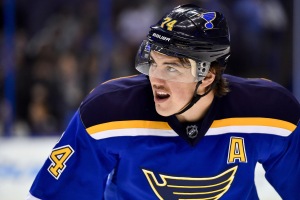 As soon as MacLellan hinted that he was in the market for a top-six forward, most hockey experts immediately looked at the right wing position. The Caps' head coach Barry Trotz tried out a few different players on the top two lines to the right of the incomparable Nicklas Backstrom, but there were no huge success stories.
Williams and Oshie Have Something to Prove
With Williams and Oshie, the Capitals get two wingers with proven and consistent track records and with  excellent reasons to want to impress their new organizations. For Williams, it's a case of not wishing to see the twilight of his career sink to an 'also-ran' level; he wants to prove that he can compete alongside the best players in the NHL and is hungry for a fourth Stanley Cup (with a third team).
Oshie is a different story. He wants to be known for something more than 'that shootout guy at the Olympics.' Lining up alongside Ovechkin and Backstrom on the Caps' top line won't hurt either player, but their second line isn't too shabby either. That line got better Monday when the Caps inked young center Evgeny Kuznetsov to a two-year $6 million deal.
A first line featuring Ovechkin – Backstrom – Oshie/Williams, along with a second line with Marcus Johansson – Kuznetsov – Oshie/Williams is a recipe for success. And, an already formidable power play unit became almost ridiculous when the Caps added Oshie and Williams to the mix. I expect the Capitals to have the number one man-advantage in the NHL next season; or – at the very least – they'll be in the top five.
Williams won his first Stanley Cup with the Carolina Hurricanes in 2005-6 and followed that up with two more Cup wins with the L.A. Kings in 2011-12 and 2013-14. Here is a look at his stats:
No disrespect intended to the two outgoing Capitals' right wingers (Joel Ward and Troy Brouwer), but Williams has the game that every Capitals enthusiast has wanted to see for several years. The same can be said of Oshie. Here is a look at his stats:
Last season, Ovechkin and Johansson scored a total of 73 goals at left wing as top-six forwards. Brouwer, Ward and Jason Chimera managed 47 goals between them while playing right wing on one of the top three lines. It's true, of course, that a player like Ovechkin at left wing will always tip the scales in his direction. However, the Capitals should be looking to emulate the Chicago Blackhawks who had capable goal-getters on the right wing, left wing and center. They cannot rely simply on Ovechkin, so having two proven goal scorers on the right is a major step in the right direction.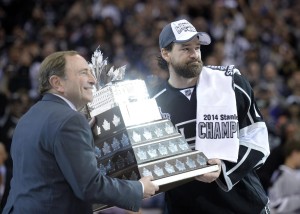 Not One, but Two New Top-Six Wingers
MacLellan was seeking a top-six forward to bolster the Capitals' already sturdy offensive powerhouse – and the GM delivered two. On top of that, should Oshie or Williams have a dry spell, the Capitals have winger Andre Burakovsky waiting in the wings and more than capable of fitting into the top six on the right wing.
Are all the pieces falling into place for a Capitals Stanley Cup win next season? Almost. In years past, they've lacked a consistently good goalie – problem solved with Braden Holtby; they've lacked in-your-face big-hitting defensemen – problem solved with Brooks Orpik and a re-invented group of blue line pairings; they've lacked the player on the other side of the ice from Ovechkin to get the job done – problem solved with Oshie and Williams.
All that's left is a secret weapon to get Washington past all of their game sevens. Oh, wait… they have that too. Williams is 7-0 in game seven situations. They have one hand already on the Cup.