In today's salary cap world, it is increasingly important for teams to develop talent in-house.  Drafting and developing young players can give teams very valuable cap savings due to the restrictions placed on the maximum value of entry-level contracts.  Properly developing young players is a difficult science to master.  Some teams like the Detroit Red Wings appear to have mastered it.  Other teams struggle to get the most out of their draft picks.
Sometimes, the player is to blame for not reaching his full potential.  He may lack a strong work ethic, have a career-altering injury, or is severely lacking in some skill.  But equally as important to a player's skill is how the NHL team handles and facilitates his development.
To understand the importance of "getting it right" with your draft picks (especially first rounders), look no further than the worst teams in the NHL over the past few years.  Some have started to turn the corner under new management, and others are still in the thick of their struggles.  The one common thread between them is that they have badly butchered the development of one of their blue-chip prospects.
Gilbert Brule, C, Columbus Blue Jackets (6th overall pick, 2005)
Playing for the Vancouver Giants of the WHL, Gilbert Brule had a tantalizing package of offensive skill and tenacious physicality.  Brule produced 87 points in 70 points in his draft year, and had 169 penalty minutes in the process.  In the 2005-06 preseason, Brule impressed with two goals and three assists in six games, and earned himself a spot on the opening day roster.  At the time, Brule stood at 5'10" and weighed 175 pounds.
In his third career regular season game, he fractured his sternum.  He missed 17 games, and returned to score his first NHL goal on November 20th.  However, ten days later Brule broke his leg.  The Blue Jackets' first mistake was bringing Gilbert Brule right into the NHL after being drafted.  When you combine the lack of muscle on his frame with his reckless style of play, he is bound to get injured.  When he had recovered from his second serious injury in a few months, he was returned to the WHL.
Heading into the 2006-07 season, GM Doug MacLean hyped Brule as a future star, and assured him that he would not be returned to the WHL, regardless of his play.  Under coach Gerard Gallant, Brule was given minimal playing time, and was a healthy scratch on a number of occasions; the exact opposite of what you want for your budding young star.
When Gallant was fired and Ken Hitchcock came in, things did not get any better for Gilbert Brule, who finished the season with a disappointing 19 points in 78 games.  Hitchcock is famous for demanding strong defensive play from his forwards, forcing Brule to play in the bottom six with grinders instead of the offensive talent he needed to develop his skills.  Developing young players is not Hitchock's strong suit; he is most effective with a group of proven veterans.  This makes his hiring in Columbus that much more puzzling considering they were a young team nowhere near playoff contention.  2007-08 and 2008-09 was no better, as he spent 72 games in the NHL between the Blue Jackets and Oilers, producing just 12 points.  He also spent 55 games in the AHL during that time.  Brule's potential was lost.
Gilbert Brule's mediocre NHL production continued for a few more years.  After playing three games for the Coyotes in 2013-14, he was demoted to the AHL, but refused to report.  On January 1st, he announced his retirement from hockey.  The Blue Jackets managed to turn an elite prospect into a fringe NHLer by: bringing him up too early, hiring a coach whose style was not conducive to developing young players, giving him little playing time, and playing him with bottom six grinders that stunted his offensive development.
Alex Burmistrov, C, Atlanta Thrashers/Winnipeg Jets (8th overall, 2010)
After a strong season for Ak Bars Kazan, Burmistrov made the move to play for the Barrie Colts of the OHL in his draft year.  He impressed in his first year in North America, scoring a combined 81 points in 79 games between the regular season and playoffs.  Offensively, he had strong vision and passing ability, and was an underrated two-way player.  Most expected him to return to Barrie for another year to further develop his offensive game on the smaller North American rink.  However, GM Rick Dudley was so impressed by his performance in prospect camp and the preseason that Burmistrov earned himself a roster spot.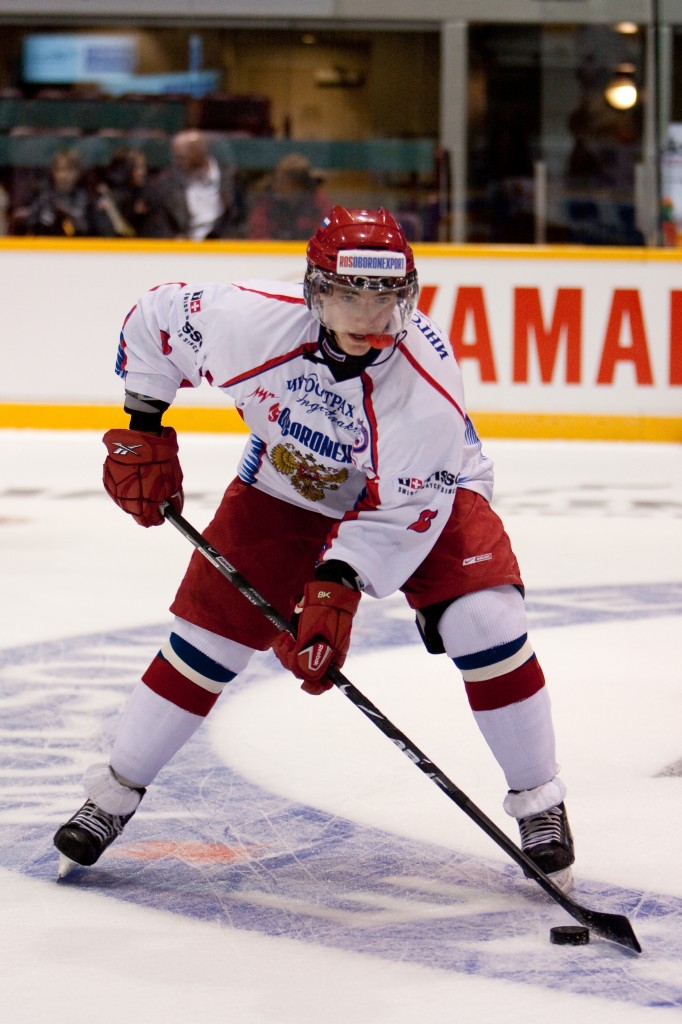 Burmistrov's rookie season was solid, yet unspectacular.  He posted 20 points and displayed his two-way prowess on the penalty kill.  In his second season, he improved his point total by 8, and posted significantly better possession numbers, including the fifth best Corsi among forwards on the Jets.  He was given the chance to play on the power play as well.  But, the fact that he was playing with a revolving door of linemates at even strength prevented him from establishing chemistry and producing strong offensive numbers.
2012-13 proved to be a very strange year for Burmistrov.  His points-per-game dropped to .23, the worst of his career to date.  At the same time, Burmistrov posted strong possession numbers once again, having the second highest Corsi among all Thrashers forwards.  It appeared to be a prime time for a breakout season after a strong year the previous year, but a strained relationship with coach Claude Noel got in the way.  Burmistrov was benched for a lack of effort in a few games, despite the fact that his advanced metrics indicated almost all of his teammates were more productive when he was on the ice.  Combined with constantly changing linemates and a decrease in PP time, Burmistrov's offensive output suffered.
This offseason, Burmistrov decided to take his career to the KHL, where he signed with Ak Bars Kazan for 2 million dollars a year, hardly a king's ransom.  In the same month, the Jets opened their wallets and gave long-term extensions to Bryan Little and Blake Wheeler that were worth a combined $57.1 million dollars.  While both have demonstrated offensive prowess in the NHL that Burmistrov cannot match, the Jets certainly could have afforded to give Burmistrov a two year, $4 million dollar bridge contract to keep him in the NHL.
Despite the fact that Burmistrov has shown strong two-way play and underlying possession numbers, the Thrashers/Jets have yet to put Burmistrov in a real position to flourish offensively and succeed.  He has never had a consistent set of offensively talented linemates, and Claude Noel has consistently played older, unproductive veterans like Olli Jokinen over Burmistrov.  Burmistrov's long-term offensive potential would have very likely increased with another season in the OHL considering he was just around a point-per-game in his one season in Barrie.  All may not be lost for Burmistrov, as he finished 21st in the KHL in points this season, leading his team in the process.  The offensive potential may still be there at 22, but whether he will ever show it for the Jets is an open question.
Bill Schoeninger is a Philadelphia Flyers writer and current Boston University student studying business. Coming to THW from Hometown Hockey, Bill follows and writes about the Flyers, Boston University Terriers, and NHL Draft prospects. Follow him on twitter @BSchoeninger17