Upon becoming a Flyer, if you'd have told Wayne Simmonds that he would be one of the most vital players to Philadelphia's playoff success this season, he would probably have laughed at you. Many other people would have as well. If you were one of those people who found the thought to be quite humorous, you certainly wouldn't have been alone. However, let's say Simmonds didn't laugh at you, that he looked you right in the eye and told you it would happen. Look who's laughing now.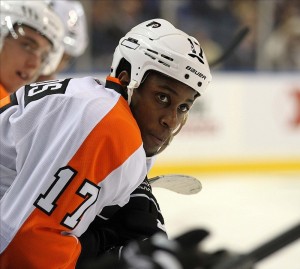 In early June, Simmonds was traded in a blockbuster deal that sent himself, Brayden Schenn, and a second round draft choice to the Flyers in exchange for a Canadian Olympic gold-medalist in Mike Richards. Philadelphia was in the process of shaking up their roster, which also meant that star forward Jeff Carter was shipped to the Columbus Blue Jackets. With all the star players involved in the two moves, Simmonds' name was sort of pushed aside; it was made an afterthought, as if he was just a throw-in to make the trade happen. Sure, everyone knew who he was, but compared to the players leaving Philly, and with a top-prospect in Schenn coming to town, Simmonds didn't mean all that much in terms of talent. If Flyers fans weren't all that excited about Simmonds' arrival, general manager Paul Holmgren certainly must have seen the potential many people weren't seeing.
A native of Scarborough, Ontario, Wayne Simmonds was a second round selection by the Los Angeles Kings in the 2007 NHL Entry Draft. He had just come off a solid season with the Owen Sound Attack of the Ontario Hockey League, and was showing a high amount of potential to be a consistent power forward in the National Hockey League someday. Thought the promise was there, there weren't many people who believed Simmonds would become a clutch scoring threat in the NHL. At the time, it was a nice thought, but just wasn't likely going to happen.
While with the Kings, Simmonds certainly wasn't considered to be a weaker member of the team, but in no way was he viewed as someone who could produce goals like Anze Kopitar. With Los Angeles being a team that just hadn't been able to defeat the annual contenders during the playoffs in recent years, Kings general manager Dean Lombardi needed to add a talent such as Mike Richards. A statement needed to be made. Fortunately for the Flyers, Simmonds is certainly stating to the hockey world that he can be a top forward on a legitimate Stanley Cup contender.
His first season in a Flyers uniform has been more than anyone could have realistically expected from Simmonds. He has earned career-highs in nearly all offensive categories this season, and he has developed into the kind of player that every team desires. Just this week, he certainly earned a key goal in a game with the Ottawa Senators. How did he earn the goal, you ask? Well, he took a puck to the face off the stick of one of his own teammates, and the puck happened to bounce right into the net. Simmonds would then proceed to get his nose stitched up, and returned to the game a few minutes later.
Here's Philadelphia's Claude Giroux on the hard way to score a goal:
"Yeah, he's obviously a warrior and we were kind of scared a little bit there," Giroux said after Saturday's game. "We were hoping it wasn't his eye, but he's obviously a tough guy and he finds a way to get it in the net. Even with his face."
As if he hadn't already proved his toughness, in a heated rivalry game against the Pittsburgh Penguins that saw a brawl erupt in the final minutes, Simmonds took on the Penguins' massive enforcer, Deryk Engelland, after the Pens' Joe Vitale laid out Danny Briere while Briere was moving up ice with the puck. The following day, Simmonds was named the league's top star of the week, with five goals and one assist in four games.
The Flyers are likely to make a strong push for the Stanley Cup this year. With the likes of Claude Giroux, Scott Hartnell, and Jaromir Jagr having terrific seasons, Philadelphia could be a force to be reckoned with in the postseason.
As long as Simmonds continues to be a warrior for the Flyers on the ice, their chances are certainly looking pretty good.
________________________________________________
Follow me on Twitter: @DavidOConnor95    "Like" my page on Facebook: David O'Connor
David O'Connor is a managing editor with the Sunbelt Hockey Journal. His writing has been on the Los Angeles Times' website, among other places. O'Connor also does some scouting work for the local Junior B hockey club. Please feel free to contact him at davidoconnorhockey@gmail.com.