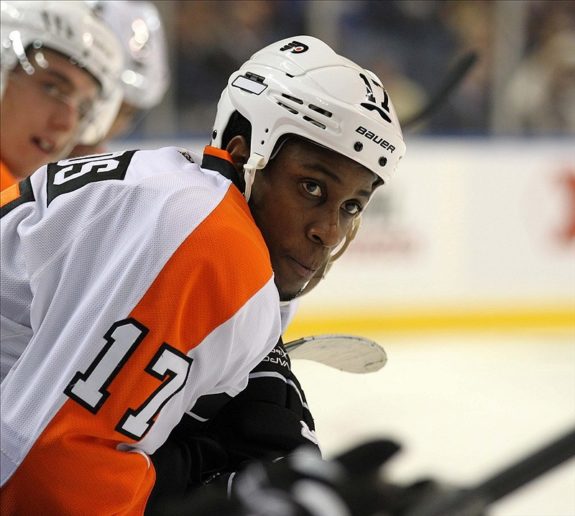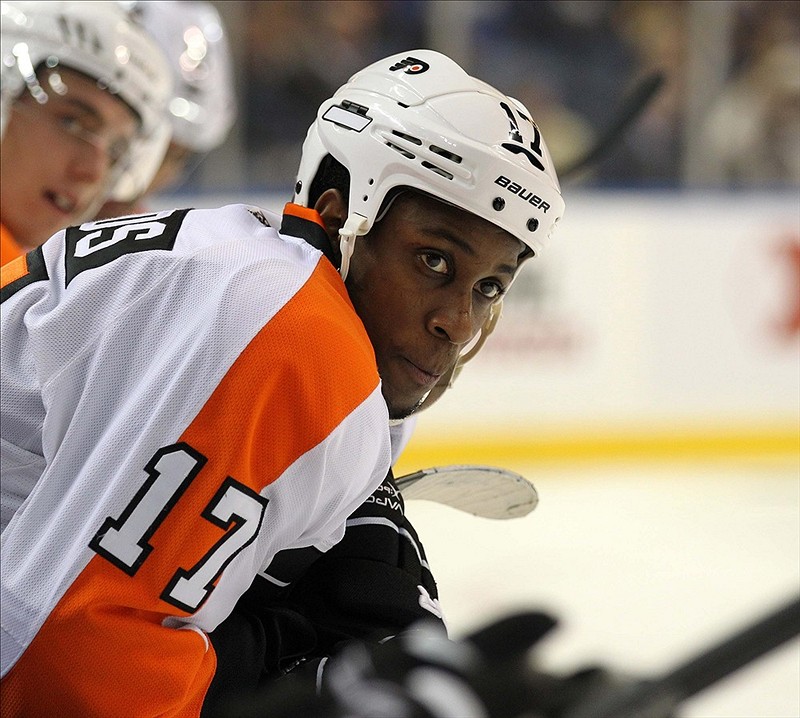 Since Dec. 17 Wayne Simmonds has been one of the best forwards in the National Hockey League. Since the beginning of the season however, Wayne Simmonds has transformed himself from a solid second-tier player into one of the top power forwards in the National Hockey League.
As I've noted before, Simmonds came to the Flyers as part of the Mike Richards deal, but it was Brayden Schenn who commanded the most attention among media members. In Los Angeles, Simmonds was mostly a third-line, occasional second-line player not getting many chance offensively but doing what he could along the boards and in front of the net. Essentially, Simmonds had to play with the hand he was dealt.
The 25 year-old Scarborough, Ontario native's play his increased year-after-year since joining the Flyers before the 2011-12 season. In his three full seasons with the Kings, Simmonds tallied 93 points in 240 games, good for 0.38 points per game. Since coming to Philly, Simmonds has tallied 122 points in 185 games which is good for 0.67 points per game. In fact, if you look at last year's lockout shortened season and this season thus far, Simmonds has racked up 73 points which is about 34% of his career production. His nine power play goals rank sixth in the league. Simmonds' offensive game has been rising as each game passes, and the best part about him as a player, is that offensively is only a small part of his game.
Strength
For anyone that has ever seen Wayne Simmonds without his equipment you know he isn't the biggest looking guy in the world. His legs are — for lack of a better word — skinny. His ability to win puck battles along the boards and fend off multiple players at a time while keeping the puck on his stick in the offensive zone is nothing short of tremendous.
Speed
Simmonds doesn't have flat out blazing speed. He may not beat Matt Read or Jake Voracek in a race from point A to point B, but Simmonds is shifty. He has a tremendous ability to keep skating and working hard which usually leads to positive plays. Simmonds is the prototypical Flyer. He goes to the corners and in front of the net, he isn't afraid to get 'dirty' and he has the heart, toughness and determination to never give up on any play.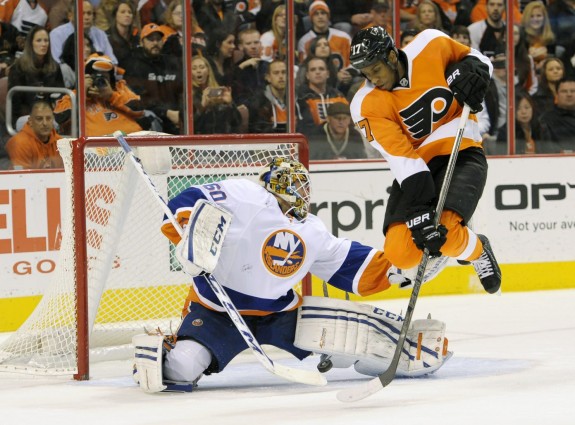 Deception
So much of what Simmonds brings to the Flyers doesn't show up on the stat sheet. His numbers are deceiving; On the surface they look good, but not great. His size looks average — 6'2″, 183 — but his ability to use his body is nearly unmatched. It's not very often he loses a battle along the boards or gets knocked off the puck.
Toughness
He crashes the front of the net nearly every shift and he has scored goals off of his face to prove it.
A lot has been written about the Flyers' habit of bringing in "tough guys" who are only there to serve the role of enforcer. Simmonds has never been categorized as a 'goon' or 'enforcer' but there has never been a fight or opponent he has backed down from.
Leadership
When Kimmo Timonen missed time with a foot injury, Wayne Simmonds got the "A" added to his jersey. It's something he has without a doubt earned. His teammates respect him, the fans love his hard nose style and he plays and he gives everything he's got every time he is on the ice.
Wayne Simmonds, credited with the goal, asked Flyers' PR to ask NHL off-ice officials to review goal because he doesn't think he touched it.

— Frank Seravalli (@frank_seravalli) February 4, 2014
Bleacher Report ranks Simmonds as the 9th best power forward in hockey. While that is respectable, I'd argue he should be number five. Alex Ovechkin, David Backes, Ryan Getzlaf and Corey Perry are all superstars in this league and deservedly so. Simmonds however, is not far off. His numbers may not be the most impressive, but the next time you watch the Flyers in action, it won't take you long to notice number 17. When you do, you won't be able to take your eyes off of him.
For all the ripping Flyers management rightly receives for some of the contracts it puts on the books, Simmonds' deal is looking pretty good right now — a cap hit of $3.975 million, and signed through 2018-19. –ProHockeyTalk
Could Simmonds end up being one of the best power forwards to ever wear the orange and black?
Let your voice be heard in the comments section below.