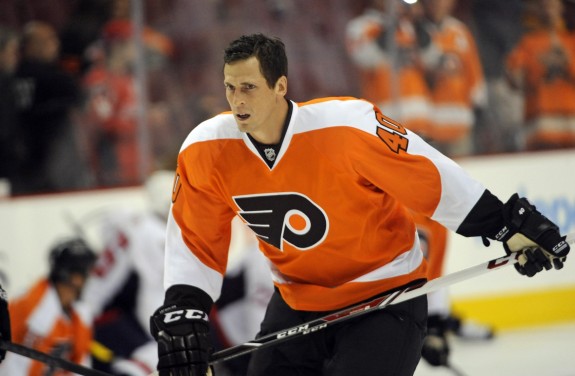 When the Flyers took to the free agent market this summer and landed Vinny Lecavalier the move was met with mixed reviews.
Just when you thought #flyers were getting younger 2day they sign 33 yr old Vinny Lecavalier. That's after signing 36 year old Mark Streit

— Howard Eskin (@howardeskin) July 2, 2013
Wow!! Great move. "@TLouden3: Report: Flyers sign Vinny Lecavalier to 5 year deal"

— Chris O'Connell (@CoconnellFox29) July 2, 2013
Lecavalier established himself as one of the premier players in the league throughout his years in Tampa Bay. He was the face of the franchise and a proven point producer. His last few years had been hindered by injuries and a defensive-minded system but it was still thought he could be a very productive player for the right team. Unfortunately for the Flyers, they were not — and still are not — that team for three main reasons; Claude Giroux, Brayden Schenn and Sean Couturier.
The problem for the Flyers is that they have four top-three line centers. That means one of them is going to be the odd man out. It happens to be Lecavalier and his $4.5 million cap hit. Let's take a look at why the rest won't be moved.
Claude Giroux
This one doesn't even need to be said. Claude Giroux is the best forward on the entire team. He is one of the best forwards in the league and will not be moved from his natural position. No chance.
Brayden Schenn
This is probably the biggest challenge for the Flyers and for Lecavalier. Brayden Schenn was thought to be the prize of the Mike Richards deal — I'd now argue that distinction belongs to Wayne Simmonds — as he was touted the most highly regarded prospect not in the NHL at the time. Since coming to Philly, the younger Schenn brother has been a streaky performer, but one that is growing and has played very well this season. The problem with Schenn is that he plays much better when he is in his natural center position than he does on the wing. He is more physical and to put it bluntly, he puts up numbers when he's a center. On the wing he is much less effective in the offensive zone and seems lost quite often. In order to continue his development he needs to be playing as a center.
Sean Couturier
Anyone that has watched the Flyers play over the last two and a half seasons has seen Couturier blossom into one of the best defensive forwards in the league which is simply astonishing when you look at his age. Couturier just turned 21 in December. He will not — and should not — be moved from the center position.
Breaking It Down:
As of January 4th, Lecavalier has 22 points (12G, 10A). Those stats are not impressive and still a bit skewed. Lecavlier's point totals can be broken down by month:
October: 8 games, 7 Points (5G, 2A)
November: 14 games, 7 Points (4G, 3A)
December: 5 games, 1 Point (0g, 1A)
January: 15 games, 6 Points (3G, 3A)
February: 2 games, 1 Point (0G, 1A)
It's important to note Lecavalier missed most of the month of December with a back injury. His production dropped after the first few weeks of the season which leads me to believe his back can't be the blame for his lack of production.
The Flyers knew Lecavalier is not a natural center before they signed him. They also knew neither Giroux nor Couturier would be moved form the center position. What they may or may not have known — but should have — is whether or not Schenn could perform well on the wing, and if it would impede his development.
"Why Vinny for the Flyers? They wanted a second line center with size. They wanted some veteran leadership. And let's face it: There's never been a big name that Ed Snider didn't covet, whether or not it made fiscal or strategic sense.

Does this make sense? Again, they did have a need at forward, although the solution didn't necessarily have to be a 33-year-old and a 5-year contract. But their needs were so much more glaring on the back end that this signing feels abjectly irresponsible."-Greg Wyshynski, Puck Daddy
Unfortunately they either did not know, or simply did not care and hoped Lecavlier would be able to provide the Flyers with solid leadership and a big bodied centerman on the second line. Instead he is a man with no identity. He is a square peg being put into a round hole and it simply is not working.
He has a NMC and is in the first year of a five year deal. Welcome to Philly, Vinny!
He is the Flyers' $22.5 million dollar mistake.