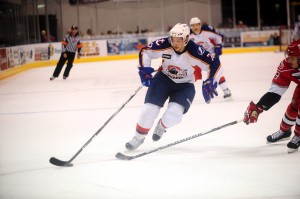 The Norfolk Admirals were a team that re-wrote hockey history in 2012 as they won 28 consecutive games along with capturing an AHL championship in June. Before the streak and the banner, defensemen Mike Vernace played a pivotal role on Norfolk's blue line spanning from 2010 to 2011.
Vernace had a whirlwind 2011-2012 season to say the least. The Toronto, Ontario native wasn't traded once he was traded twice during that frantic season that started in Norfolk and ended in Connecticut with a 22 game stop in San Antonio. Vernace was traded from the Tampa organization to Florida to the New York Rangers all in a matter of months.
The 27-year-old talked about that hectic season saying, "It was a little bit of a whirlwind season. It was a little bit too tough to deal with at that time, but looking back on it, it's really done a lot for me. Just being able to deal with certain things. I'm appreciative of everywhere I've played because no matter the team, I was given an opportunity."
With Mike speaking highly of all the organizations he played with perhaps his time in the Tampa Bay organization is a 90-game stop he'll never forget. Every hockey team is a brotherhood, but there was something special about the Tampa Bay Lightning's top development team in Norfolk, the Admirals.
The 200-pound rock-solid defender recalled his time in Norfolk saying, "It was probably one of the most fun times I had playing hockey. It was a small college town, but you got to know people. Everyone was real friendly. I've never played on a team that was so closely knit. Everyone really meshed together."
Vernace returned to Norfolk during the second round of the 2012 Calder Cup playoffs; however; this time it was as a foe not a friend as the crest on his jersey represented the New York Rangers top development club, the Connecticut Whale. Norfolk ended up conquering Connecticut in the semifinals 4 games to 2.
Mike talked about the semifinals defeat saying, "It was kind of bitter sweet, they ended up winning. I really would have like to beat them, but their team was just so good. I played a quarter of the season with that (2011-2012) team so it was kind of fresh."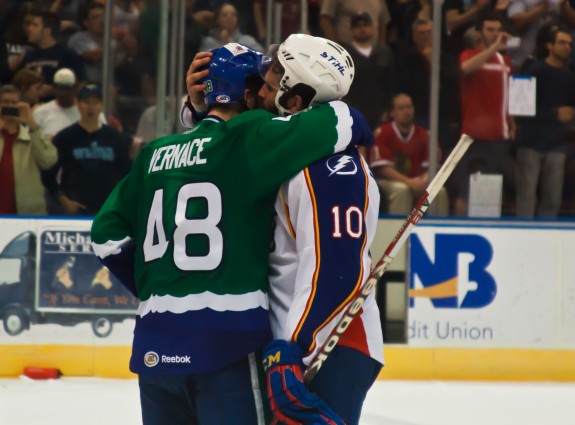 Shaking hands and congratulating your opponents in hockey is a practice that has gone on since the glory days. The handshake following the semifinals was an emotional one for Vernace as he paid his respects and wished his former team good luck.
That handshake line meant that much more to the eighth year pro as took his time giving his former teammates and friend's words of encouragement.  Vernace spoke about going through the line congratulating his friends especially Norfolk's Captain Mike Angelidis, "Angie is my best friend. It was fun to play against your buddies. I remember being upset that we had lost and I was traded from them and they had just beaten us. I was happy for him because if they were going to beat us they were not going to be stopped and they were going to win a championship. It was bitter sweet. It shaped me to be a better person and a better player."
The right-handed shot went on to play another full season with the Whale before deciding to make the transatlantic journey to Mannheim, Germany where he is currently competing with the Adler Mannheim Eagles who play in the German Elite League (DEL).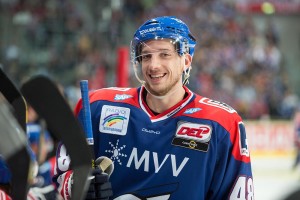 Transitioning from the smaller ice surface in North America to the larger surfaces in Europe can take some adjustment. Vernace chatted about his DEL adjustment, "It's a little bit different at times to judge where you are on the ice. One of the things I noticed as a defenseman is when you're near the boards and you have to recover towards the middle. Usually I'd be able to take a couple steps and be close to the middle. Here skating towards the middle is a lot bigger and wider. It's a lot of movement and skating involved."
During his tenure in North America the Brampton Battalion product was known for his physical style of play, but the European rinks showcases puck movement and skating abilities. Vernace shared how his physical technique is adapting, "It's a little bit less physical, but playing on the smaller North American surface gives many more opportunities to hit or be hit and on the bigger European surface it's a little bit difficult."
The 6'0" foot D-man also added, "The German League translates the closest to North American style hockey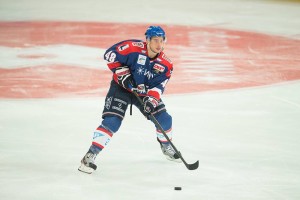 where it's a lot of straight line playing forwards. There is a lot of hitting in this league. If you don't know anything about European hockey coming over here will be a culture shock, but the hockey will surprise you by how good it is."
Playing hockey in Germany is one thing, but laying down roots in Germany may be a culture shock to some. Vernace is accustomed to Europe being that he is of Italian heritage; however; picking up everything and embracing the German culture is another beast to tackle. Vernace shared how he is getting used to the culture in Mannheim and the surrounding area, "German people can speak perfect English so it's not so bad where you can't make do, but the language is a little bit tricky. When you get the basics down you can navigate your way." One thing that Mike mentioned is that the atmosphere in Germany was more relaxed and there is less hustle and bustle then back overseas in North America.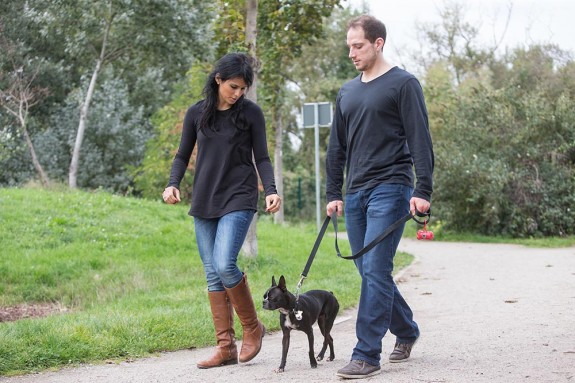 With Mike being 3,946 miles away from Toronto his adjustment has been eased by his wife Claudia and his Boston Terrier Charlie who both made the transatlantic hop to Mannheim with him. Having family makes foreign soil easier to explore so when there's an off day Mike and his wife seize the day, "There is so much to see. Europe is full of history. Even in small little towns when you may think that there's nothing to it, you kind of want to walk through there. We've done a lot of exploring not necessarily going to big cities, but smaller cities around here just exploring and seeing a little bit of history."
Being so far away from friends and family can be taxing on your spirit; however; Vernace doesn't let the Atlantic Ocean stop him from keeping in touch with his loved ones. "We use the app Viber. I can have a group chat with family and friends. It's nice to see what they're doing and what we're doing at random," mentioned Mike.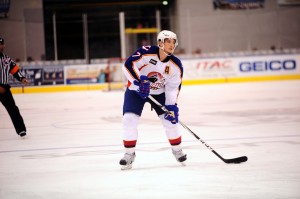 Either playing home or abroad with the Adler Mannheim Eagles, Vernace will always treasure his time playing the game he loves while keeping the friendships and memories he created in Norfolk a topic he'll discuss for years to come.
Follow Ted on Twitter @Bauerhockeydude