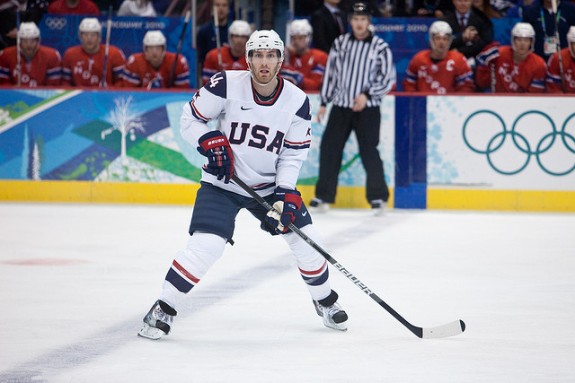 Brooks Orpik doesn't belong on the Team USA Olympic roster. As THW's Mike Colligan pointed out, Orpik's game has declined. He's slow of foot, and he's unable to keep up with any speedy forward. We'll let Mr. Colligan explain exactly where Orpik's game has faltered. This article is about why Orpik doesn't fit the mold of Team USA's defensive corps.
There was never a better time for any defenseman to know Dan Bylsma and Ray Shero. They both play major roles in Team USA's Olympic operations with Bylsma being the head coach and Shero an assistant general manager. The duo probably had Orpik on the USA roster since the three of them have Pittsburgh Penguins' ties. This move was more than likely predetermined before any of the Team USA scouts started compiling a list of defensemen qualified for consideration.
If we break down the makeup of the team, Orpik versus the rest of the defenseman who made the team,  Orpik doesn't make sense. He's known as a steady stay-at-home blue-liner. His physicality is his best attribute, especially on a Penguins' team that isn't known for their bruising style.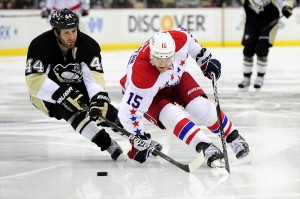 Team USA sought out all puck-moving defensemen for the Olympics. None of the players chosen are known as physical forces such as Orpik. Defensemen were chosen to compensate for the Olympic-sized ice rink. There was a need for defensemen who could skate and make quick breakout passes. To sum this up, Team USA chose offensive-minded defensemen, or ones who had some dangle to their game.
Puck-moving defensemen tend to record their fair share of assists. Every defenseman on the U.S. roster has more helpers than Orpik. He is the only defenseman on the U.S roster who doesn't have a power play point recorded this season. Orpik has the lowest point total ranking 28th amongst U.S. born defenseman. He gets many point shots blocked, and struggles to make tape-to-tape breakout passes. He has three goals in his last 167 games. No defensemen on the roster compares with Orpik's meager offensive statistics.
Click the link below to compare the statistics of the defensemen chosen versus Orpik's statistics.
Team USA Defensemen NHL Statistics (extraskater.com)
If team USA was looking to fill roster spots with physical defensemen, Orpik would be the man. He's fifth among U.S. blue-liners in hits with 135. But this is 60 more than any other defenseman representing Team USA in Sochi. Justin Faulk has the second highest hit total (75) among defenseman on the U.S. roster. That's not even half as many hits recorded by Orpik.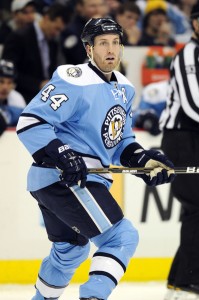 Even if you believe Team USA needs a stay-at-home blue-liner who is physical, would you have chosen Orpik as your top choice? Is Orpik's defensive prowess that respected throughout the rest of the league outside of the Penguins' organization?
As someone who's seen nearly every game Orpik has played this season, I will tell you that he wouldn't get my consideration for the 8th and final defensive roster spot on Team USA. If there was one roster spot left and I composed a list of five defensemen who I would consider for the final pick, Orpik would not be among those five players.
Orpik doesn't fit in with the type of defensemen who were chosen to represent USA at the Olympics. He's not known for his skating, he isn't a puck-moving defenseman. The other defensemen do hold these attributes. Bylsma and Shero put Orpik on the roster since he plays for their NHL team. If we're being honest, Orpik doesn't belong on the Team USA Olympic roster.
Justin Glock has covered the Pittsburgh Penguins for The Hockey Writers since 2011. As a lead writer, his Penguins knowledge traces back over two decades. For any requests, please feel free to contact Justin via email: JGlock10@gmail.com.