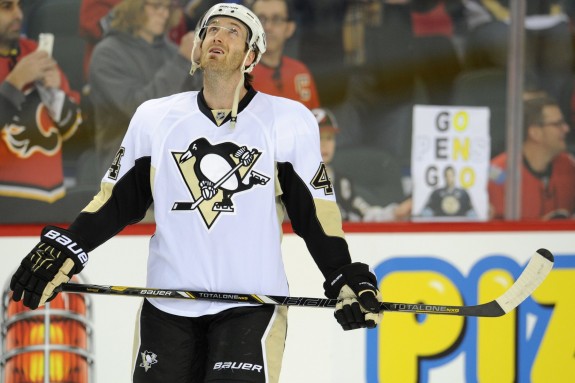 Scott Burnside's behind-the-scenes look at the Team USA selection process was fascinating for fans, yet the fallout was downright dreadful for those involved.
Brian Burke's joking comments regarding Bobby Ryan — more a reflection of Burke's constant need to get a laugh from his peers than his true feelings about Ryan.
The staff's criticism of Keith Yandle — confirming whispers that have been circulating since the Phoenix Coyotes quietly shopped him in the summer of 2012.
This part went curiously unnoticed though:
Brooks Orpik and Paul Martin, who formed an effective shutdown unit in Pittsburgh last season, are an attractive pair. Orpik was also part of the team for Vancouver.

Their early position on The Board is assured, but there are lots of questions about young players like Dustin Byfuglien, Kevin Shattenkirk, Keith Yandle, Justin Faulk and John Carlson and where they might fit, if they fit at all.
All of the players listed in that section have their flaws, but the "assured" position of Orpik and Martin on the Board was hard to believe coming from a group of the best hockey minds USA has to offer.
That is…until you consider the makeup of that group.
Of the ten men in the initial meeting Burnside described, four were employees of the Penguins: Ray Shero, Dan Bylsma, Don Waddell, and Tony Granato.  Additionally, GM David Poile was Shero's boss in Nashville.  Todd Richards would've been the coach of the Penguins in 2009, not Bylsma, had Shero been able to poach him midseason from San Jose.
NHL executives will always protect their own and, needless to say, Orpik and Martin had a lot of support in the room.
How could a Western Conference GM like Dean Lombardi argue that Orpik shouldn't be a lock for the team when Bylsma spends most of his waking hours with the player?  And if the unbiased executives did approve of Orpik as a shoe-in, maybe that tells us that Orpik still possesses a reputation around the league as a dominating defenseman.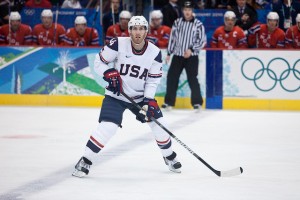 What the USA group failed to notice — or the Penguins brass refused to admit — is that Brooks Orpik isn't what he used to be.
In fact, he hasn't been for the past 12 months.
[See Also: Orpik Not Deserving of a USA Olympic Roster Spot]
Orpik, 33, still ranks among the league leaders in hits, but this stat can be misleading for defensemen.  Coaches around the league, such as Dallas Eakins, are finally willing to admit (publicly) that hits can only be registered when your team doesn't have the puck.  A game with 60 hits doesn't necessarily mean you played well.  It means you finished your checks well as you chased the puck around the ice.
The most glaring weakness for Orpik over the past year has been his backward skating ability — certainly an important skill for a defenseman.  Not only have teams such as Toronto, Boston, and the New York Islanders attacked this with cross-ice breakout passes to streaking wingers on Orpik's side of the ice, but Orpik himself seems to know that he doesn't stand a chance against Phil Kessel streaking down the right wing towards him.
To compensate, he either 1) steps up too aggressively for a hit, only to allow an odd-man rush, or 2) backs all the way into the goalie, giving talented forwards room to make plays:
Ideally, a defenseman maintains a tight gap on the attacking forward — no more than a stick length or so — and steps up at the blueline when he knows he has help.  Orpik still has a very effective pokecheck that can snuff out opposing players when they take the right angle towards him, but he gets in trouble on quick turnovers or cross-ice passes.
The Penguins coaching staff has done a nice job adjusting their gameplan to cover up for Orpik's weaknesses.  Maybe that's why the rest of the league still considers Orpik elite. 
In the defensive zone, Bylsma still has his slowest defensemen roam the crease area while the more mobile defensemen handle the work in the corners.
Orpik, Rob Scuderi, and Robert Bortuzzo are also often the last man back in the team's neutral zone trap as well.  This means Orpik doesn't have to backpedal as far through the neutral zone.
When Orpik is paired with Paul Martin or Kris Letang, he can park in front of the net, cross-check opposing forwards, and take a regular shift without getting exposed.  But Martin has his own breakdowns when challenging players in the corner and stepping up on attacking forwards:
Orpik also struggles with making clean breakout passes in his own zone. Again, a pairing with Martin or Letang can solve this problem, but the results were disastrous when Orpik was paired with Deryk Engelland for a stretch this season.
A Future in Pittsburgh?
Shero and his staff are taking all of this into account as they construct their long-term roster. Orpik is slated to hit free agency on July 1 and will likely be searching for a contract to take him into retirement.
He took a discount to stay with the Penguins in 2008.  If he capitalizes on his physical, Team USA, Stanley Cup winning reputation, he could command $5-6 million per year for three or four seasons (a raise on his current cap hit of $3.75 million).
The Penguins, with their stable of up and coming defensive prospects, will never pay that to their assistant captain.
In an ideal world, Shero would trade Orpik in the coming weeks and capture a significant return before losing him for nothing over the summer.  But by all accounts Orpik is a leadership presence in the locker room and brings an element of physicality that is needed right now on a small Penguins team.
Shero also seemed to hand the money he had set aside for aging, stay-at-home defensemen to Rob Scuderi this summer when he locked up the 35-year-old to a four-year deal worth $3.375 million per season.  Shero didn't expect Scuderi to show up on his doorstep in free agency, and in that sense losing Orpik for nothing would be a wash.
The lingering question is: would Orpik be worth $5 or $6 million per season to anyone in the NHL?
The answer: Probably…but it'd have to be the right situation.  The team would need to be young and in search of veteran guidance and leadership.  They would need to have cash in the budget and cap space to burn.  They'd need a quick-skating defenseman to pair with him to cover up weaknesses.
Those teams do exist, but that won't help Team USA and their quest for a medal in Sochi, Russia this month.
The 2014 Olympics will be played on international ice — not exactly a setting for success for a defenseman that struggles with gap control.
The bigger ice surface also lends itself to a more patient style of hockey.  In the offensive zone, there's room to beat a defenseman like Orpik if you can draw him away from the net and out into the vast perimeter.
Maybe Bylsma just parks Orpik in front of the net like he does with the Penguins?  If so, good luck to Martin or the defensive partner who has to cover from corner to corner against a cycling line of Alex Ovechkin, Evgeni Malkin, and Pavel Datsyuk.
These Olympics have the potential to be the worst possible situation for Orpik.
A poor showing on the international stage could tarnish his reputation and limit his free agent earning power this summer.  It could also shatter his confidence heading into a critical stretch drive for the Penguins.
Orpik was a lock for the Team USA roster, but don't be fooled by the reputation.  His playing time in Sochi and summer contract status will tell us how the Penguins really feel.
__________________________________