The Calgary Flames search for a bonafide starting goalie may get a bit more complicated if one young Finn has his way.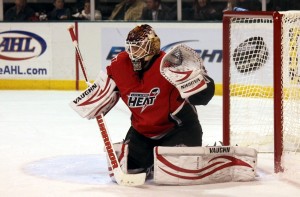 The club announced on Monday morning that the team had recalled goaltender Joni Ortio from the American Hockey League's Abbotsford Heat. Ortio joined the team in Calgary and will be on their three-game road trip prior to the Olympic break. He's filling in for Karri Ramo, who tweaked his right MCL in Calgary's 4-3 overtime win over Minnesota on Saturday night.
For the 22-year-old Ortio, the opportunity to get an NHL appearance in during the trip is pretty exciting. Ortio has been a huge part of the Abbotsford Heat's success this season, amassing a 19-5-0 record in 25 games and ranking among the AHL's leaders in wins, goals against average and save percentage.
A sixth round selection of the Flames in the 2009 NHL Draft, Ortio played 9 games for the Heat in the 2011-12 season but had limited success and limited playing time behind 2006 first rounder Leland Irving – who has since departed to Europe. He was loaned back to his hometown club, TPS Turku in Finland's SM-Liiga, for the balance of that season and spent last season with HIFK Helsinki (alongside current Abbotsford teammate Markus Granlund). With strong numbers and a lot of confidence from his time this season with the Heat and the ECHL's Alaska Aces, Ortio credits his stint in Finland with giving him the chance to fine-tune his game.
"It was huge. Playing…how many games I play last year? 70-plus or so? It was huge. Maturing and getting that experience in, comments on my game. Getting rid of all the extra stuff, because you can't do that playing many games. You gotta be quiet, you can't do any of that extra stuff. It helped me a lot," said Ortio.
While Flames head coach Bob Hartley offered no assurances that Ortio would get any games in during the road trip ("We'll see."), he also admitted that the team had used multiple goaltenders in recent games and that Ortio had performed well in the AHL. Regardless of the circumstances, Ortio shared that his AHL tenure had given him the confidence for a jump to the big leagues.
"I think I've felt ready for quite some time now," said Ortio. "Guys have been playing well down in Abby, and that's been helping me a lot. That's been making my job that much easier. There's no doubt in my mind that I'm ready if I get the call."