Finally, back to a full week of hockey. Week 11 of the NHL was dominated by festive events like the Centennial Classic. This week also fell on New Years 2017 and as the popular saying goes, "New Year, New Fantasy Award winners." With three fresh faces up for the weekly fantasy awards, the following players helped fantasy owners cruise into the new year with big smiles over their even bigger weekly fantasy wins. Here are your week 11 major fantasy hockey award winners.
Fantasy Hart Trophy – Auston Matthews
GP:3 G:4 A:2 Pts:6 PPP:2 SOG:12 GWG:1
The Fantasy Hart Trophy is awarded to the week's most valuable fantasy player.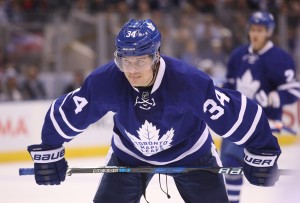 For the second straight week, a member of the Toronto Maple Leafs has earned himself a fantasy hockey award as the team of young guns continues to roll. They own a five-game winning streak which has been led by their flashy rookie phenom Auston Matthews.
Matthews loves the spotlight as we learned in his first career game against the Ottawa Senators when he scored four goals with all eyes watching his NHL debut.
This week was no different as Matthews recorded two of his league-leading four goals at the outdoor Centennial Classic held in Toronto. Not only did he take over in the goal category but also closed the game out with a nice tricky overtime finisher.
Matthews led all forwards in fantasy week 11 with six points tying only Ryan Kesler of the Anaheim Ducks. His two power-play points tied him for fourth on the week and his 12 shots placed him in the top 20 for shots among all players.
The 19-year-old phenom has done nothing but impress in his first season in the big leagues. His 20 goals on the year have him, remarkably, second in league-wide goal scoring and on pace for a ridiculous 51 goals by season's end. His ability to get the puck to the net all while having an elite scoring touch has led to more success than most would have thought for such a young man playing in one of the hockey's biggest markets.
As the Leafs hope to win through their offensive efforts, look for Matthews to lead them along the way. As he continues to get used to the NHL he will keep on looking more comfortable and confident, which should lead to even greater fantasy success.
Do not be surprised if Matthews continues to compete for this award most weeks as he has proven his scoring abilities and offensive talents are what were expected when he was taken first overall in last year's draft.
Honourable Mentions: Ryan Kesler, Anthony Mantha
Fantasy James Norris Trophy –Nick Holden
GP:3 G:3 A:1 Pts:4 PPP:1 GWG:1 +/-:+3
The Fantasy James Norris Trophy is awarded to the week's most valuable fantasy defenseman.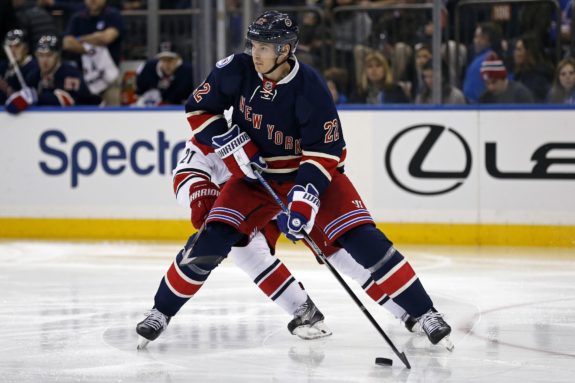 A rather unexpected name when it comes to fantasy related stats, Nick Holden of the New York Rangers was this week's best defenceman. In a week that was not overly dominated by any one particular defenseman, Holden rose above the rest by becoming an offensive threat on the back end.
Tied for second during the week in total points among defenseman, Holden was only surpassed by fellow Ranger teammate Ryan McDonagh. Holden's three goals were far and away the best while he added a convenient game-winning goal when he finished off the Ottawa Senators earlier in the week.
Holden added a nice plus-3 on to his already impressive plus-16 on the season as he has become a reliable offensive force as well as shut down defenseman for the rolling New York Rangers.
Fantasy owners of Holden would not expect him to be in contention for this award often. Either way, he has done great to go under the radar as a fantasy stud on the back end of a lot of fantasy rosters. With seven goals and 20 points on the season, Holden has done plenty to render himself roster-able across many standard leagues. He is on pace to absolutely crush his career high in points (25) from his rookie season in Colorado three years ago.
Holden did a great job rewarding his owners again this past week and while the Rangers continue their high offensive output that has made them a force in the league, he will continue to warrant fantasy rostering going forward.
Honourable Mentions: Ryan McDonagh, Jared Spurgeon
Fantasy Vezina Trophy – Marc-Andre Fleury
GS:2 W:3 L:0 GAA:2.13 SV%:.939
The Fantasy Vezina Trophy is awarded to the week's top goaltender.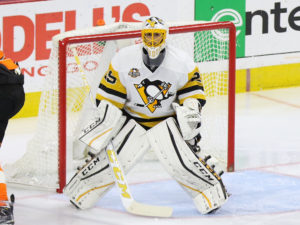 This week there was no obvious stand out for this award as no goaltender took over or had a perfect week like we've become accustomed to so far the season. None the less, another backup goaltender in Marc-Andre Fleury of the Pittsburgh Penguins was the most deserving of this award for week 11.
When a mid-game, lower body injury took down starter Matt Murray earlier in the week, Fleury reclaimed his starting job in the Penguin's crease. He looked like the old version of himself that fantasy owners were used to seeing prior to his season of struggles this year.
With a .939 save percentage through his three appearances, Fleury made himself an elite option for a week for the first time all season. His three wins over in his two starts led all goaltenders and his 2.12 goals against average was good for seventh among goalies with two or more starts.
The one-time first overall pick has struggled mightily this season after losing his starting job to 22-year-old Matt Murray. Fleury's .909 save percentage is only four points off of his career low which has led many people to believe the 32-year-old's best days are behind him.
Our back hurts just watching this Marc-Andre Fleury save. 😳https://t.co/KcVpZUyMWQ pic.twitter.com/7l7Du843Dm

— SB Nation NHL (@SBNationNHL) December 28, 2016
When Murray falters, or in this case goes down with an injury, Fleury becomes a top end fantasy option as he is capable of playing at an elite level when given the chance. With one of the best rosters in hockey in front of him, he also gains great value as wins will still seem to come easy, regardless of his play.
With Murray expected to return very shortly, do not expect Fleury to go back to being a fantasy star or to be up for this award often. But for week 11 it was great to see a flash of the past from the one time Penguin's starter.
Honourable Mentions: Kari Lehtonen, Sergei Bobrovsky