The dust has settled on the Taylor Hall trade, and what obviously feels like a loss for the Oilers at the moment, may not necessarily be in a few years. Hall is the better player right now, and whoever gets the better player in the deal wins. At just 24 years old, Hall is entering the prime of his career already established as one of the best left wingers in the league. Adam Larsson took strides forward last year with the Devils, and has the potential to be a top-pairing guy.
McKenzie: Let's let it play out. Let's give Larsson a chance to do his thing. Let's see what else #Oilers do to supplement all of this.

— Chris Nichols (@NicholsOnHockey) June 30, 2016
Trading a proven talent for a player who "could be great" isn't what Oiler fans were hoping for. But Larsson is exactly what the team needed. It's just unfortunate they had to give up their second-best player for him, and have no real guarantees that Larsson will be a stud long-term. The trade is done, there are no take backs. A lot of fans wondered how a guy like Jordan Eberle wasn't enough to net Larsson, but the Devils clearly started and ended their offer with Hall. So don't assume the Oilers didn't value Hall. They just understood it would take him to get what they wanted.
Meet Adam Larsson
So what exactly did they get? Well one thing they didn't get was an offensive-minded guy. Larsson won't be a powerplay specialist, that's not his game, though there's always a possibility his numbers could improve playing with more skilled forwards in Edmonton. He has never scored more than three goals in and NHL season, although he did have a career high 24 points in 2014-15. He finally played a full NHL season last year, notching 18 points and was a +15 on a non-playoff team. Larsson eats up a lot of minutes, and that's the key.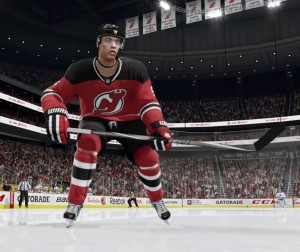 The Oilers employ a lot of bottom pairing defenceman, most of whom have been forced to play more minutes that they're capable of, because there's no choice. Larsson is built to log heavy minutes, and against the oppositions best players. He isn't a flashy player, but he is a possession monster and can move the puck well. And further more, he's a right-handed shot, something that the Oilers felt was a glaring need. He's got size, at 6″3 and 205 pounds, and plays a physical game. He was very highly-touted going into his draft year, which is why he went fourth overall.
Defencemen are by nature harder to evaluate because they tend to take longer to develop. Larsson looked a little like a bust in his first couple seasons, but he's been trending upwards. The Devils weren't going to move Larsson for any less than a Taylor Hall, so that should speak volumes about how they viewed him. They weren't willing to give him away for nothing.
Does Larsson Make the Oilers Better?
In terms of defence, the Oilers got better yesterday. They gained a 23-year old who is just starting to establish himself as an NHLer. Losing Hall hurts, there's no doubt, but we're all assuming the Oilers aren't done re-shaping their roster. Rumors are coming in fast and furious that Milan Lucic will be an Oiler come tomorrow, and while he doesn't replace Hall's skill, he brings something that the team has been lacking. Lucic makes the Oilers harder to play against, he brings a lot of experience, and he'll be a respected leader in the dressing room. If they don't end up signing Lucic, you have to wonder who will fill the void on left-wing.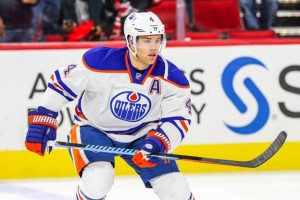 But let's give Peter Chiarelli a chance. He has a plan and vision in mind, and has never been one to shy away from bold moves. Are they always the right moves? Not necessarily, but his only desire is to make the Oilers better. The drafting of Jesse Puljujarvi made the departure of Hall easier to stomach, there's no doubt. In the six seasons he's been with the Oilers, Taylor Hall scored 22, 27, 16, 27, 14, and 26 goals respectively. The Oilers are clearly banking on a full season of Connor McDavid, the contribution of Puljujarvi and the presence of Lucic or another winger to make up those goals.
As a whole, are the Oilers better today than they were yesterday? It's impossible to tell until they start playing games. In an ideal world, you get Larsson and still keep Hall, but that wasn't going to happen. Plus, we don't know what lies ahead in free agency or if there's another trade coming. This might only be the tip of the iceberg in terms of change. The area of need for the Oilers has always been defence, and Larsson will be an improvement over what they have.
Give Larsson a Chance
I already feel for Adam Larsson, because the pressure on this kid is going to be immense. I don't believe it will be Justin Schultz 2.0, because Schultz chose to come to Oilers, and was forced to play over his head. Larsson had no say in the matter, and the strength of his game is defending. He already plays big minutes at the NHL level and has succeeded. In terms of fan reaction, I hope it's positive. The Hall trade isn't Larsson's fault, despite the fact that he'll forever be associated with it. Maybe not the way you want to start your career with a new team, but he has no control over the circumstances.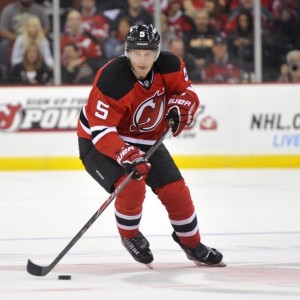 As a one-for-one deal, in terms of skill, and track record, the Oilers didn't get the better player in the deal. And while I still stand by my assertion that they lost the trade in the short-term, but there's a chance they win it (or it even's out) in the long run. Larsson has the pedigree. He isn't a third-round project who has never faced NHL competition. It's interesting, because if Eberle or Benoit Pouliot had been the player going to New Jersey, fans would likely be embracing the trade. The focus would be on the player they gained rather than the one they gave up. And that's the trouble with this deal. They gave up a lot, and with that comes risk.
I really do feel that Larsson can be a top-pairing guy and improve the Oilers defensive game. But he's one piece of the puzzle. Chiarelli knows that, and whether it be through more trades or free agency, he can't be done making moves. I know you'll miss Hall, but you may end up loving Larsson. Don't direct the frustration onto him, even if it takes him a while to acclimate himself in Edmonton. This is a move management felt needed to be done. If they thought Hall gave them a better chance to win the Cup, he'd still be on the roster. This is the new Oilers regime. Let's hope it finally includes winning.