At the end of each season, teams across every level of professional hockey fail to issue qualifying offers to a handful of players. Some will end illustrious careers under their own volition, but others are never re-signed despite the will to play. As these players resign themselves to retirement, they may crop up as broadcasters, coaching staff, or front-office management. Others simply fall off the grid. So, what ever happened to some of our favorite Dallas Stars who went M.I.A. in recent years?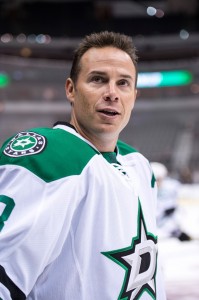 Ray Whitney – Forward
When Dallas failed to re-sign veteran forward, Ray Whitney, after the 2013-2014 season, he accepted retirement in Scottsdale, Arizona with his wife and kids. For now, Craig Morgan of Fox Sports Arizona reports that Whitney is happy to take a break and enjoy his new road biking hobby.
Having played professionally since age 19, Whitney was the second player drafted in San Jose Sharks history, and won his only Stanley Cup with Carolina in 2006. With 23 seasons spent playing in the NHL, Whitney is happy to "decompress a little bit," but could also see himself in management in the future.
Tim Thomas – Goaltender
Former Bruins Stanley Cup, Vezina, and Conn Smythe winner, Tim Thomas, spent limited time in the Big D as a backup goaltender, but made a positive impact on the team. After Dallas acquired Thomas in a late-season trade with the Florida Panthers for Dan Ellis, he only played 8 games in a green sweater. When Thomas first arrived in Dallas, the trade made Jim Nill look like a prophet, as Kari Lehtonen suffered a concussion in the March 8, 2014 game against the Minnesota Wild. Thomas was essential in assisting Dallas to the 2014 Stanley Cup Playoffs, and his playoff experience proved valuable to a team of young, inexperienced players.
Following his partial season in Dallas, Thomas was not re-signed, but started for team USA in the 2014 IIHF World Championship. In 8 games played for team USA in 2014, Thomas posted stats of 3.49 GAA and 86.93 SV%. In the summer of 2014, Thomas continued managing his own training school, Tim Thomas Hockey Camps, based in Portland, Maine.
Dustin Jeffrey – Forward
Jeffrey had a slow start playing with Dallas when the team claimed him off waivers in 2013. Once Jeffrey was sent down to the AHL Texas Stars, he returned to Dallas as a frequent scratch. On April 1, 2014, however, Jeffrey proved instrumental in shutting out the Washington Capitals, scoring his first and only 2 goals with Dallas in the 5-0 win.
In July 2014, Jeffrey was not presented with a qualifying offer with Dallas, instead joining the Vancouver Canucks. By September, the Canucks cut Jeffrey, sending him to their AHL affiliate, Utica Comets. Jeffrey has since scored 7 goals, logging 23 points in 24 games with Utica in the 2014-2015 season.
Lane MacDermid – Forward
In April 2013, the Boston Bruins traded Lane MacDermid to the Dallas Stars for Jaromir Jagr and prospect, Cody Payne. The Stars played MacDermid 6 games in 2012-2013, during which he scored 2 goals. Later in 2013, MacDermid played 6 more games with Dallas, but posted no points and only 1 shot on goal. By November 2013, the Stars traded MacDermid to the Calgary Flames where he was assigned to the now defunct Abbotsford Heat.
Early in 2014, MacDermid announced his retirement from professional hockey at only 24 years old. Following his assignment to the AHL, MacDermid failed to report to the team, forcing Abbotsford to suspend him. Flames executive, Craig Conroy, explained that MacDermid lost his passion to play hockey. Perceived as an enforcer who racked up penalty minutes, MacDermid will hopefully find his passion again in another field.
Tomas Vincour – Forward
Splitting his time between Dallas and Cedar Park for three seasons from 2010 to 2013, Dallas traded Tomas Vincour to the Colorado Avalanche in exchange for Cameron Gaunce. Vincour continued to play between the NHL and minors before signing with Ak Bars Kazan of the KHL in June 2013. In September 2014, Vincour returned to the U.S. to sign a one-year, two-way, $600,000 deal with the Colorado Avalanche, and was later placed on waivers in November. Vincour currently plays with the AHL Lake Erie Monsters.
Avalanche signed Tomas Vincour. 1 year /$600 000 (2 way) #tvasports

— Renaud Lavoie (@renlavoietva) September 3, 2014
Waivers: TOMAS VINCOUR
COL

— Renaud Lavoie (@renlavoietva) November 11, 2014
Aaron Rome – Defense
When the Stars decided to buy out consistently injured defenseman, Aaron Rome, he was unable to find another team for the 2014-2015 season. Rome suffered from a hip injury that remained aggravated after surgery and conditioning stints in the AHL. Rome received an invitation to the Detroit Red Wings' training camp, but left their preseason game against Toronto with another lower-body injury. In October 2014, Rome accepted a professional tryout offer with the Norfolk Admirals, the Anaheim Ducks AHL affiliate, but did not make the roster.
Mattias Norström – Defense
Norström spent just under two seasons with the Stars at the end of his career. After playing for the Los Angeles Kings from 1995-2007, Norström made his Dallas debut in 2006 before retiring in 2008. In 2010, the Kings invited Norström to be honored with a formal goodbye.
After leaving the NHL behind, Norström says he felt that he retired at the right time. When he returned home to Stockholm, he became an entrepreneur, starting a business that insures athletes and artists. Norström also plays a role with the AIK sports organization in Sweden, where he began his professional career.
Roman Turek – Goaltender
Having played for Dallas as a backup goaltender to Ed Belfour from 1996-1999, Turek won the Stanley Cup with the Stars before his departure to St. Louis. Turek later returned to the Czech Republic following his NHL career, playing with HC Mountfield Ceske Budejovice of the Czech Extraliga from 2004-2010. Since 2010, Turek has been elusive, and his current whereabouts are unknown.
Blake Sloan – Forward
Former Dallas winger, Blake Sloan, was once an all-around Texas player. Getting his professional start with the Houston Aeros of the IHL, Sloan made multiple appearances with the Dallas Stars from 1998-2001, then again in 2003-2004. Sloan finished his career with seven seasons spent in the Deutschen Eishockey Liga. In 2013, Sloan also published two articles with Minnesota Hockey Magazine about his thoughts on the NHL lockout, and the downside of playing professional hockey in Europe. He is also known as "The Caffeinated Squirrel," a nickname bestowed upon him by Stars broadcaster, Daryl Reaugh.
Patrick Côté – Forward
Though Côté only made brief appearances with the Stars from 1995-1998, some fans remembered the former NHL enforcer upon learning of his arrest for bank robbery in July. Côté is also a repeat offender who was arrested for drug possession and violating parole in 2002. Following his stint with the Stars, Côté went on to play for the Predators and Oilers before spending eight seasons playing sporadically in the minor leagues. Côté finally hung up the skates in 2008.
Neal Broten – Forward
As a member of the 1980 "Miracle on Ice" team, and the first goal scorer in Dallas Stars history, Neal Broten is a sports icon. Despite his Olympic and NHL legacy, Broten is not a fan of the spotlight. He now runs a farm with his wife, Sally, in River Falls, Wisconsin, spending much more time with horses than hockey. The former Star has been more visible this year, however, appearing in the 2014 Hockey City Classic with his brothers, and at Mike Modano's number retirement ceremony in March.
For the most part, these former Dallas Stars went off grid following their departure from the organization. While some fled from the spotlight, others continued to play in smaller leagues or diminished roles. It's still possible that fans will see recent departees like Ray Whitney or Aaron Rome in other roles around the league. Though some players chose to leave the hockey world forever, Stars fans still honor their contributions. After all, once a Star, always a Star.