The trade deadline isn't officially until March 2nd, but teams are wasting no time making deals. In fact, this is shaping up to one of the busiest trade seasons we've seen in recent memory. The Oilers are one of the teams who will certainly be sellers, looking to stock up on draft picks and prospects. They don't have much in the way of assets to deal, but the one name who is consistently popping up in trade rumors in Jeff Petry.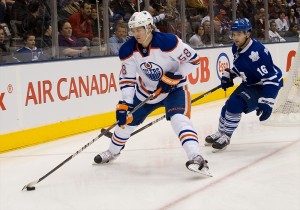 How Good of a Player is Petry?
The Oilers took Petry in the second round of the 2006 NHL draft, 45th overall. His best season in terms of offensive output came in the 2011-12 season where he scored 25 points. He notched a career high in goals in the 2013-14 season when he scored seven. He's not exactly what you would call an "offensive defenceman", even though the Oilers hoped he could possibly be that. When evaluating a blueliner, getting points is usually just gravy, unless you're talking a P.K Subban or Erik Karlsson.
Petry's defensive game has been up and down during his tenure as an Oiler. He was a minus-22 last season, and is a minus -25 so far this year, but he has four goals already. Plus/minus is a tricky stat, because a lot does factor into it. The Oilers haven't been a good team, and a players numbers will certainly suffer under those circumstances. But Petry plays around 20 minutes a night, and he's often found on the top pairing. Granted, he has a bit of a boat anchor as his partner most nights in Andrew Ference, but Petry has struggled in his own end, there's no question.
The Oilers use Jeff Petry as a top-pairing guy, but the question is, should he be one? They don't have a ton of depth on the blueline, he's able to log minutes, and he's got some experience. But on a good team, where would Petry fit in? Would he be a top-four guy? On a team like the Detroit Red Wings, the assumed front-runner for his services, Petry would likely slot in on the third pairing with Brendan Smith. For a contender, Petry is a great depth defenceman, but certainly not a go-to guy.
The Oilers can get Value for Petry
As is the case with most bad teams, players are often asked to play in the wrong role, and play over their heads simply because there isn't enough depth around them. Petry is a guy that likely isn't being used correctly, but there isn't much choice at the moment for Edmonton. He has his good moments, but like any other player, he has his bad as well. His mistakes are magnified because of the state of the team in general. No, I'm not suggesting he will go to another team and light it up. However, in the right role, with less important minutes, he could potentially help a team.
Petry is an unrestricted free agent this summer, meaning the Oilers either need to sign him or trade him, because then they risk losing him for nothing. And considering all they have to look forward to is a high draft position, they need to manage their assets efficiently. There was apparently some contract talks between the two sides, but it has been clear for a while that the Oilers don't see Petry as part of the future moving forward, and there's no strong indication he wants to stay.
Rental players frequently move at the deadline, and expiring contracts don't seem to scare teams off. Nashville spent a lot to get Cody Franson and Mike Santorelli. The Penguins gave up a lot for Daniel Winnik. But the name drawing the most comparison to Petry is defenceman Andrej Sekera, who went to the Kings earlier this week. Los Angeles gave up a first round pick and a prospect for the services of Sekera. They were in desperate need of a defenceman, with Alex Martinez on the shelf and Slava Voynov suspended.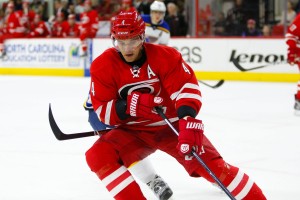 What is Petry Actually Worth?
Sekera is 28 years old. He's got two goals and 19 points so far this season, and is a minus -7 on a bad Hurricanes team. He's got better overall career offensive numbers than Petry (age 27), though he tends to average slightly more ice time. The biggest difference perhaps is that Petry gets a bad rap playing for the Oilers. His shortcomings seem glaring compared to Sekera, who hides away somewhat in Carolina.
If I could pick between the two guys, I would probably take Sekera over Petry, but again, giving Jeff some sheltered minutes on a good team, and he may be a lot more efficient. If Sekera was worth a first round pick, what can the Oilers expect to get in return for Petry? Before the Sekera deal, the Oilers were hoping for a package that included at least a second round pick and a good prospect. But, now that Petry is the best available d-man on the market, can the Oilers raise their asking price?
A team like the Anaheim Ducks may look at what the Kings just did, and decide they need to add some defensive depth as well. We've seen teams overspend for rental players so many times, it's not out of the realm of possibility that someone offers a first rounder for Petry. But one thing is for certain. If the Oilers don't want to re-sign him, they have to move him. The market is such that they can get a good return. The price paid for Sekera may drive up Petry's value in some people's minds, but in the same breath, he still is what he is. Probably not worth a first rounder, but in this day and age, I wouldn't be surprised if he fetches one.
Marcy, a former hockey player, is a hockey correspondent on CTV News and TSN radio. She began her career as a Sports Journalist in 2009 and has been part of The Hockey Writers since 2010, where she is currently a senior writer and editor.