The St. Louis Blues' ignominious 1-3 homestand has many fans simultaneously nervous for the postseason, and curious about the upcoming March 2 NHL trade deadline. Clearly, the absence of Kevin Shattenkirk has left a larger void on the powerplay and transition from the defensive zone, but the impact might be greater than initially suspected. The future of this season and possibly the core of the group will be influenced by what happens starting today and ending on deadline day.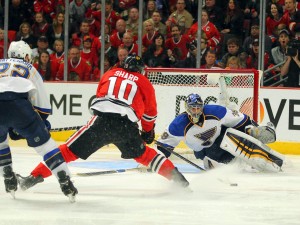 Taking a Look at the Standings
This is the wrong time of year to begin slipping in the standings. Many teams are not only making pre-deadline moves to improve themselves, but also doing more winning of late than the Blues. The Los Angeles Kings, doing their annual post-hibernation routine, are winners of their last eight and have (for now) secured a playoff wild card slot. Winnipeg, who the Blues face on Feb. 26, 2015, is also a team on the rise. Minnesota, with a possessed Devan Dubnyk, is also winning on a regular basis. Obviously, it's not likely either team will actually end up surpassing the Blues in points, but Vancouver is a scant five points out and threatening to climb. As the team found out last year by squandering a late lock on the Central Division, matchups matter, and it bodes well for them to snap out of whatever funk they're in. Catching Nashville might be a pipe dream, but falling behind Chicago is a very real possibility if this keeps up, then anything can happen.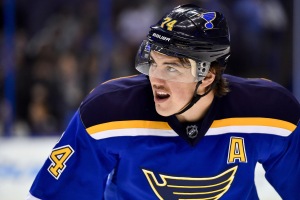 The Blues Might Be Forced to Make a Deadline Move
Last year's trade deadline move in acquiring Ryan Miller was a wasted opportunity, with this year showing the needs are deeper than a perceived problem in goal. The Blues transition game is shaky, they struggle to score and their defense is uncharacteristically porous. Although the team generally faces a springtime scoring dropoff, this year there's more to it than that. Going on the road, according to Jake Allen, might be ironically what the team needs. Although most of 2015 thus far has been successful, the recent dropoff in physicality and responsible two-way play is concerning. There is no hiding that the Blues have trouble getting that timely goal in the playoffs, and without Shattenkirk, that problem is magnified. The Blues might have to pursue a value forward like Antoine Vermette, should they decide the likes of Keith Yandle of Mike Green is too rich for their blood. The hope here is that the problem isn't that coach Hitchcock is getting tuned out, or there's another larger locker room problem. Ideally, this is the same issue that the Blues have faced in seasons' past, with the focus on putting pucks in the net rather than keeping them out.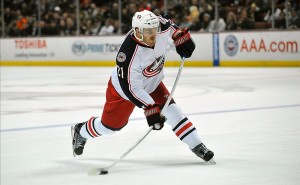 Possible 2015 Trade Deadline Targets
With the virtual firesales the Arizona Coyotes and Toronto Maple Leafs are contemplating, targeting their free agents makes the most sense. Since both teams are resigned to the fact that they are in rebuild mode, draft picks and prospects are valued almost more than roster players. This is good for the Blues, who don't have enormous depth after their top six forwards and two defensemen to sacrifice without doing more harm than good. The aforementioned Yandle, along with Toronto's Joffrey Lupul and James Van Reimsdyk are possible immediate-impact options, although significant salary would have to be retained by their current teams. On defense, Columbus' James Wisniewski is a possible stopgap solution to the Shattenkirk hole, with the additional benefit of sitting Chris Butler or Ian Cole. Jeff Petry from Edmonton also qualifies as inexpensive help, and is widely reported as available. Regardless of the moves the Blues make, the overarching issue is remembering who they are and what has made them one of the more successful regular season teams of the past three years.
Freelance writer and public relations practitioner. 20+ years in goal and long-time Blues fan.