In every season since the Penguins won the Cup in 2009, there has been a postmortem on the team trying to figure out what went wrong. In 2010, they had a championship hangover and ran into a hot goalie. In 2011, they were without both Sidney Crosby and Evgeni Malkin. In 2012, they completely imploded against the Philadelphia Flyers. In 2013, their goal scoring went dry at the worst time in the Conference Final. In 2014, they melted down in what we've come to know as typical Penguin playoff fashion. This season however, the collapse has come early, and it's the worst one we've seen in the Crosby era. So seriously, what's the problem this time?
Bad Management
The Penguins, thanks to injuries, have been forced to play with five defencemen for way too many games down the stretch. They also were down a forward for a couple of games. That's just unacceptable. If you want to understand why Ray Shero was fired, look no further than the contracts to Chris Kunitz and Rob Scuderi. Look at the fact that the team has little to no prospects in the system who can play forward. Look at the fact that in an effort to build a contender each season, the organization is void of draft picks. Unfortunately, Jim Rutherford came in and picked up right where Shero left off.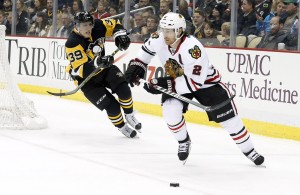 The trades that J.R has made in his short tenure with the Penguins have been, in a word, interesting. Let's start with the David Perron deal. At the time, with the Penguins sitting pretty in a playoff spot, the Perron trade looked brilliant. He was a bonafide goal-scorer, and the perfect long sought-after winger for Sidney Crosby. And he lived up to his billing at first. But, his offence has disappeared, and now that trade may come back to haunt the Penguins in the long run. The team sent a first round pick back to Edmonton for Perron. But Rutherford lacked the foresight to make the pick lottery-protected. If the Pens miss the playoffs, and they win the lottery, they would miss out on Connor McDavid. It's unlikely, but still possible.
Other than the issue with the draft pick, I'm not going to beat up on that trade too much, because I actually liked it at the time. But, the fact that Perron has been useless lately makes it look pretty bad. But the worst trade of the season? Well that would be giving up Simon Despres for Ben Lovejoy. For whatever reason, the organization didn't like Despres. There must be something we don't know. But, at 24, he's a young player with a lot of potential, and all you could get back for him is 31 year-old Ben Lovejoy? Granted, Lovejoy's play improved immensely while he was with the Ducks, but since his return to Pittsburgh, he's been terrible. And that's putting it nicely. The trade that brought in Ian Cole wasn't too bad, because Cole has actually played well. But losing Robert Bortuzzo upset the chemistry in the room, there's no doubting that.
And then we have the Daniel Winnik trade. Winnik is a serviceable bottom six forward. But there's two problems with him. 1. He's being forced to play top-six minutes due to injuries, and he's just not suited for that. And 2. He's a rental, and they gave up a second round pick for him. The Penguins were very inconsistent when that trade was made. It's the kind of deal a contender makes to take them over the top. Rutherford lacks complete insight to his team. It was an unnecessary trade. The mess that the Penguins are in regarding their cap, and their depth, is something that won't be easily fixed. And the management doesn't inspire much confidence.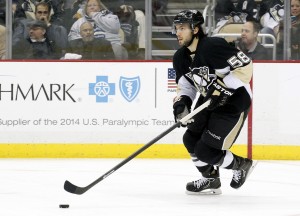 Injuries
Isn't this a familiar problem? Every season, like clockwork, the Penguins suffer injuries, and most often to key players. Kris Letang has played 82 games just once in his NHL career. Last season he played 69 games, the year before just 37 games, and 51 games back in the 2011-12 season. Yes, losing Letang is huge. He's their best defenceman, he controls the play and there isn't really anyone who can take his place. But for some reason, his absence has crippled the team this year more than in the past. One of the strengths of the Pens had been their ability to overcome injuries and not lose a step. Dan Bylsma, for all he did wrong, always seemed to get the most of his guys in the face of injury. They've been a strong regular season team year in and year out no matter what.
The Penguins also lost Pascal Dupuis early in the season. He's an important player on and off the ice. But he missed a lot of time last year as well due to injury. You would think the team has grown accustomed to missing guys. Has it finally taken it's toll? Has the constant parade of injuries just become too much for the team to bare? Maybe. Or maybe they just don't have enough depth to overcome. The loss of defenceman Olli Maatta was also a tough one. He's more important to the group than most people think. And not having Christian Ehrhoff for so many games hasn't helped one bit. Evgeni Malkin is not near 100% and it shows in his play. They are being crippled by the injury bug at the worst possible time, I can't ignore that or make light of it.
But, how many teams suffer injuries? Most of them. The Penguins have won THREE games since March 13th, and two have those have been against the Arizona Coyotes! That is as pathetic as it is shocking. I've heard some people say that we can't label this a collapse because of the injuries, but I respectfully disagree. In 2015, they have a record of 19-18-7. Save for Maatta and Dupuis, they have been relatively healthy through much of that stretch. Have they completely run out of gas? It certainly looks that way.
Coaching?
The Penguins needed a new voice behind the bench. I felt that getting an experienced coach was the best way to go, but for whatever reason, they went with a rookie in Mike Johnston. For the first couple months of the season, the team was on fire. It looked as though M.J was the right guy for the job. Blaming the coach when things go wrong is the easiest thing to do in sports, but that may be a cop-out here. The most mind-boggling stat of this edition of the Penguins is that they haven't won a game all season when trailing after two periods. They're the only team in the league to have that distinction. I don't even know what to say about it. How is it possible that this team has yet to come back and win a game in the third period. Is there a lack of leadership? Is there no fight? Is that on the coach to motivate his guys?
I don't have answers for that, and I'm not going to start challenging the leadership thing because I'm not in that dressing room and I don't know the dynamic. I'm not going to call for the "C" to be stripped from Crosby because I don't believe that's the answer. But why is that this team has no push back? How could they consistently crumble at the moments when they need to break through?
We can sit and talk about the powerplay, which has been atrocious, and has now resorted to giving up shorthanded goals rather than scoring with the man advantage. Assistant coach Rick Tocchet is in charge of the PP. Is he the wrong guy for it? What is Mike Johnston doing to help? Again, I can't speak into these things because I'm not on the bench. But how about their tendency to cough up the lead? They were up 3-0 against Ottawa a few nights ago in what was an extremely important game and they crumbled like a piece of paper. Was it the injuries? Was it the coaching? Is the system that Mike Johnston employs not working for this group? Is there too much dump and chase?
Underperforming Players
At the end of the day, it all comes down to execution. And that has been a problem for the Penguins. Their identity has always been their ability to create offence, and they're struggling big time in that area. The last time they scored more than three goals in a game was back on March 12th against the lowly Edmonton Oilers. Their offence has gone dry, and when looking at their roster it seems inexplicable. But, the issue is that guys simply aren't getting it done. The bottom six is just a wasteland. Not only are players not generating offence, but they aren't doing much to prevent it either. Depth has long been an issue in Pittsburgh, but when healthy they actually have better depth now then they have in the past couple seasons. But hockey doesn't live on paper.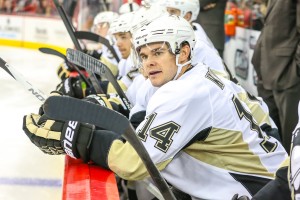 Chris Kunitz is a shell of his former self. Blake Comeau hasn't been the same since injuring his wrist earlier in the year. David Perron has just 12 goals since joining the Penguins, and none since March 12th. The team only has three players with more than 20 goals, Crosby, Malkin and Patric Hornqvist. Beau Bennett, who is supposed to be their best young forward (!) has a whopping four goals on the season. Part of that is because he plays third or forth line minutes with bad centermen. But does he deserve top-six minutes? Is he being misused by the coaching staff? Perhaps. But I digress.
Sidney Crosby is having a down season by is standards, though it's hard to blame the captain at this point. But, I'm not letting him off the hook either. Crosby and Malkin steer the ship that is the Penguins, and when a team goes on a nosedive like this one has, you have to look at your best players. Could those two guys have done more? Maybe, maybe not. It's easy to blame them, when the reality is that the secondary scoring has been poor at best, and even the other guys playing top-six minutes have underwhelmed.
This team is a disaster right now, any way you slice it. Tonight, they play their final game of the season against the Buffalo Sabres, If they win, they're in the playoffs. But do they even deserve to be there? And will they just get swept in the first round anyway? 2014-15 was not the year of the Penguins. Unfortunately though, for a team that has two of the best of players in the world, there have been far too many seasons when it wasn't their year. Is Pittsburgh wasting too brilliant careers with an inability to adequately build around them? It's starting to look that way. And it's not going to get any easier moving forward.
Marcy, a former hockey player, is a hockey correspondent on CTV News and TSN radio. She began her career as a Sports Journalist in 2009 and has been part of The Hockey Writers since 2010, where she is currently a senior writer and editor.