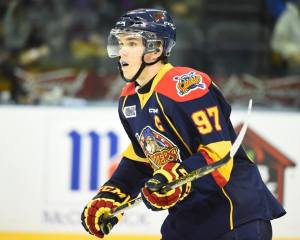 The Leafs are rebuilding, but people are too caught up in the idea of just being terrible for five years and drafting high. The sad fact is, historically this is not a good way to build a team – it works if you get Patrick Kane, Ovechkin or Crosby, but a cost/benefit analysis based on the odds of who you're most likely to pick doesn't look favorable at all.
Ironically, though his execution was flawed, Brian Burke probably had the right idea when he chose to circumvent this strategy by declaring himself not patient enough for it.  Had the Leafs thrown in the towel when they were clearly out of it, kept any of their second round picks, opted not to sign UFAs they didn't need, and made sure to always get something back for their expiring contracts and most importantly, made better choices on who they kept and who they let leave, they would likely be a half decent team right now – perhaps even competitive.
So, while the "scorched earth" approach has been bandied about as if it's a fact that the Leafs will do nothing but lose and draft high for the next five years, I thought it would be interesting to imagine taking an unorthodox approach to building the team.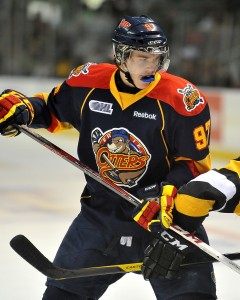 James Van Riemsdyk
JVR is extremely talented, he's young and he has three more years left on a very reasonable contract ($4.5 cap hit). While he could obviously help a Leafs team in the future, his contract, age and talent level make him a very valuable trade piece.
Virtually any playoff team could afford to take him on, but I would focus on bubble teams that might want an extra push to get in, but who might also miss – important if you get their draft pick.
For JVR I would want a first rounder in the upcoming draft and a decent prospect.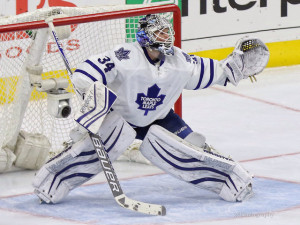 Jon Bernier 
Everyone assumes the Leafs will keep Bernier and re-sign him in the summer. But, Bernier and Reimer are roughly the same age and have pretty similar career stats. While Bernier is considered to have more raw talent, it seems obvious to me that Reimer has more mental toughness and a willingness to battle.  Now, the key word in the sentence is "seems" because – how would I really know that?  But, if the Leafs do feel the same, I would say Reimer is the one to keep.  Especially when you consider that the difference between Bernier and Reimer going forward can probably be overcome by the fact that you could sign Reimer to a cheaper contract and get more for Bernier in a trade.
Calgary, Winnipeg, San Jose, Dallas and Philadelphia could all conceivably be interesting in improving their goaltending.
Would a fringe playoff team trade a lottery protected first rounder for a goalie upgrade to help them get in? Worth a try.
Phil Kessel
I don't really want to trade Kessel, as he's one of my all-time favorite Leafs, but let's just say the Leafs could pick up a solid young player and a first rounder for him, that's progress in the rebuild and avoids wasting his prime years to a further degree.
Let's say the rumours come true and he goes to Florida in a package that brings back the Huberdeau and a first rounder.
Tyler Bozak
His salary and all-round terrible play means that he isn't going to bring a lot back, but since reality isn't exactly what we're going for here today, let's imagine he brings back the Leafs a second round pick – he does have points and it's possible they could fleece someone.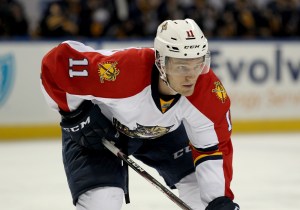 Joffrey Lupul
Despite most of his injuries being freak occurrences that happen because he is the unluckiest player in the NHL, the Leafs might have trouble moving him for a fair return on his talent.  A second rounder seems fair since, if he's healthy, he's a steal for the team that acquires him at that price, and the Leafs would clear salary and have a second round pick.
Daniel Winnik
I don't know that it's realistic, but I've heard pick and prospect rumours for Winnik.  Let's split the difference and say a second rounder comes back – an incredible return on a bargain basement UFA.
Dion Phaneuf
He may have a high contact, but he's probably worth it. He's a great player who will look so much better when his new team gives him other high quality defensemen to play with.  Dallas clearly needs defense and I would think if the Leafs gave them lottery protection and maybe worked out a bit of a package, they could score a first rounder for his services.
The Results
The net result of these trades is that the Leafs would be hard pressed to win another game this season and would likely finish 29th, making it a decent probability that they select one of the drool-inducing top prospects available in June. Even if they lost the lottery, they'd still pick third and get a player who would go #1 in most years.
Secondly, along with their own pick and Nashville's low first rounder, they would have four additional first round picks and three second round ones.  This is the crux of this entire exercise: picking high once per year for five years involves a ton of risk, but selling off your whole team to get that many picks in one draft isn't really that risky since, even if you don't get good enough players to speed up your rebuild massively – which I think you would – the worst that can happen is you pick right were you plan to for the next several years.
But this way has tons of upside – picking so often almost assures you of finding at least one diamond in the rough and all your players will get to grow together and be of an age.  (Contract time could be problematic, although not if you stagger when they start their ECLs).
Don't forget, those six first round picks would be coming with three second round picks, Huberdeau and at least two decent prospects to add to Brenden Leipsic, William Nlander, Kadri, Gardiner, Rielly, and Reimer.  The Leafs would, at the least, instantly stock up their prospect system. Plus, if they got lucky and drafted McDavid or Eichel, we're talking about being a powerhouse by the time a realistic timeline for a normal rebuild starts to come to fruition.
Ultimately, I know this isn't going to happen, but it's not that far fetched, and, even though I started the piece thinking it'd be a fun exploration on a slow news day, the more I think about it – the more I like it.  No one's ever had 20% of an entire round of the draft before, and creativity usually pays off, in my experience.  Not to mention, the worse the Leafs make themselves before next Monday at 3PM, the better they'll be in the future.
Thanks for reading.