In a shocking turn of events, the Boston Bruins played one of their best games of the season against the Chicago Blackhawks, downing them 6-2 in their own rink. Of course, this comes after a six game losing streak that had some fans calling it quits and, perhaps, rightfully so. With the days until the trade deadline dwindling and the Bruins performance fluctuating, the decision for Peter Chiarelli and the Bruins' brass becomes harder and harder.
For around two months now, Bruins trade rumors have been running rampant. There's no doubt that with each game that passes, the players are becoming more and more uncertain with their future on the team. On Sunday, we watched as the team showed a new-found sense of desperation- something that was missing the entire road trip.
Just because the Bruins dominated the Blackhawks doesn't mean that Chiarelli is going to completely buy into the season. The B's lost one of their tougher defensemen in Kevan Miller, further weakening their already questionable defense. And, we sit and wait for an update on David Krejci's status, news that could be the dagger in the hearts of Bruins hopefuls.
We are starting to see a few in-house decisions that have provided a spark. Brian Ferlin and Jordan Caron have been tossed onto the fourth line along with Gregory Campbell, sending Daniel Paille and Craig Cunningham to the press box in the process. Ferlin tallied his first career assist in his second NHL game Sunday, while Caron may be fighting for his career in Boston, literally. His willingness to drop the gloves against Petteri Lindbohm against the Blues shows us that he probably knows that this might be the final chance the Bruins give him.
Ryan Spooner has also had his share of chances in Boston and filled in for Krejci nicely. With an assist and four shots on net, his offensive game clearly showed up, but he also was able to force turnovers and showed an improvement in his neutral zone play. If Krejci has to miss some time, Spooner's play and ability to create offense on the second line will be vital to the Bruins' playoff hopes.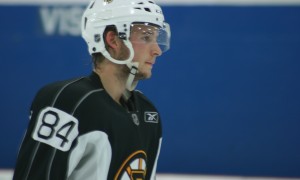 The Bruins play on Sunday could be described as scared, but in a good way. Not many players on this team are safe and they finally played like their jobs were in jeopardy. Milan Lucic, Reilly Smith, Dennis Seidenberg, and Loui Eriksson all have had rumors swirling around them and all stood out on Sunday. Brad Marchand is riding a four game point streak, while Patrice Bergeron put up six points on the road trip. One noticeably quiet player has been Carl Soderberg, who played better on Sunday and almost knocked in a loose puck. However, Soderberg is probably the Bruins' most important unrestricted free agent this summer and could be dealt away as a rental if the team doesn't want to re-sign him.
In regards to the Malcolm Subban experiment- STUPID decision by Bruins management. Last week, I felt as if his call-up was some type of showcase and maybe it was, but they went about it all wrong. The team's need for points forced them to play Tuukka Rask against the Oilers, which should have been the end of Subban's chances at a start for that call-up. Instead, Claude Julien and the Bruins decided to throw him out there against an even more important game against one of the league's deepest offenses. He was lucky to only see three shots in the first period, but the next and final three shots he saw all wound up in the back of the net. Talk about killing a young kid's confidence. One bad start from Niklas Svedberg and all confidence is lost?
The Bruins only have three games left until the trade deadline and rumors are sure to heat up day by day. With winnable contests against the Canucks, Devils, and Coyotes, it might be an opportune time to keep the momentum from Sunday's win rolling. This team has certainly been streaky, so it wouldn't be too surprising if they could rattle off five or six straight wins. However, the latter portion of this potential streak may just be with a few new faces in black and gold.
Has contributed to isportsweb, the Yawkey Way Report, and Fansided's Chowder and Champions. Host of the weekly radio show Top Shelf Sports on Bryant University's WJMF radio.