Earlier this month, the Bruins recalled Malcolm Subban in order to send Niklas Svedberg on a conditioning stint in Providence. A week passed, but Subban saw no action. However, it came as a bigger surprise when Subban was recalled yet again earlier this week. What are the Bruins' intentions with Subban for this cup of coffee?
After an ugly collapse against the Calgary Flames on Monday, more and more fans are losing faith in the Bruins this season. Rather than wanting the B's to push for a playoff run, they would like to see them sell pieces and regroup for next season. There's no denying that the Bruins have looked horrendous as of late, but it was just a few weeks ago when the team was on a hot streak. Who's to say the can't get hot again when playoffs come around?
Subban, the team's 2012 first round draft pick, has had nothing to do with the Bruins ups and downs this season, but there's a chance he could have an impact going forward. However, if he does, it won't be as a member of the Bruins. At least not during the season. Subban has a decent shot at starting tonight against the Edmonton Oilers, the second worst team in the league, but why?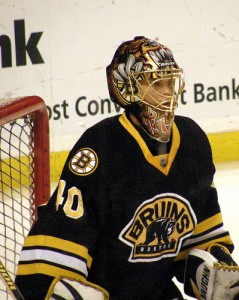 From the team's perspective, this is an absolute must-win game. The Oilers may be at the bottom of the standings, but nobody knows how a 21-year-old goalie is going to play in his NHL debut. If they wanted to give Tuukka Rask a rest, Svedberg should be the option. He was awful against the Stars last week, but has put up a respectable season as Rask's backup.
This is why I believe the Bruins may be showcasing Subban to those teams interested in a trade. With Rask locked up for years, it might not make sense to keep Subban in the system. However, if the Bruins trade Subban, it needs to be for a long-term fix, not a rental player. Subban is one of the team's most valuable trade chips and given the Bruins chances this season, it would not make sense to give him away for a quick-fix such as Chris Stewart.
The "showcase" doesn't necessarily have to be for this season, though. If Peter Chiarelli and the Bruins opt to lay low at this season's trade deadline, there could be some major moves coming in the offseason. There have been rumors regarding key players such as Zdeno Chara, Milan Lucic, and most recently, Loui Eriksson and Dennis Seidenberg. Value may be sitting on the low-end for all four veterans, but dumping salary and acquiring younger players or draft picks may be a smart idea.
Moving forward, keeping Subban as a backup would be a waste in my opinion. Backup goalies can be picked up for cheap, and with Rask commanding such a high salary, he should be starting around 65 games. Many teams are in need of goaltending help and would be willing to pay top dollar for a young talent such as Subban.
Keep your eyes on Twitter this evening to see if Subban gets the nod in net tonight. Also, be sure to watch the play of Matt Bartkowski who will be in the lineup for the second straight game. Bartkowski may also be on the block as he has been in past years, but with Kevan Miller's injury on Monday, the Bruins may not be able to give up another defenseman.
Has contributed to isportsweb, the Yawkey Way Report, and Fansided's Chowder and Champions. Host of the weekly radio show Top Shelf Sports on Bryant University's WJMF radio.