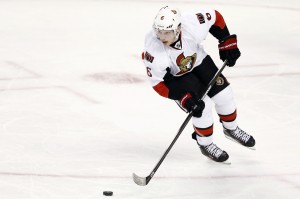 After a step forward in 2012-13 the Ottawa Senators took a step backwards in 2013-14. A great deal of attention is being directed towards the future of franchise centre and team captain Jason Spezza. However the Ottawa Senators appear most in need of an upgrade defensively in order to turn the tide for next season.
Inability to lock down close games
Aside from the tired, tested and true means of using your eyes and instincts to determine issues with a team there are some numbers that can be of use to illustrate things. Firstly it is clear from the Senators winning percentage in one goal games that they had a leaky defence unable to hold on to wins. They won just 47.5 percent of their one goal games, which was good for 19th in the NHL. In comparison the Colorado Avalanche were the best in the league winning 70 percent of their one goal games.
Another way we can see this inability to protect a lead is in the breakdown of the Ottawa Senators goals per period. In the first period they outscored their opponents by a slim margin of 80 to 79. At the very least they could put themselves in a position to win in the first period. However they were outscored 172 to 146 in the second and third periods combined. In overtime that trend continued with them being outscored seven to three.
Is improvement required on offence before defence?
Granted this was a generally young team however with this trend of failing to protect leads there is not wondering in why it was a disappointing season. The offence does not need fixing as greatly as the defence. On offence the Ottawa Senators were 11th in the NHL with 229 goals for and they were fourth with 2692 shots for.
On the defensive side they were 27th with 258 goals against and 29th with 2849 shots against. They also blocked only 955 shots, good for 28th in the league and had 757 give-aways ranking them sixth worst in the league. Clearly the offence did a reasonable enough job but the defence was the downfall of this team.
Another issue lies in their continued undisciplined play. They ranked 27th in the NHL last season taking 1115 penalty minutes or 13.3 per game. With the 22nd ranked penalty kill at 80.9 percent you cannot afford to be shorthanded this often.
Evaluating the returning blue line pieces
Currently the Ottawa Senators have the following defensemen under contract for next year: Erik Karlsson, Jared Cowen, Marc Methot, Chris Phillips, Patrick Wiercioch, Cody Ceci, and Mark Borowiecki. Erik Karlsson provides all the offence the Senators need from the back end, while Cowen, Methot and Phillips can all be counted on to be solid members of the defence core.
The mistake for Ottawa would be going into next season solely relying on the combination of Patrick Wiercioch, Cody Ceci and Mark Borowiecki as their bottom pairing and seventh defenseman.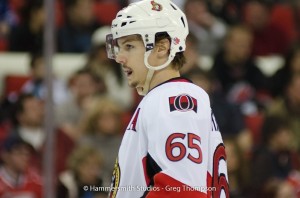 What needs to be added?
Adding a veteran or two like Mike Weaver would be of great assistance to improving the defence. Last season Weaver had 1.7 hits, 1.8 blocks, 0.3 give-aways and 0.2 takeaways per game. He plays a safe and consistent brand of hockey and handled over 18 minutes in average ice time. Although his price may have gone up with the attention the 36 year old received during the play-off's for solid play with the Montreal Canadiens.
Another defender that could be brought in as a UFA on the cheap would be Nate Prosser. He had 0.4 hits, 1.6 blocks, 0.1 give-aways and 0.3 takeaways per game with the Minnesota Wild last season in an average of over 14 minutes of ice time. He is not a well-known name but he does have 126 career NHL games behind him and would fit the will of a reliable defender.
They are reliable but can they effectively move the puck?
Another interesting thing to look at is the icings drawn percentage for the defensemen. It is a measure of how many icings a player drew as opposed to took while on the ice. It is a good indication of their skill in exiting their own zone. A clean breakout would not result in an icing and is a valuable attribute for a team to be able to get the puck out of their zone and go on the attack.
For the Ottawa Senators the defenders with positive percentage of over 50 were Jared Cowen (56.1%), Cody Ceci (52.7%), Patrick Wiercioch (53.2%) and Erik Karlsson (51.6%). Each of Phillips, Methot and Borowiecki were below 48%.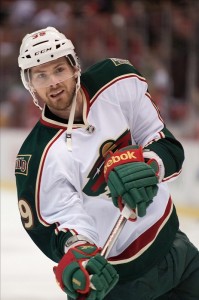 In re-evaluating my choices of Weaver and Prosser I discovered that Mike Weaver has only had a 27 game stretch in the past three seasons where his icings drawn were over 47%. If the Senators were to bring him in they would have to pair him with a good puck mover like Erik Karlsson to compensate. In comparison Nate Prosser has been relatively good in terms of icings drawn, with his past two regular seasons being above 54%.
Final thoughts
Aside from all the numbers talk it is clear that two things need to happen for the Ottawa Senators to have success next season. An upgrade is required on defense, preferably a steady puck moving type defensemen, two would be ideal.
As well head coach Paul MacLean will need to focus heavily on improving their defensive game plan for the upcoming season. Whether or not Jason Spezza is still in the nation's capital is largely irrelevant as without there being  measurable improvement in the Senators defensive play they will get nowhere in a hurry.