It's no secret  Jonathan Huberdeau's sophomore season left more to be desired. Just one year removed from a rookie campaign that found him winning the Calder Trophy for the NHL's Rookie of the Year, people assumed he'd pick up where he left off.
But things don't always turn out as planned.
While some have questioned his abilities, Huberdeau's sophomore slump wasn't due to a lack of skill, but rather stemmed from a series of unfortunate events that could have derailed any rising sports star from living up to his potential.
It is well known that Huberdeau spent time in a wheelchair after undergoing surgery to repair a hip that plagued him his entire rookie season. And with the recovery timetable stretching across the entire summer, it was understood he wouldn't be making any significant gains in the gym over the off-season.
Many figured that as long as Huberdeau was playing hockey pain-free, he'd still be able to carry a heavy load for the Panthers in the scoring department. That's why his regression caught everyone off guard.
But it turns out Huberdeau's hip wasn't the only thing holding him back.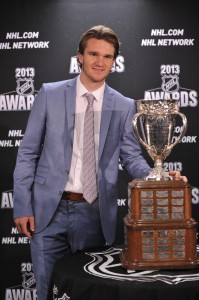 At the conclusion of the 2013-14 season, when Dale Tallon addressed the media at the Panthers' post-season press conference, Tallon surprised everyone when he revealed Jonathan Huberdeau had broken his foot in the beginning of the season.
Now, if you think about it, that kind of explains everything. The lost step with the broken foot and the pressure to play like a star after a summer rehabbing a surgery must have taken a toll on the 20 year old, both physically and mentally.
There were plenty of times during the season where you could see just how frustrated he was.
Huberdeau only missed a handful of games after taking a shot off the foot in the beginning of the year, so it's unlikely his bone ever healed during the season. Whether or not the Panthers handled that injury correctly is debatable, but either way, there's no doubt Huberdeau's broken foot affected his quality of play.
Don't Look Back
With his injuries in the rear view mirror, there's all the reason in the world to believe Jonathan Huberdeau will improve next season. Huberdeau has yet to play a season in the NHL without an injury gnawing at him. He has yet to spend a summer after an NHL season training his body for the rigors of the next one.
This is the summer for Huberdeau to really work hard and transform into the player he wants to be. If the sophomore slump tag can't motivate him enough, maybe being selected to play for Team Canada at the IIHF reminded him that he's still a good hockey player.
Whether you're looking at how it affected his confidence or his on ice production, there were plenty of positives to take away from Huberdeau's time in the IIHF.  He played his best hockey on a line with Brandon Shenn and Nathan MacKinnon, putting up points in consecutive games as well as winning player of the game after an overtime win.
Now that the tournament is over, hopefully Huberdeau will spend the rest of his summer with a more positive outlook than he had at the end of the NHL regular season. And now that he's healthy, this time Huberdeau can train hard enough this off-season to make a roaring comeback for the Panthers next season.