Jim Hiller was hired as an assistant coach by the Detroit Red Wings to take over the power play for the departed Tom Renney. Through the first seven games of the 2014-15 season, Hiller's power play looks eerily similar to Renney's in the sense that neither of them can score.
The Red Wings whiffed on all three of their power-play opportunities Thursday night against the Pittsburgh Penguins and are now 2 of 27 (7.4 percent) on the season, good for fourth-worst in the NHL only ahead of Buffalo, Minnesota and Winnipeg — none of which have scored a single power-play goal.
Pittsburgh came into Thursday's game killing off 75 percent of penalties (18 of 24) this season, so it's not as if Detroit has faced some exceptionally tough penalty killers.
With the firepower of Henrik Zetterberg, Pavel Datsyuk, Tomas Tatar and Gustav Nyquist, it's hard to imagine why this group can't score on a more consistent basis. However, the answer is really quite simple: They aren't shooting the puck enough.
More Shots on Net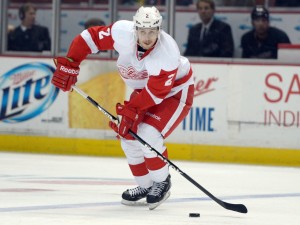 On those 27 power-play opportunities, the Red Wings have just 34 shots on goal, which is an average of 1.26 shots per opportunity. It's not enough. Any competent NHL goaltender will be able to stop 1-2 shots per power play, especially if he has a great penalty kill in front of him.
The Penguins came into Detroit with the top-ranked power-play unit in the league, and coach Mike Babcock said before the game he would be taking notes on what he can do to improve his own power play. He told MLive.com's Ansar Khan:
"We watch their power play in every game they've played this year and theirs is way better than ours, so maybe we can steal something they're doing and try to get our own power play going."
Learning From the Best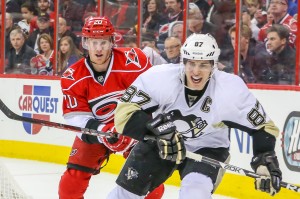 Based on the one game I saw the Penguins play this year, what I can tell is they are really good at moving the puck quickly. When I watch the Red Wings power play, they seem lackadaisical and are waiting for something to open up rather than trying to make something open up.
When I watch the Penguins power play, they are really good at moving the puck around the perimeter of the ice in an attempt to create scoring opportunities. The puck rarely stays on somebody's stick for longer than a second or two. Quick passes gets the defenders moving, which creates shooting lanes to get the puck on net.
The Penguins had eight shots on their power play, compared to six for the Red Wings in as many opportunities. More shots on net means more rebound opportunities, it's as simple as that. The Red Wings have always been so concerned with making the highlight reel pass to set up the pretty goal. Sometimes, the situation calls for it, but it's better to get a shot on goal and hope for a deflection or a rebound than to force a pass that will just get picked off and sent out of the zone.
The crazy thing is the Red Wings' final two goals in regulation against the Penguins came when they pulled Jimmy Howard, so it was as if they were on a power play. However, the two goals scored came off the rush rather than setting up in the offensive zone.
Zetterberg's goal to make it 3-2:
Niklas Kronwall's goal to tie the game at 3-3:
If the Red Wings can use their speed to create scoring opportunities on a six-on-five, then they should use it to create scoring opportunities on a five-on-four as well. Push the pace and make the defense react quickly to what you are doing. They might even draw another penalty and have an easier time scoring on a five-on-three.
Luckily for the Red Wings, the lack of power-play success hasn't hurt them so far. However, should they reach the playoffs for a 24th straight time, they won't make a deep run if their power play can't take advantage of penalties.
Tom Mitsos is a writer from Michigan who covers the Red Wings and the Red Wings' AHL affiliate, the Grand Rapids Griffins, for The Hockey Writers.