Things are going swimmingly for the Nashville Predators these days. They are the last team standing without a regulation loss, are leaders in the Central Division, and James Neal's hat trick Thursday night at Bridgestone Arena singlehandedly brought down the nemesis Chicago Blackhawks. But all is not well for one Predators forward: Colin Wilson.
Through seven games the once highly-touted prospect has no goals and two assists. His frustration was apparent against Chicago when he had at least two solid chances in tight, one of which was a Roman Josi rebound that Wilson clanged off the side of the net. Wilson's struggles are both nothing new, and considering coach Peter Laviolette's offensive philosophy, mildly surprising.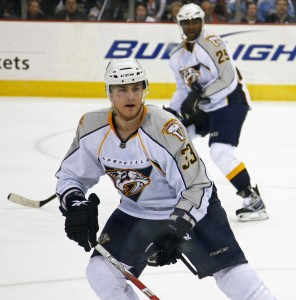 To be sure, Wilson is not the only man on the roster who might like his personal fortunes to match the rosiness of his team's current standing—Victor Stalberg has no points in the four games he has played and has looked just as frustrated at times. But the Predators have much more time and patience invested in Wilson than in Stalberg, and now in his sixth NHL season, his clock is ticking.
Wilson was the seventh pick in the first round of the 2008 draft. It would be unfair to say that Wilson was to replace Alexander Radulov, who had just split for Russia, leaving the Predators holding the bag on his contract, but Wilson was seen as a player with an offensive upside, yet he could play heavy defense as the Predators system then demanded. He came at a heavy price, though. The previous summer the team had viciously slashed its costs in preparation for selling the franchise, and the pick used on Wilson came from Florida in exchange for all-star goaltender Tomas Vokoun.
The Connecticut native who grew up in Winnipeg was a star at Boston University under coach Jack Parker, where he was a Hobey Baker finalist and won a national championship in 2009. Never the fastest skater on the ice, Wilson was nonetheless a capable two-way centerman who averaged a point a game in his BU career and knew how to pass the puck.
Like Father, Unlike Son
To this point in his life, Wilson's career had seemingly followed the same track as his father, and while it is not necessarily instructive to make comparisons, the early similarities are striking. Carey Wilson spent parts of 10 seasons completing an odd loop around the NHL, playing two different stents with both Calgary and Hartford and also taking a turn with the Rangers. Like his son would later, he did two years in NCAA hockey, playing at Dartmouth also as a center. But the father-son path began to diverge here.
Carey spent two years playing in Europe in the early 80s, at a time when the flow of hockey talent back and forth across the Atlantic was not nearly what it is today. He then did a stent with the Canadian national team before breaking in with the Flames. In each of his first five NHL seasons he scored at least 20 goals.
Colin, on the other hand, tried to stick in the NHL immediately after leaving BU as a sophomore. He split time between the Predators and the AHL in 2009-10 but showed promise, posting eight goals and 15 points in 35 games. He played in every game the next year and scored 16 goals, but it started to get away from him the next season. Though he scored his first playoff goal against Phoenix in the 2012 second round, he missed 14 games in the regular season and did not substantially improve on his offense.
A natural center throughout college, Wilson never has played regularly at center since, instead taking a wing. While adequate on defense, and with decent net presence, farther-flung areas of the offensive zone, like corners, don't seem to be his strong suit.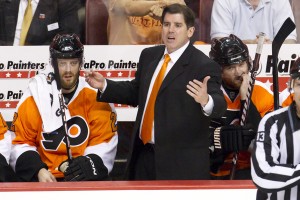 Conventional thinking has been that now is his time. Laviolette has unleashed the Predator offense, and while not slacking on defense by any means, employs a loose approach that allows for more flexibility in the neutral and offensive zones. So far, though, Wilson is no better off.
Alex is a native of Nashville, Tennessee. He has four years of reporting experience, both sports and news, mostly in newspapers. He holds a M.S. from the Columbia University Graduate School of Journalism, in New York City, and a B.S. in journalism from Middle Tennessee State University. He is a former news and sports editor at the MTSU student paper, Sidelines, and interned at the Tennessean. Raised in a football family, he left the reservation and found an obsession in hockey.