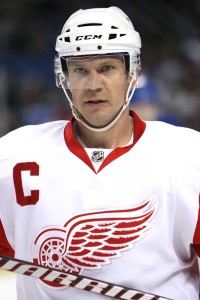 The NHL regular season has finally drawn to a close, and the Conference Quarterfinal matchups have been set. With round one of the 2012 Stanley Cup playoffs set to begin Wednesday night, the Detroit Red Wings find themselves part of perhaps the most intriguing matchup of the Western Conference. Finishing as the 5th seed they'll concede home ice advantage to their 4th seeded foes, the Nashville Predators, in what is slated to be one of the most exciting battles of the first round.
As a Red Wings fan you know what Detroit brings to the series. You've been with the team through their various winning and losing streaks. You watched them make history with 23 consecutive wins at the home. You suffered with them through the injury plague of March. You know what makes them tick, and what makes them tock. You know what their strengths and weaknesses are, and you know their tendencies and nuances. Can you say the same about the Predators?
You likely watched the teams play each other 6 times this season as divisional opponents, splitting the season-series at 3 games a-piece. You've probably read the hype surrounding Nashville's various trade deadline acquisitions. You undoubtedly know about the return of Alexander Radulov that raised a ruckus heading into the season's final weeks.
Yet do you really know the team? Beyond the stars, do you know what players to watch out for? What are their strengths and weaknesses? When it comes to these questions, there's no better place to look for answers than the minds of THW's own Jas Faulkner & Andrew Grimm.
Now serving as a contributing editor, Faulkner is a Nashville resident who covered the Preds for 2 seasons and still writes about the team from time to time. Grimm is THW's current "Smashville" representative. Both of them agreed to answer some questions about this Predators team in an attempt to help educate us Wings fans on our new-found enemy. Hopefully you can glean something new from their sometimes differing opinions to the several questions I posed.
Right off the bat, how good do you think this Nashville Predators team is, and do you think they have what it takes to go all the way?
Jas: Nashville has always had a tremendous amount of talent.  This is due to GM David Poile's ability to see potential in otherwise un- and underdeveloped players.  By the numbers and where it counts the most -on the ice- the team is the strongest it has ever been.  Will they lift the cup in May?  It's not unreasonable to think they have a shot at doing just that.
Andrew: This team is really good, me and other informed hockey media I have talked to believe that they can not only win the west but also are capable of bringing home lord Stanley
Who was Nashville's MVP in 2011-12?
Jas: It's hard to pick just one guy.  The Predators organization has historically taken a "no stars" approach to team building, so what you see are players who are generally unselfish and supportive of each other.  The guys I would pick this season have lit the lantern, but they have also played roles in their teammates' skate to the bench for fistbumps.
My choices:
David Legwand:  The last of the first gen Predators is better than he's ever been.  He's the often unsung hero who is there to set up his teammates.  Anyone who has ever underestimated Number Eleven will see during this playoff series that he would fit into any upper echelon NHL roster.
Andrei Kostitsyn:  I was one of many people who had misgivings about Poile's decision to bring Andrei to Nashville. There had been talk that he was part of the reason Sergei had done so poorly in Montreal.  However, history repeated itself this spring when it turned out that Nashville had actually managed to pick out yet another diamond in the rough.
Sergei Kostitsyn:  Little Kostitsyn Brother continues to impress.  Aside from becoming such a strong part of the roster and in the team's upper tier in scoring,  he has probably played a big role in his older brother's quick adjustment to his new home.
Martin Erat:  In the past, Erat has been That Guy during shootouts.  You know, the one the other team hates to see bumping a puck back and forth before he makes a run at their goalie. This year he's shown improved production on the ice in regulation time as well.
Andrew: Pekka Rinne no doubt, heading into the post season he can steal you an entire series and makes Nashville very dangerous.
Nashville has the 5th best home record in the NHL, but they also have the 8th best road record, and Detroit beat them in Bridgestone Arena back in December. Is home ice advantage a big deal for the Predators?
Jas: Not really.  There are a lot of advantages to being home.  The Predators have an almost symbiotic relationship with their fan base.  If the denizens of  Predsnation in the stands are on fire, it can spark some heat on the rink as well.
Something happens to them on the road.  They go from being the heroes at home to eighties popcorn movie underdogs with a point to prove.  The more formidable the team they're visiting, the more likely that they'll skate in, clean house and leave.  As their bus pulls away, the home team and their fans stand in silence.  They are stunned that they lost to Nashville.  The lights of the Predators' bus recede into the foggy night as the Kenny Loggins music swells and… Sorry.  I got carried away.
Last year's meetups in Anaheim and Vancouver show they will be just fine on the road.
Andrew: Home ice is always an advantage, especially considering how well the wings have played at home this year, that being said Nashville is solid on the road which makes this series really interesting.
Who are the underrated players, the unsung heroes if you will, of this team?
Jas: Matt Halischuk, Francis Bouillon and Kevin Klein, come to mind.  I look for next year to be Halischuk's year in the spotlight.
Andrew: Colin Wilson and Craig Smith both produced 30+ points this year and are just 21.  Don't hear as much about them as Legwand and Erat but they only were 4/5 goals off of them.  This series will come down to who's "unsung heroes" come up big. Also Anders Lindback, he only made 16 appearances but was solid and should something happen to Rinne, he is capable.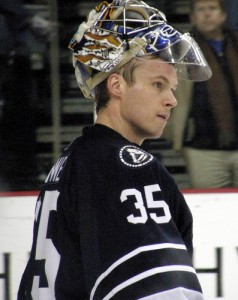 Goaltender Pekka Rinne played in a whopping 73 games this season. Has he shown signs of being overworked, and is that a concern going forward, and does he have a weakness?
Jas: Does Pekka Rinne have a weakness?  Wow. It probably exists somewhere next to the ending of Edwin Drood and the Loch Ness Monster.  Pekka is usually strong and a bad day for him is often better than good days for most of the rest of the NHL netminders.   Nashville has an embarrassment of riches where goaltenders are concerned.  Aside from Pekka Rinne and Anders Lindback, they have two excellent backup pipesmen in their affiliate teams with Jeremy Smith and Chet Pickard.  I have often wondered why they don't rotate the 'tenders more than they do because there are times when Rinne does look tired out there.
Nashville's goalie coach, Mitch Korn, has seen to it that the team has some of the strongest talent on the continent between the pipes.  I'd love to see everyone of them get enough time on the ice at Bridgestone and on the road to be as effective as they can possibly be.  Would this possibly diminish Rinne's efficacy?   I don't think so.  Then again, they don't pay me to coach the goalies and Korn has never actually asked me what I think, so…
Andrew: Rinne has been really consistent and is who I think should win the vezina, I don't think he has looked overworked but time will tell, he is tall and quick and the only weakness I can think of is lack of deep playoff run experience, he has done well in the past but never made it past round 2
Nashville had the best powerplay in the league during the regular season, obviously that's a strong suit, what other strengths will they try to play to during the playoffs?
Jas: Their D is legendary. People who don't know or understand the team will tell you it begins and ends with Ryan Suter and Shea Weber.  I would be hard pressed to find D guy on Nashville's roster who doesn't bring a lot to the team.
Andrew: The strong play on the road looks to be big. With the likes of Gill, Weber, and Suter defense looks to be a strong suit as well.
A lot has been made about the depth of this team's lineup and how good it supposedly is. Do you think that they have an edge over Detroit in that category?
Jas: I think the late season additions will give them an edge over Detroit. Here's the thing: Detroit has had their struggles this year, but they seem to bounce back in post season.   I look for series H to go to seven games.
Andrew: They have a ton of depth, with Gill, Suter, and Weber on the blue line added to depth guys like Bouillion, Josi, and Ellis, on the forward side they are also full of depth and look to be really ready to make a run.
How big of an asset is Alexander Radulov?
Jas: Radulov's story is an interesting one.  Had things not gotten complicated with Nashville and the KHL a few years ago, he would have had the same kind of cachet as Pasha and Sasha.  There were a lot of people holding their breath in Nashville because of the tension surrounding him in the locker room when he was here as a teenager.  That was then.  The person David Poile picked up at the airport last month is still insanely talented and as much of an ice artiste.  He is also far more mature and focused.  Alexander Radulov has shown he not only deserves a place in the NHL, but that the league needs to do what it can to prove they're the right place for him.
Andrew: This guy could be the factor that puts them over the top.  60+ points in the KHL the last 3 seasons and 7 points in 9 games in the NHL he adds a scoring threat that the wings will have to cover.
Was there a defining game, or games, this season for this club?
Jas: You know?  As odd as it will sound, the one game that shows them in their greatest light is one they lost.  The four point comeback from what looked like a sure shutout in favour of Chicago on March 31st was one of those times when what was going on at event level was almost heroic.
Andrew: It's just been a really solid season from start to finish.
The first playoff series ever won by the Predators came just last season. Does this team have enough experience to get the job done?
Jas: They have even more potential to do so now.  Poile has always, always been a master at getting young talent and bringing them into a situation where Barry Trotz and company can turn them into NHL-caliber talent.  This year he went for age and experience and it has paid off. Gaustad, Gill and Big Kostitsyn Brother have been instrumental in amping up what is already there to the point that they should go as far if not further this year.
Andrew: Yes, they have added guys like Fisher last year and Gill this year to add in that department and I expect big things out of both of them, also the core learned a lot last year so I think they'll be fine.
Is there a player that notoriously comes alive in the playoffs–a clutch guy?
Jas: That would be David Legwand.  I'm always amused by the "Who IS that guy?!?!" commentary that follows a Nashville playoff game.
Andrew: Hal Gill shut down Alex Ovechkin 2 years in a row and I think he could do the same now. Ok I don't mean the Preds will play the caps in the finals, but I mean that he can shut down opponents top lines and really make life easier for Rinne.
How would you characterize Nashville's style of play?
Jas: Nashville has developed into a team that reflects the best parts of old school North American hockey.  They tend to play a tough, physical game without getting into the outrageously dirty tactics employed by some other clubs. Watching Nashville in top condition is like watching your father's or grandfather's hockey, only with faster, bigger, stronger guys in better armor.
Andrew: They are built from the goaltender out. Solid defense will be their game plan and that will create offense.
Does Nashville have any glaring weaknesses? Anything I can phone Mike Babcock up and tell him about?
Jas: You think I'm gonna tell you?  Seriously, I think it will come down to the team really listening to Barry Trotz.  When the wheels have fallen off the Preds' play, it has been when there was some sort of breakdown where they didn't follow the game plan.  Behind that quiet, soft-spoken exterior is a hockey mind that understands the minutia of how his own team works and catches on pretty quickly to what he needs to do when he's on the bench down the ice from Babcock or Quenneville or Vigneault.
Andrew: Not really, Maybe some minor ones here and there but nothing huge, this team is solid.
Is there anything else you think Red Wings fans should know about the team they're about to see more of?
Jas:   There is so much cross-pollination between the two clubs' fan bases that this is one series where I would say both team communities are very familiar with each other.  I think casual fans who are seeing this as a storied, Original Six club versus an upstart sunbelt team and expecting a short series are going to be happily surprised at how deep this will go and how good the hockey is. The playoffs are always more fun when it's with close neighbours, and there is no such thing as a bad time at Bridgestone Arena when Detroit or Chicago are in the house.
Andrew: Red wings fans beware! This team is dangerous and can not only take out Detroit, but make a serious run for the Cup.