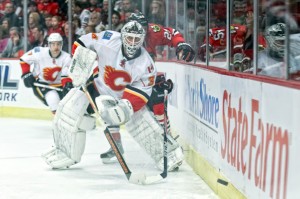 It's hard to be particularly upbeat as an outlet that covers the Calgary Flames when the club has been on the outside of the playoff picture for the third consecutive year. That said, since the team did not lose all 82 games, there are a few things to look back on with some positivity.
Without further ado, here are the Calgary Flames award winners for 2011-12.
MOST VALUABLE PLAYER: Miikka Kiprusoff
Since he was acquired from San Jose in 2003, Miikka Kiprusoff has either been the Flames best player or their second best. This season was no exception. Moreover, with the team constantly revolving players in and out of the line-up due to injury, Kiprusoff faced a ton of shots. Only three goalies (Cam Ward, Pekke Rinne and Mike Smith) saw more shots than Kipper throughout this season – two of the three made the playoffs via disgustingly high save percentages.
For the seventh straight season, Kiprusoff played 70 (or more games), although the emergence of Leland Irving as a potential suitor allowed the Flames to slightly rest Kiprusoff. The 70 games played represented the fewest he's played for the club since the lock-out.
BEST DEFENDER: Mark Giordano
Once upon a time, the Flames signed a depth defender from the Ontario Hockey League to fill out their AHL affiliate's roster. He somehow, through hard work, cracked the Flames roster and never left – save for a one-year hiatus in the KHL due to a contract dispute.
Simply put, Mark Giordano is a very good hockey player. In the first year of his brand-new $4 million per year contract, Giordano became an alternate captain and continued his staunch, defense-first play. He led the team in blocked shots, despite missing 21 games due to injury. Moreover, he came back from what was speculated as being a season-ending hamstring injury early.
If Mark Giordano's play in every game doesn't make him the team's best defender, I don't know what does.
BEST ROOKIE: T.J. Brodie
Last season, T.J. Brodie was thought to be an interesting prospect with a few things to work on. He played three games for the Flames and was promptly sent down to the AHL to work on his defensive play.
Flash forward to this season, when Brodie was recalled and stayed for the remainder of the season. The spotty defensive play in his own zone? Gone, thanks to his tutelage under coaches Troy Ward and Jim Playfair. While Brodie was still rather sheltered in who he played against and when, notably playing on the third pairing, his progression throughout the year already has Flames fans pondering how he'll fare over a full season.
BIGGEST SURPRISE: Sven Baertschi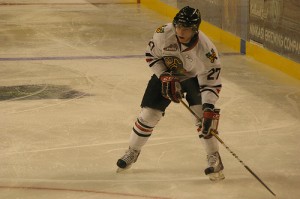 When the Flames elected to bring 2011 first round draft pick Sven Baertschi up from the Western Hockey League, nobody really knew what to expect. Most Flames fans hoped that he would not embarrass himself, especially considering the club's previous track record of terrible, terrible first rounders being rushed to the NHL. (Rico Fata says hello.)
Instead of being bad, or even merely competent, Baertschi was possibly the team's most dynamic player during his five-game stint. He scored three goals playing on the third line alongside grinder Tom Kostopoulos and fellow rookie Greg Nemisz. He had fans at the Scotiabank Saddledome chanting his name.
And he had Flames fans and management salivating at the thought of him playing with the big club full-time next season.
BIGGEST DISAPPOINTMENT: Mikael Backlund cannot stay healthy
Let me be clear before I begin. Mikael Backlund is a damn fine hockey player. The 22-year-old took a big leap forward in his development last season and headed into this campaign with a lot of hope. When he played, he was consistently one of the best Flames, playing the tough minutes against the opposition's best players and somehow driving the play despite all of these handicaps.
For all these strengths, Backlund had the worst luck with injuries of anybody on the team. He got hurt in practice mere days before the season began on a fluke slash in practice. After missing several weeks, he returned and took a few weeks to get up to game speed. Once he did, he was great. Until he got hurt again in a scrum stepping in to help a teammate.
That said, Backlund's luck cannot stay this bad forever. Expect him to get re-signed and, hopefully, have a bounce-back year.
STORYLINE WE WISH WOULD GO AWAY: Should the Flames trade Jarome Iginla?
It's no secret that Jarome Iginla is a very good hockey player. It's also no secret that, much like every person on the planet, he is aging. When the Flames went to the Stanley Cup Finals in 2004, Jarome Iginla was 26 years old. Here we are, eight years later, and the club hasn't gotten past the first round since.
In the interim, Iginla has continued to put up respectable numbers and gradually become tenured as the NHL's second most senior team captain (behind only Daniel Alfredsson of the Ottawa Senators). However, Calgary's failure to succeed in (or even make) the playoffs have led to the question of Iginla's future constantly popping up like a cork in the water.
And, sadly, no matter how much Flames fans, ownership or local media wish that the team would settle the matter once and for all – and no matter how many public pronouncements team management makes on the subject – whether or not to trade Jarome Iginla is a topic of conversation that simply will not die.