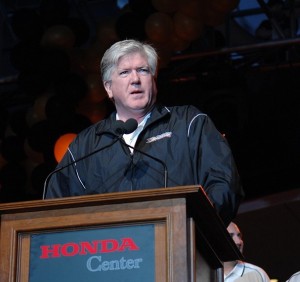 When you include the lockout, the Toronto Maple Leafs haven't been to the playoffs in eight seasons. Leafs General Manager Brian Burke was supposed to change all that when he took the reigns of the club four seasons ago, but so far it hasn't worked out.
For the first time in his tenure, Burke is facing serious criticism and pressure as the talk of winning a Stanley Cup has been replaced with talk of making the playoffs. Expectations are at an all time low in Canada's most populated city, but somehow the team continues to disappoint.
The Maple Leafs are now the holders of the two most dubious streaks in the NHL. Their seven year playoff drought is the longest of any team in the league, and their 45 year Stanley Cup drought is also the NHL's longest. On Tuesday, Burke was forced to face the Toronto media after another disappointing season. He apologized for another disastrous season, and outlined his goals for the off season.
Burke said the two biggest goals for the Leafs this off season is to address the number one centre position, and to find another goaltender. The 56-year old said the team still believe James Reimer is the real deal, and they hope to find a veteran presence to support him. Speaking of support, Burke also said that the team needs to add some veteran players to alleviate the burden of leadership on their captain Dion Phaneuf.
This season has been somewhat of a reversal of fortune for Leafs Nation, and perhaps in a good way. In previous seasons, the Leafs got off to a disastrous start only to turn it around late and promote false optimism around the city. Conversely, this year they were looking great until mid-February, and then they lost 20 of 25 games to crush their playoff hopes.
Optimism is in short supply around Toronto at the moment, but teams like Florida and New Jersey have shown that the difference between winning and losing in today's NHL is razor thin. After four years at the helm, Burke's leash is getting shorter and you can bet he will try to make a splash this off season. Perhaps he will make a hard push for his former American Olympians Ryan Suter and Zach Parise, who are both unrestricted free agents this summer. Or maybe he will attempt to trade for Rick Nash, a local boy who would invigorate a fan base that is growing increasingly irritated. Whatever Burke elects to do, this is the biggest off season of the last 20 years for the Maple Leafs. If the Leafs miss the playoffs again next year, you have to believe there is a strong possibility that Burke will be fired. Even though losing is a habit in Toronto, Leafs ownership has to draw the line somewhere.
With another losing season in the books, here are some of the positives and negatives from the 2011-2012 Maple Leaf season.
POSITIVES:
– The emergence of Jake Gardiner as a potential top 4 defenceman. Although it should be noted that Gardiner's value in Toronto has grown inflated. To become a legitimate top pair defencemen he needs to develop a point shot. Every great defencemen has a bomb.
– Tyler Bozak posted career highs in both goals (18) and points (47). While he may not be the number one centre they need, he's certainly proven he is a capable 2nd or 3rd line pivot.
– Phil Kessel played his best season as a pro posting career highs in goals (37) and points (82). He is also under contract at a manageable number for the next two seasons.
– Joffrey Lupul was a beast for the Leafs this year and was arguably their best player when healthy. He finished with 67 points in 66 games, and the biggest question is how much is he worth when he becomes a free agent after next season. Mikhail Grabovski has never scored 60 points in the NHL and he got a 5-year / 5.5 M per year deal.
– The Leafs are one of the youngest teams in the NHL and they have a lot of room for internal development. You have to think that players like Matt Frattin, Luke Schenn, Carl Gunnarsson, and possibly Nazem Kadri will make bigger impacts next season.
NEGATIVES:
– There are too many overpriced veterans under-performing. Colby Armstrong only played 29 games due to injury, but there is not way he's worth 3 million dollars. You can find someone to play his role for 1 million. In fact, Joey Crabb is a prime example. He scored 11 goals and he makes $750,000.
Toronto's biggest whipping boy Mike Komisarek also put forth another confounding season. This guy was a legitimate top 4 defencemen in Montreal, but for some reason he can't find his game in Toronto. He's got two more years at 4.5 million along with a partial no-trade clause.
– At this time last season James Reimer was headed overseas to represent Canada at the World Championships, something tells me he shouldn't be waiting by the phone this year. The 24-year old's season took a nasty turn just 5 games into the season when Brian Gionta clipped him with an elbow. Reimer was never the same upon returning from the injury, and it's tough to evaluate his season based on those struggles. One thing is for sure, the Leafs can't go into the 2012-13 season fully relying on him.
– Nikolai Kulemin…wow. What the hell happened this year? After scoring 30 goals last season he mustered just 7 this year. Kulemin got off to a bad start, and his misfortunes continued to snowball…not unlike the Leafs themselves. The only good news is that he's a restricted free agent this summer, and he drastically drove down his asking price with a brutal campaign. The bigger question for Toronto is if they can rely on him to have a bounce back year next season.
– Tim Connolly was an absolute bust. Connolly was supposed to bring some defensive accountability to the centre ice position, and all he did was finish a minus 14, good for second worst on the team. Which brings me to my next point…
-The acquisition of Matt Lombardi was considered a steal when the Leafs acquired him, along with Cody Franson, from the Predators for Brett Lebda and Robert Slaney. But he finished a team worst minus 18 and scored just 18 points. Coming off a serious concussion, it wasn't fair to expect big offensive numbers from Lombardi, but he should still be able to take care of his own end.
OFF SEASON RECOMMENDATIONS:
– Sign Josh Harding. The 27-year old has consistently put up strong numbers behind Niklas Backstrom in Minnesota, and he's also shown the ability to start or share the load. If the Leafs believe in James Reimer as they claim they do, Harding can backup or start when needed. In my opinion, Harding is good enough to start in the NHL but has been buried behind a great goalie.
– Throw the bank at Zach Parise. The 27-year old had a nice rebound year after missing the majority of the 2010-11 season due to a knee injury and he provides the fiestiness and scoring touch they lack. Furthermore, Parise has proven leadership qualities that the Leafs sorely lack.
– Get bigger. Let's face it, the Leafs got whipped by physical teams all year long. For all of Burke's talk of playing with truculence, this team is soft. It's a big reason why they couldn't turn their season around when it started to get away from them.
For the best sports stories check out unsportsmanlike.ca or follow us @Unsport4Real, you can follow me @TomYawney