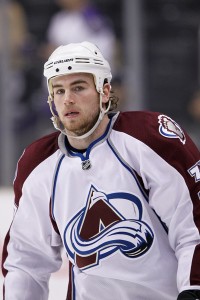 It's not often when a team can overcome a 3-0 deficit and earn a huge 5-4 victory, led by its captain, who had by far his best game of the season and its leading scorer who, after going pointless over his last three games and missed one due to a groin injury, can return and score the game-winning goal and add an assist that that story gets pushed to the back burner.  But that is exactly what happened last night.
The story of the hour for the Colorado Avalanche is none other than the return of holdout center, Ryan O'Reilly.  The NHL lockout officially ended on January 12th, 2013 and after 47 days, the ugly dispute between Camp O'Reilly and the Colorado Avalanche finally ended on February 28th, 2013.
The dispute certainly did not end with Avalanche general manager Greg Sherman and Ryan O'Reilly shaking hands after agreeing to a contract.  Instead, the Calgary Flames, who were (coincidentally?) the Avs opponent last night signed the disgruntled center to a back-loaded two-year, $10 offer sheet which will pay O'Reilly a prorated $1 million this year, a $2.5 million signing bonus, and a massive $6.5 million next season.
Although the Avs could have taken up to seven days to decide whether or not to match the offer sheet, Avs brass took a mere four hours before announcing their decision to match the offer for O'Reilly.
The Plus
Obviously, adding a player of O'Reilly's talents will be a much-needed addition to the Avs' lineup.  There is certainly a reason why, as a second-round pick, O'Reilly was able to make the jump to the NHL straight from the draft.  A move that was expected for top three picks like Matt Duchene and Gabe Landeskog, but almost unheard of for an 18-year-old second-rounder.
O'Reilly has established himself as one of the best young two-way centers in the NHL and enjoyed an offensive rise last season as he finished the season as the Avs leading scorer with 55 points.  If he can continue the rise and growth he showed last year, and fences can be mended between him and the Avs, then he could prove to be worth his contract and earn an even longer one next year.
The Minus
A year ago, it seemed all but a foregone conclusion that Ryan O'Reilly was part of the young, talented, core of players of the Colorado Avalanche's present and future.  Now, after a very bitter contract dispute, O'Reilly is back with the Avs.  But has the damage been done?  It's been less than 24 hours since everything transpired, so I'm sure Greg Sherman and O'Reilly's agent Mark Guy still aren't on each other's Christmas card list and more importantly, what is the dynamic going to look like with O'Reilly and his teammates who have been playing for the past month and a half without him.  I also wouldn't expect any trades between Colorado and Calgary in the near future.  Although Calgary's offer sheet was certainly within NHL rules and guidelines, they broke the code and violated an unwritten rule and Sherman did not seem very happy indeed when asked about their actions.
Matt Duchene has been brilliant this year after signing a quick, painless two-year, $7 million deal.  He leads the Avs in scoring with 19 points in 18 games and looks hungry to prove he's a top NHL center.  Duchene will be well aware that O'Reilly will be making $3 million more than he will be next year simply by holding out.  Will there be any bad blood?
Rumor was that O'Reilly was "hurt" after Gabe Landeskog was named the team's captain instead of him.  Will this affect the relationship between Landy and O'Reilly going forward?  They comprised two thirds of the Avs best line last year and it would not be suprising to see them reunited given their past success.
The Here and Now
Ryan O'Reilly wasted no time getting back to Denver.  He passed his physical today and is expected to practice with the team tomorrow at 9:00am at the team's practice facility, Family Sports.  He could be in the lineup conceivably as early as Sunday night when the Avs travel to Columbus.  Here is how the forward lines may shape up:
McGinn-Duchene-Parenteau
Landeskog-O'Reilly-Hejduk
Mitchell-Stastny-Jones
McLeod-Olver-Bordeleau
O'Reilly's return will inevitably spell the end of someone else's Avalanche tenure, at least for now.  Stefan Elliott may be the quick answer and as he has been watching the past few Avs games as a healthy scratch and could easily be sent down to Lake Erie, but the seemingly imminent returns of defensemen Erik Johson and Ryan Wilon will require further roster spots to open up.  Waiver pickup Aaron Palushaj played well after coming to Colorado, but has been a healthy scratch of late as well.  The Avs would have to put him on waivers and hope another team does not claim him as the Avs did if they want to retain his rights.  Although Patrick Bordeleau has played in every game this season, he could see his NHL career come to a halt with O'Reilly's return.  The Avs could also choose to waive a veteran like Chuck Kobasew or Greg Zanon.
The Future
Clouded, Ryan O'Reilly's future in Colorado is, to paraphrase Jedi Master Yoda.  Matt Duchene is certainly cementing his status as the team's top center for the long-haul.  Next season, the Avs will be strapped with a $6.6 million center in Paul Stastny and O'Reilly's $6.5 million price tag as well.  That is quite a price for a third line center and unless one of those two wants to take a significant pay cut after next year, one of them will likely be gone.  Cue the Paul Stastny trade rumors again.
The Avs will face a very busy offseason after the 2013-2014 season.  O'Reilly's now infamous deal will be ending and the Avs will need to tender at least his $6.5 million price to retain his services.  Captain Gabe Landeskog's rookie deal will end and he will need to be paid.  Matt Duchene's bridge deal will end and he will be owed big, long-term money.  Goalie Semyon Varlamov, whom the Avs paid a steep cost to get and is thought to be the goalie of the future in Colorado will need a new contract.  Paul Stastny's five-year, $33 million contract will end.  Other players with expiring contracts after next year include forwards Jamie McGinn and Steve Downie, defenseman Tyson Barrie, and goalie Jean-Sebastien Giguere.  It will be quite the offseason!