Follow Lukas on Twitter @LukasHardonk for more Maple Leafs coverage.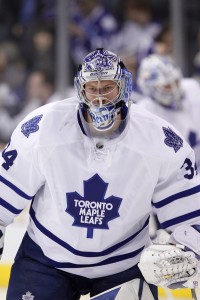 Jim Carey once played in the National Hockey League. No, not the actor. That would be Jim Carrey.
Carey played for the Washington Capitals during the 1994-1995 NHL season. As a rookie, the young goalie made 28 appearances, had a goals against average of 2.13 and a save percentage of .913.
His impressive rookie campaign led many to believe that he was the next great goalie. However, after two successful seasons in the NHL, Carey struggled during the 1996-1997 season and played in just 14 games over the course of the next two seasons.
"There are a lot of goalies who have come in and had a brief, spectacular burst in the NHL that don't sustain it," Toronto Maple Leafs general manager Brian Burke told the Toronto Star. "Jim Carey is one. Steve Penney is one. What I said to James Reimer is 'Google both of those guys and make sure you're not one of them.'"
Now, as the Maple Leafs enter what should be one of the team's most interesting and exciting seasons in recent history, Burke has officially named Reimer the Leafs' number one goalie.
That's quite the job for a player who hasn't even played in 40 games in the NHL. Reimer's coach, general manager, and fellow teammates seem to think he can get the job done, but what about the fans and those who cover the Leafs on a regular basis?
I decided to ask around via Twitter and email. I received responses from some of the most passionate Leafs fans and some of the most talented writers out there.
Some of those responses sound like they came from what others might consider to be the prototypical Leafs fan: one who has very high expectations.
Here are a couple of examples:
"60-65 games with .920 save % and 30-35 wins." – @PAndrewFletcher

"James R will be a 30 Game winner minimum. He will play like he did, building confidence in himself and the blue line in front." – @projectsmith
Winning 30 or more games as a sophomore goalie is hard enough, let alone doing it as a member of the Maple Leafs. However, it does make sense to believe that Reimer will likely help to build confidence in the blue line ahead of him.
As long as Reimer can continue to play at a high level, the Leafs' defence group has more room to work with in terms of taking risks. If those risks don't work out, there is always a strong goalie in net.
The Buds' defence can't rely entirely on Reimer, though.
"I'm expecting great stuff from such a class act. James needs a strong defence. He will bring the Buds to playoff contention," @Bartramo1977 told me via Twitter.
I tend to agree with Bartramo. The chances of Reimer actually maintaining a GAA of 2.60 or better for the entire season are very slim, but if last season was any indication, we can expect to see flashes of brilliance from the youngster on multiple occasions this season.
While that may not lead the Leafs to the playoffs, it will certainly help the team get closer.
That seems to be what the majority of people who replied believe:
"I expect Reimer to be a top 20 NHL goaltender this year." – @Bukator

"A mild soph jinx, 50-55 GP, 25-30 Wins, growth as both an athlete and a person as he truly becomes a lead goalie." – @PConn69

"Reimer is the guy who brings back hope. I feel confident he'll get us closer to the dream all Leaf fans have been chasing" – @lauraspragge

"Steady… Not flashy." – @MMaxPoweRR
Then there is the always witty Hunter Crowther, a former Leafs beat writer himself:
"He'll slump, Ben Scrivens will come up and win 40 games, and Reimer will serve me my fries in 2013…or, he'll be fine." – @HunterCrowther
Steve Simmons of the Toronto Sun is expecting the same thing that many of those mentioned above are.
"I'm expecting to see a goalie who can start 60 games and give the Leafs a chance to win most nights," Simmons told me via email.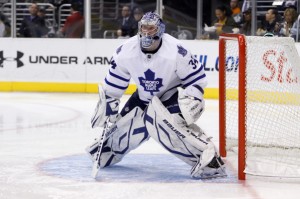 The Sun sports columnist does understand, though, that things could go south for Reimer this season despite a strong rookie campaign.
"I say that with a proviso – after winning the rookie of the year award, I said, and a lot of hockey people said the same thing about Steve Mason in Columbus," Simmons explained. "He appeared to be the goalie of the future and the present. But it hasn't worked out that way for Columbus."
That's the biggest worry for Leafs fans all across North America. Perhaps Ryan Pike, a colleague of mine here at The Hockey Writers, had the best reasoning to believe that there is a good chance the young goalie will struggle.
"He had a great single season on a team that was way out of contention, playing loose and being taken lightly by their opponents," said Pike. "I expect teams won't be as easy on the Leafs early in the season as they were in the dog days when Reimer came in."
That's exactly it, right? The Leafs were a non-playoff team for just about all of last season, and nobody on the face of this planet expected a 22-year-old goalie to enter the NHL and steal the show.
Now, with all of the advanced scouting that goes on these days, there is no way that Reimer survives in his second year in the NHL, right?
"A question mark that's stepped up every time he's been questioned, ECHL MVP, AHL and NHL debut," is how McKeen's Hockey Pro Scouting Coordinator Gus Katsaros explained Reimer.
So once again, there is reason to believe.
That's what Jas Faulkner, THW's Senior Nashville Correspondent, seems to believe.
"Should any club pin their hopes on one player?  Of course not," said Faulkner. "2011-12 might not be the year Reimer hoists the cup in TO, but it might give some credence to the idea that the Leafs could do that in the near future."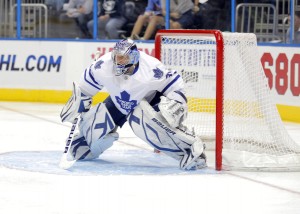 The thought of Reimer helping the Leafs to the Cup within the next ten seasons gets every Leafs fan excited, but everyone must remember that putting that amount of pressure on a player who only has their feet wet has certainly contributed to the demise of some rookies all around the league.
However, that doesn't mean you should set the bar too low.
"How Reimer plays is likely going to be the single biggest factor in how the Leafs do this season, and it's also one of the hardest things about this team to forecast," said James Mirtle of The Globe and Mail.
With questionable defence and a group of forwards that no one really knows what to expect from, it does make sense to think that Reimer won't necessarily be the team per se, but, as Mirtle said, he will be one of the biggest factors.
What does that mean for the Leafs? Mirtle says a shaky season.
"I'm expecting him to have a season full of ups and downs, for his save percentage to drop─likely to just about average in the league─and for there to be questions, at times, if someone else in the organization should be given a shot to play more games and challenge for the No. 1 role," he continued. "Reimer's a resilient person and I think he'll need that this year."
Still, though, there is a lot of uncertainty. While I believe Reimer will finish around the 2.70 and .910 region, others might tell you 2.40 and .920. Chemmy from our good friends over at Pension Plan Puppets might have explained this uncertainty best with his prediction.
"It's hard to say. If you believe Reimer is one of the best goalies in the league we could hope for a .920 out of him next season and a likely playoff berth," he explained. "If Reimer isn't as good as he was last year the Leafs are likely lottery bound. No pressure kid."
Twitter: @LukasHardonk | Email: lukas.hardonk@gmail.com | Lukas' archive
For every Leafs article on THW, follow @THW_MapleLeafs on Twitter.