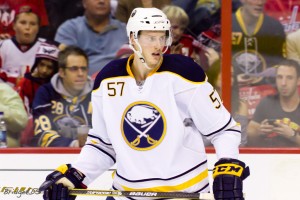 In the NHL, August typically means one thing: all interesting hockey news is about as existent as Tim Connolly in the playoffs.
For hockey fans, October may as well be five years from now.
This is the time of the year where hockey writers like myself will literally think of anything and everything to ensure you, the hockey fan, remains entertained.
But, don't you guys get tired of reading the same old articles breaking down every little off-season move or the ridiculous stories of Sean Avery going to jail? (who cares?)
I mean, wouldn't the off-season be so much cooler if writers would recklessly sacrifice some of their very own credibility by attempting to make crazy, bold predictions strictly for your viewing pleasure?
Well folks, it's your lucky day, because I, being the thoughtful guy that I am, am here to do just that.
The Sabres off-season gave hockey fans in Buffalo plenty to talk about this summer.
Now, with Marc-Andre Gragnani locked up for at least another year and the Sabres 2011-12 roster all but completed, focus shifts to training camp set to kick off mid-September, and then shortly there after, the highly anticipated puck-drop in Helsinki, Finland.
And so, to help ease the pain of this agonizingly boring time of year, I give you five of my boldest predictions for the upcoming hockey season.

Ryan Miller will remind you why he's Ryan Miller.
One season removed from his Vezina Trophy winning campaign, Ryan Miller's play took a turn for the worse in 2010-11 after losing two of his top defenders, Tony Lydman and Henrik Tallinder to free agency the previous summer. Miller's stats weren't all that terrible, as he still cracked the league's top-20 goaltenders in wins (34) save percentage (.916) and shutouts (5).
But, at $6.25 million a year, Buffalo fans knew they deserved a lot more from their all-star tender and were quick to jump on Miller after his drop in production, promptly earning him the nickname "Mr. Softee", as some of the Sabres faithful affectionately dubbed their goalie.
Towards the end of Miller's season though, he began to remind folks why he won the NHL's award for best goaltender the previous year and was a major piece to Buffalo's remarkable march into the playoffs. In fact, since the turn of the year on January 1, Miller posted a .930 save percentage and single-handedly stole two games in the Sabres' first-round loss to Philadelphia in the playoffs.
Despite his disappointing stats, Miller should get the benefit of the doubt  going forward after grinding through last year with a young defense corps and virtually no backup goaltender to relieve the fatigued star. At times, there were certain stretches during last season where Miller would play weeks on end after Lindy Ruff lost all trust in then backup Patrick Lalime.
After Miller went down with an injury late March, the decision was made to give young prospect Jhonas Enroth a look. He didn't disappoint, going 9-2 in Miller's absence and playing a key role in the Sabres locking up a playoff spot, providing solid relief for a clearly exhausted Miller.
This season should prove to be a little more enjoyable for Miller, not only because now he now has Enroth to spell him for about 20 games, but the Sabres made it a priority to improve their defense in front of Miller this off-season. The additions of Robyn Regehr and Christian Ehrhoff should pay dividends for Miller as each have built a reputation of being incredibly reliable in their own end, each being on the plus side of plus/minus for their careers.
With the additions the Sabres made, I don't think it's too farfetched to say Miller could very easily put up career numbers this season. 2011/12 Fearless Forecast: 40 wins 2.15 GAA .931 SV%
Nathan Gerbe will crack the 20-goal marker.
Like Miller, Buffalo's "Honey Badger" had a first half to forget last year. To give you an idea of how bad the first few months of the season were for Nathan Gerbe, it took him until December 21 to register his first goal on the year, causing many in Buffalo to scratch their heads at the notion of Ruff keeping him in the starting lineup night after night.
Upon looking at his stats, you can safely assume that Gerbe received the biggest boost from new owner Terry Pegula. From "Pegula Day" (February 22) until the close of the season, Gerbe reminded everyone why he was a Hobey Baker Award finalist in college, scoring 9 goals and 5 assists over the last 18 games.
Gerbe continued this phenomenal play in the first round of the playoffs as he captured the hearts of many Sabres fans by frustrating the Flyers with his gritty and lightning-quick style of play, tacking on a goal and assist in the seven games in the process and leading the team in penalty minutes (18).
It was his play in the series versus Philadelphia that give me reason to believe Gerbe is ready to take the next step, and will subsequently carry his momentum into this season, and probably won't look back — for the rest of his career.
Project Gerbe's numbers from those final 18 games last year to a full 82-game season, and Gerbe's got himself a 30-goal season. Now I don't think Gerbe will reach 30 goals — although it's always a possibility — but I remain pretty convinced we can at the very least expect 20 from the young forward, especially if he plays significant ice time down the stretch again.
Gerbe is fast, tough and 5'6″. How are defenders supposed to stop a guy who's half a foot shorter than they are? If anything, he'll go right between their legs.
He's growing into a pretty big role for this Sabres team, and if he can play Nathan Gerbe hockey the entire season next year, there's no telling what this guy can do. 2011/12 Fearless Forecast: 23 goals 25 assists 48 points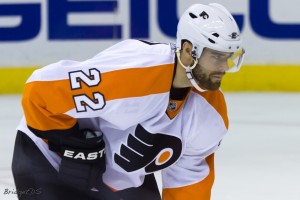 Christian Ehrhoff won't lead Sabres defensemen in points.
But Tyler Myers will.
In his rookie season in 2009, Myers amounted nearly 50 points, taking home Calder Trophy honors and frustrating the 11 teams who passed him up in the 2008 draft.
However, Myers too struggled out of the gates last season as it became apparent he missed the newly departed veteran Henrik Tallinder more than people had thought, running smack dab into a sophomore slump. But, like the majority of the Sabres, Myers was able to turn it around down the final stretch.
Myers parlayed a horrific start where he took a minus-11 rating into January and somehow managed to break even before the close of the season. He then continued his solid play into the playoffs where despite holding a minus-4 rating, contributed six points — second to only playoff-upstart Marc-Andre Gragnani — and helped the Sabres' penalty kill render Philly's potent power-play a non-factor throughout the series.
The signing of Ehrhoff and Regehr will undoubtedly help Miller out the most, but a good case could be made for Myers to benefit just as much from his new potential line-mates.  The signing of Ehrhoff, who has posted at least 40 points in each of his last three seasons, has led many to believe he will easily hold the defense corps' highest point total by years end, but Myers should give him a good run for his money.
Not to mention, Regehr is said to be one of Myers' childhood idols, and so you'd have to expect whether he's paired with Ehrhoff or Regehr, Myers should see a nice spike in production. To me, it isn't out of the realm of possibility Myers topples the 48 points he put up as a rookie and surpasses the 50-point mark, or more.
If Myers is able to continue his maturation process, he'll see more ice-time and plenty of time on the power-play. That should be enough to lead the Sabres defensemen in points, and could possibly even catapult him right into the Norris Trophy conversation. 2011/12 Fearless Forecast: 10 goals 49 assists 59 points +14
Luke Adam will play an essential role for the Sabres.
This will almost certainly be the prediction that will most leave you scratching your heads, but what you don't know yet is it is probably the most likely of these five to come true.
Last year's AHL Rookie of the Year, Luke Adam has a promising future as a Buffalo Sabre.
During July's development camp, Adam, along with fellow youngsters Tyler Ennis and Zack Kassian appeared as though they were men among boys, more than ready to take the next step and prove their worth in the NHL. His final fate will be determined in training camp, but all signs are pointing towards the Sabres naming Adam to their opening day roster.
Adam has a nice track record on the pro level thus far in his career, scoring 62 points in 57 games with the Portland Pirates last year, as well as 4 additional points in his 19 games with the Sabres.
Although his NHL experience is limited, Adam is a big-bodied forward who is very capable of playing center (especially in Lindy Ruff's system), an area the Sabres are obviously shallow in this season. After watching his play in the AHL, I believe the Sabres think he can step in as the third or fourth line pivot and help fill the void on the penalty-kill left by Tim Connolly.
If and when he finds himself in a Sabres sweater this season, it is my belief Adam will be counted on to eat up important minutes, especially if injuries begin to pile up. I wouldn't be surprised to see him chip in on the score card as well.
When it's all said and done, Adam could wind up being one of the unsung heroes of this hockey season. 2011/12 Fearless Forecast: 13 goals 19 assists 32 points +11
Ville Leino will surpass his career high in points.
To say the least, expectations are running high for Ville Leino now that he's Darcy Regier's $27-million man.
He'd better produce, they say. You don't pay a guy $4.5-million if you don't think he can play a key role on your team. Let's face it, while much of Buffalo is skeptical, the Sabres remain incredibly high on Leino. For god's sake, they passed up an opportunity to reel in Brad Richards and put their entire free agent stock into signing the budding Finnish star.
After coming off a career year with Philadelphia in which Leino put up 53 points alongside Danny Briere, he's got the Sabres (and my own) trust for this season. Was last season a product of substantial ice time spent alongside the former Sabres captain, or is Leino on the brink of NHL stardom?
Those questions will be answered this season.
I'll admit, I had my doubts when the Sabres announced they signed Leino on July 1, especially given the amount of money he would be making. But since then, I've grown to like the signing more and more each day. In fact, I'd be more inclined to say Leino is closer to becoming a star than he is a complete bust. Which has led me to think, could this be the year Leino finally takes the next step after teasing the NHL for all these years?
We know he'll be used at center, likely behind Derek Roy. As of right now, I would have to say Roy will be paired with Thomas Vanek out of the gates, but just think of Leino's potential if he finds himself between Vanek and Drew Stafford as Ruff begins to mix things up.
The reward could be huge.
Leino has incredible hands, even better vision and his stick-work, when at it's best, can sometimes be comparable to Pavel Datsyuk, making him the prototypical play-maker the Sabres will want between their goal scorers. To me, Leino's only downfall is his ability to win key face-offs as any center on a contending team must do.
In my opinion, Leino's true talent has yet to be seen and his potential is larger than anyone on the Sabres roster. If he reaches that potential in this new change of scenery, you can expect great things from Ville Leino. Career year? I say you can bank on it. 2011/12 Fearless Forecast: 26 goals 44 assists 70 points
Brandon Schlager is the Sabres correspondent for The Hockey Writers. You can reach him by email: brandon.schlager@yahoo.com or follow him on Twitter @THWGoldSchlager.