Ondrej Pavelec and Chris Mason. Familiar names in Hockey circles but a Thomas/Rask or Luongo/Schneider star duo? Doubtful. Pavelec is definitely a star of the future and Mason is a solid veteran but are they seen as a long-term tandem for the Jets future?
ONDREJ PAVELEC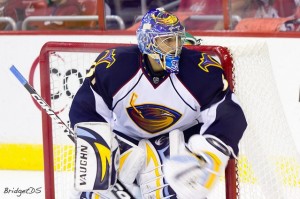 Standing at 6'3 and weighing around 220 (almost identical stats to Roberto Luongo), the 23-year-old Czech was drafted at 41st overall in the 2005 draft by the Atlanta Thrashers. His club prior to the entry draft was the Cape Breton Screaming Eagles in the Quebec Junior league where he played two seasons, enjoying a winning record both years with save percentages of 2.51 and 2.52.
Ondrej Pavelec spent time between the AHL and NHL in his first two professional seasons, playing a combined 19 games for the Thrashers in 07/8 and 08/09. His breakthrough came in 2009/2010 when he played as a backup to Johan Hedberg, contributing in 42 games. After Hedberg's departure to New Jersey before the 09/10 season, Pavelec was named starting goaltender for Atlanta and played in 58 games for the Thrashers that year. The total would have been more if not for the 8 games missed after the concussion incident where Pavelec fell flat on the ice and remained motionless for several minutes in a game against the Capitals on October 8, 2010. Later the collapse was attributed to a type of fainting causing him to hit his head on the ice.
Ondrej's statistics have steadily improved over the past three years, exactly what teams are looking for in a young netminder:
2008–09 Atlanta Thrashers – 12 games played – 3.6 GAA – 3 Wins – 0.880 Save PCT
2009–10 Atlanta Thrashers – 42 games played – 3.29 GAA – 14 Wins – 0.906 Save PCT
2010–11 Atlanta Thrashers – 58 games played – 2.73 GAA – 21 Wins – 0.914 Save PCT
Pavelec's contract expires at the end of the 2011/2012 season and his cap hit of $1.15 million will be certain to rise if he chooses to remain in Winnipeg, which he should as fans seem to like him and starting goaltender jobs are hard to come by especially for a young players. Depending on his performance this season, expect Pavelec to sign a long-term deal next summer keeping him at the MTS Centre as the number one option for a long period of time.
CHRIS MASON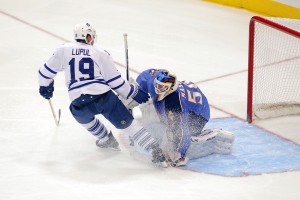 Mason's arrival in Atlanta was met with mixed reviews. Having played well for the majority of time for an under-performing St Louis team, Thrashers fans saw him as a 1b option, not necessarily a backup but more of a supporting role player to Pavelec, an experienced veteran that could be called upon when required. His first year in Atlanta could be considered a disappointment, posting a Goals Against Average over 3 (3.39) for the first time in his professional career in 33 games.
With Atlanta moving to Winnipeg in 2011/2012 and seeing the range of goaltenders available in free agency such as JS Giguere, Tomas Vukoun, Ilya Bryzgalov, Pascal Leclaire, Dwayne Roloson, Craig Anderson and Chris Osgood, many fans expected Mason to be traded. The fact that there were so many FA goaltenders available was a blessing for Mason, as his $2.1 million cap hit would have been difficult for the Jets to move.
Even though the 35-year-old has played in over 285 NHL games for 3 clubs, most fans do not expect him to be a long-term option for the Jets as it seems the best years may be behind him. With more goaltender options available at the end of the 2011/2012 season and some promising up-and-comming prospects such as Peter Mannino and Edward Pasquale in St John's, Mason will most likely be used more as a guide for aiding Pavelec's development next season.
Admirer of the NHL, Canucks and the Swiss NLA. Feel free to follow me on Twitter: @HockeyWest