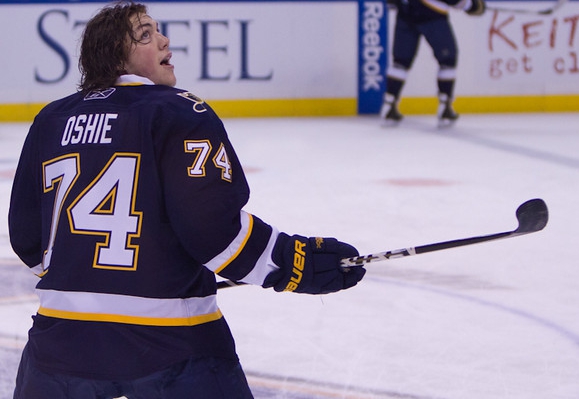 NHL.com recently ran an article placing T.J. Oshie in a group of seven skaters believed to be on the verge of a breakout season in 2011-12. Oshie was included with James van Riemsdyk (Philadelphia), Evander Kane (Winnepeg), Taylor Hall (Edmonton), Tyler Seguin (Boston), Kyle Okposo (New York Islanders) and Bobby Butler (Ottawa).
The article mentions that at Oshie's age (24) and the fact he just recently signed a one-year deal, there is plenty of incentive to bring his game to the next level as he hunts for a larger, longer contract. He also jumped out to a quick start in 2010-11, scoring nine points in the team's first eight games. Unfortunately, Oshie broke his ankle in November which sidelined his season and caused him to miss 31 games.
Does the NHL.com article hold water?
From the view in St. Louis, yes, assuming Oshie can prove he can stay healthy for an entire season. Injury aside, the 2010-11 season saw Oshie contribute 12 goals and 22 assists (34 points) in 49 games. The mind instantly wanders to what the young forward might have been capable of had he not missed time and not had to get back up to speed following his return. The talent is obviously there.
However, Oshie's style of play is a physical one. He is a two-way forward in every sense of the word and loves to light up opponents with huge, crushing hits. While this style is extremely beneficial to his team it also brings with it a natural risk of injury. Through his first three seasons skating in the NHL, Oshie has appeared in an average of 61 games. Granted the sample is extremely small it just indicates that he needs to stay healthy for the vast majority of 2011-12 if he hopes to receive a long-term deal from the Blues or from another team in the league.
Unfortunately, Oshie has a bit of a reputation when it comes to his actions off of the ice. The team suspended him last season after he failed to show up for practice. We never received any sort of official word as to why Oshie was absent but we can all safely guess what might have been the cause. Aside from having a season free of any sort of major injuries, Oshie needs to have a clean season off the ice if he really is going to be the breakout star so many think he can be.
Realistically there isn't any reason why Oshie can't be the next breakout performer. He has demonstrated repeatedly that his soft hands are capable of magic on the ice (see video below). He knows how to get to the scoring areas on the ice and more importantly, knows how to set up and capitalize on offensive opportunities. Speaking candidly, Oshie truly is a fun and exciting player to watch in ways that other gifted players around the league are not. His work ethic and desire to win the puck back mixed with some absolutely outrageous hits (second video) have made him a player you simply must follow each and every shift. Assuming he is healthy and keeps a clean record away from the game itself, expect to see Oshie discussed in greater detail as the season progresses.
Other Stories:
Will the St. Louis Blues make the playoffs?
Sale of the Blues starts to move forward
A social media and marketing professional, David is an NHL writer with a particular passion for the St. Louis Blues. His work has been featured on numerous hockey websites including SI and Comcast. He has made frequent appearances on Sirius XM to discuss fantasy hockey, and currently runs a St. Louis Blues site, FrozenNotes.com.