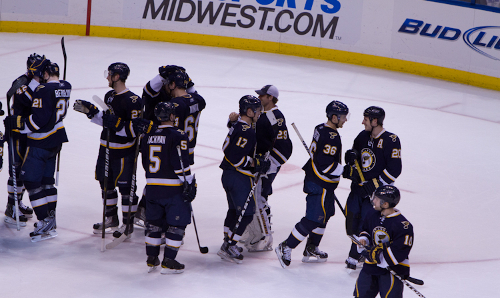 After months with very little to report aside from speculation and rumor, there's finally news for St. Louis fans eager to learn more about the team finding a new owner. Andy Strickland of TrueHockey.com reports that Dave Checketts has set August 22nd as the deadline for all potential buyers to have their formal offers in to the organization.
The announcement comes as welcome news considering there really hasn't been much said since Checketts and TowerBrook Capital Partners stated they were putting the team for sale back in March.
From the start it appeared that the current group was seeking an offer somewhere in the neighborhood of $200 million for their package of the St. Louis Blues, the Scottrade Center lease as well as the Peoria Rivermen – the team's AHL affiliate. That number might be a bit ambitious and might be the reason why we haven't heard of any formal offers to this point.
Still, the announcement of Checketts setting a date for formal offers is a positive one. Clearly, the current group believes they have enough serious interest to place a hard deadline. Strickland also mentions in his article that the Blues have sent out letters to nine different potential buyers / groups with instructions on how to submit their formal offer. It remains to be seen just how many groups will actually elect to send in a formal offer now that a deadline has been set.
Fans should be happy that the current group hasn't rushed out to sell to the first potential buyer and has instead taken their time and as a result allowed interest to build. Hopefully the best fit for the organization, and not just the group with the most money, is among the nine that are believed to be the final candidates.
Keep an eye on the news as this story is set to get much more interesting as we approach and eventually pass August 22nd.
Other Stories:
Talking Backups: Ben Bishop or Brian Elliott?
A social media and marketing professional, David is an NHL writer with a particular passion for the St. Louis Blues. His work has been featured on numerous hockey websites including SI and Comcast. He has made frequent appearances on Sirius XM to discuss fantasy hockey, and currently runs a St. Louis Blues site, FrozenNotes.com.