The St. Louis Blues and their fans are looking forward to the 2015-16 season, which begins in just a couple of short months, and many want to know what to expect from the boys in blue this season. That's why we sent out a fan poll to see what St. Louis Blues faithful are wondering about most throughout this long, hockey-less summer.
Below we'll discuss the most pressing team topics that you the fans are wondering about, and what you can realistically expect from the group come October.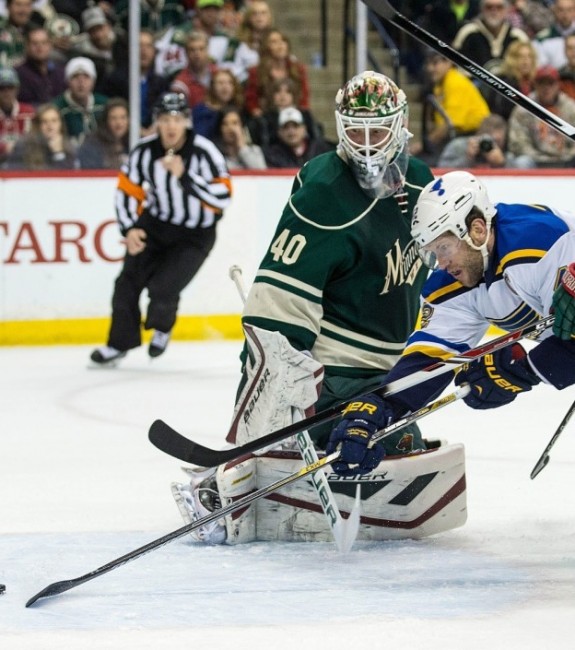 Addressing the Elephant in the Room: Playoffs
Most of the questions received were about the biggest glaring problem the Blues have faced since, well, inception. It's funny that this was the most asked question because it will be the one that takes the longest amount of time to unfold. Playoffs. What's going on with them, where will the Blues end up, and will St. Louis ever see a Stanley Cup winner?
Well, the short answer to the last piece of that question is yes, eventually. Eventually they are bound to solve the Cup puzzle and march down Market, but who knows when that will be? Sorry to dash anyone's dream about this coming season, but it won't likely be this year, barring big surprises from rookies like Robby Fabbri, or an even bigger breakout year for Dmitrij Jaskin. With every team in the Central seemingly gaining strength, and the Blues staying a little more stagnant than their division counterparts, it may be a scratch and claw your way to the postseason kind of year.
@pep30 Honestly, just playoff performance next year. I think we will get in, but will we go farther? #STLBlues

— Keith Oehlert (@kto7427) August 1, 2015
Usually when that is the case the Blues run out of gas early in the playoffs, and though they have a good chance at moving on from the first-round with this year's roster (as long as they continue to transition their playing style to a more fluid, situational attack), they won't likely make it past the second. Though this group of players may be ready to make an LA-esque run (eighth seed to Cup) this season, it will be an extremely difficult task to pull off, especially with the only key depth additions being Troy Brouwer and Kyle Brodziak, both who fail to eclipse the .30 PPG mark in the playoffs on their careers (24 & .29 respectively). That's a bit swayed, as they are bottom-six forwards, so obviously the offense will look to be driven by others, but outside of Paul Stastny, Alexander Steen, and Vladimir Tarasenko, the entire forward corps lacks scoring consistency in the playoffs where their divisional and conference rivals do not. Look for the team to be a mid to lower seed heading into the big dance, and exiting it in the second round (hopefully, to finally break the three-year trend).  
Scoring Questions
Many fans also thought scoring consistently throughout the regular season may be a problem that leaves the team on the outside looking in come April. In fact, it was the second most frequent topic among the questions we received. Will the scoring be balanced, will Tarasenko continue to be the Tara-snipe-show, and will any prospects break into the roster to aid the other stars?   Well to get the obvious question out of the way first: yes, Tarasenko will have another big year (as long as he stays healthy, of course), and he'll probably reach a new scoring height again this season. He's simply the embodiment of a next-level NHL talent, he's got all the skills, but more importantly he's got all the will to work on his craft and to never get complacent. That means he's always looking to get better and since he's a genuinely humble team player, he is the recipe for a true superstar.
Depth Will Help Blues Score Consistently
Moving past the Blues All-Star sniper leaves some question marks in consistency. Though the Blues will still have some really great depth this season, and plenty of options for "fill-ins" when necessary, the team may still experience some (small) offensive droughts this year. Depending on how well the top six mesh together, and how much line juggling Hitch decides is necessary, the team could see some lower scoring games. However, with combinations like the three different versions of the 'STL' line (Steen, Stastny, and Schwartz), and growing chemistry throughout the roster, expect the Blues to be near the top of the league in goals-per-game as they have been sporadically over the past few years. With the offensive defenseman (Shattenkirk, Lindbohm, and Pietrangelo, who should return to form) pushing the tempo and newcomers like the aforementioned Fabbri breaking onto the roster, the Blues should see plenty of neat passing/dangle-sniping goals, and should have more grit this season to get some dirty ones around the crease as well.  
@pep30 is Allen a #1 goalie and will Stastny get his scoring touch back playing on the 1 or 2 line

— Dean (@hawks35) July 31, 2015
If Whats on Second, Who's in Net?
All terrible puns aside, this is a serious question fans have wondered for a few seasons now. Whether it was Halak and Elliott or Elliott and Allen, fans want to know what to expect in the net. Well, nothing has changed here. Expect consistency game in and game out with a few trips on the struggle bus mixed in. This season should see Jake Allen claim the 1a job fairly quickly, and Elliott will pose as the 1b for now which is a similar set up to the 2011-12 Jennings Trophy winning tandem (Halak and Elliott) that set franchise records in multiple categories (highest SV%, lowest GAA, most shutouts in one season, and longest consecutive shutout streak). This means the Blues will continue to get quality goaltending that gives them a chance to win every game, and fans should have nothing to worry about as Allen continues to develop into a top-tier 'tender.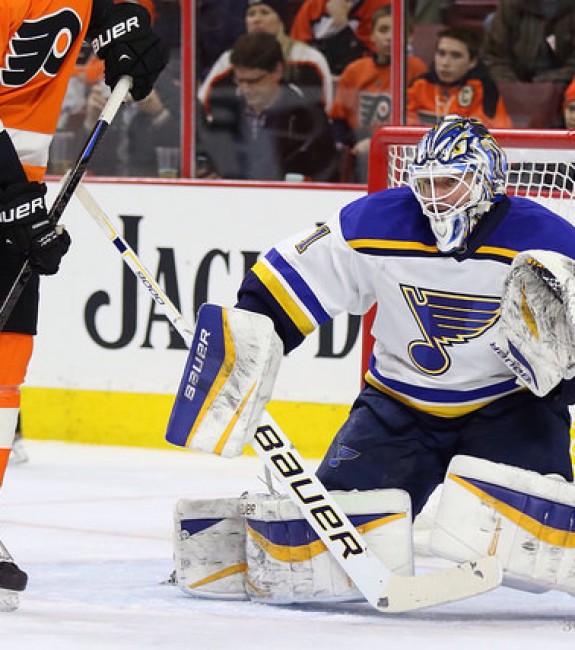 If Allen does end up hitting a snag, or can't drive the team deep into the playoffs (which he should be able to do considering his past track record in big-game situations), then we have Ville Husso, Jordan Binnington, and a slew of other top-notch prospects knocking on the door. Goaltending is not and will not be the problem for this club, nor was it an issue last season, so put the fluky playoff goals out of your mind and move on because the Blues goalies are legit (especially with Coach Jim Corsi behind the scene).
Trades
Our final group of fan questions were all centered on Blues who may be on the chopping block this season. Not surprisingly most of you wanted to know when Patrik Berglund was being shipped out. It could be soon, however given his relationship with management and the coaching staff, and his tough-to-move contract (now complete with a limited no-trade clause), he will be very hard to ship out, unless it's in a package deal, or he starts performing more consistently. If the latter is the case, he may very well stay a Blue regardless, so keep that in mind fans.
Another big name on the trade/release block is captain David Backes, whose contract is up at the end of the 2015-16 season. The gritty vet has come under fire recently for being more focused on physicality than on scoring to win important (playoff) games, which he will need to fix moving forward regardless of what team he's on (see 1:46 of the video above for a perfect example). However, it is amplified with the Blues because he's the captain and sets the tone/example for the rest of the team. While he would be a good trade piece throughout the season, if he can refocus his efforts to the scoreboard, he's still a great leader that can help the Blues. He will need to find a consistent scoring stride in the playoffs or it will be his time to move on this year, as it was Oshie's this past summer. Also, don't count out an extension for the hard-working power forward, as Doug Armstrong has reportedly already reached out to Backes' camp about extending his stay in St. Louis, which will leave fans wondering about the future core of the transitioning team if he does stick around.
The final name being tossed around the fan base is the previously mentioned Brian Elliott. Will he request a trade if he's not the true number one and sees another opportunity to be a starter elsewhere? This could go either way, and if Allen really does have the number one spot solidified by the trade deadline, you could see Elliott moved to boost the Blues in other areas. However, had he wanted to be traded after the way last season shook out, he probably would have done that by now. He seems to be focused on improving his game to get the 1a spot back, which only means good things for the club.
There you have it fans, your biggest questions for the 2015-16 St. Louis Blues season have been laid out, and possible scenarios have been addressed. Thanks so much to all who asked questions and if you have any others feel free to ask away on Twitter: @pep30.