It's been 256 days since the Boston Bruins took the ice, and that number will most likely come close to 270 by the time the puck is actually dropped on the 2013 NHL season. That's quite the offseason.
After a disappointing overtime loss to Joel Ward and the Washington Capitals last Spring, the Bruins enter this lockout-shortened campaign looking to regain the momentum they held for much of the 2011-2012 season coming off of their Stanley Cup victory in June of 2011.
While this NHL season may feature up to 50 games, the truth is that teams have already lost three and a half months of time they won't be able to replace. In a short season, early slumps are that much more toxic, as every game represents two points crucial to teams fighting for playoff contention right out of the gate.
While Boston may appear to be in a better position than many other teams around the league, the lockout has found ways to hurt them as well.
The Slow Starters
For all the talent on Boston's roster, it does have its fair share of slow starters. Milan Lucic and Nathan Horton may have 30 goal capabilities, but they have both been known for taking time to find their stride. Through the first 20 games of last season, Lucic had 16 points scored in 10 games, and Horton had 13 points in 8 games. None of these statistics tell the real story, which is one of pointless streaks, and stretches of maddening and inconsistent play.
While some Bruins players, particularly young gun Tyler Seguin, were able to keep their game sharp during the long layover, neither Horton nor Lucic decided to take their talents overseas during the last 4 months.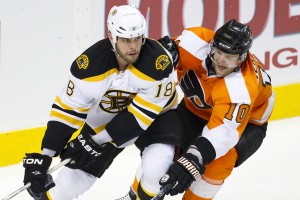 After suffering a now infamous concussion during Game 3 of the Stanley Cup Final against Vancouver, Nathan Horton was well on his way to a 30 goal season last year before suffering another concussion on January 22, 2012 which would sideline him for the rest of the season. That's two major concussions in under seven months, and now the 27 year old hasn't played a game in just under a year.
While Horton has been "healthy and ready to play" for months now, the adjustment to returning to the league may take a while to make Horton the effective scorer he can be when he's at the top of his game.
For Lucic, the reasons for staying stateside were more personal. The 24 year old winger was married to longtime girlfriend Brittany Carnegie in the offseason, and the two are expecting their first child this winter.
Be it the need for personal time with his family, or his trust in the powers that be to get a new collective bargaining agreement done, Lucic decided to stay home for the lockout; a decision that could affect his game coming out of the gate, which may not sit well with critics of his newly signed three year, $18 million contract (effective in 2013-2014).
Another young player who may take some time adjusting to the speed of the National Hockey League is 19-year old defenseman Dougie Hamilton. Through 32 games in the Ontario Hockey League, the first round draft choice has 41 points in 32 games. Last season, he totaled 72 points in 50 games. Bobby Orr version 2.0? Not quite, but Hamilton has all the makings of a defensive star, and this is slated to be his first season in the NHL.
Hamilton is expected to spend time paired with Zdeno Chara, which should make his transition appear smoother than it may actually be. There will be learning curves and road bumps along the way, and Boston surely wishes the young defenseman could have gotten those out of his system in November or December rather than February, March or April.
Primetime
Had Tim Thomas been a rational human being, which for the sake of this article we'll define as a person who doesn't decide to take a year long vacation at the height of their professional hockey career at age 38, Boston would have to be concerned with the fact that his best years and months would be passing the netminder quickly. (Then again, if Thomas was a rational human being, he may not have stuck with a journeyman career which saw him play many years overseas before getting his first NHL start at age 30, eventually capturing multiple Vezina trophies, a Conn Smythe Trophy, and a Stanley Cup. But anyway…) However, with Thomas's decision to take a season off most likely ending his career as a Bruin, general manager Peter Chiarelli had to shift his focus to the future, in goaltender Tuukka Rask.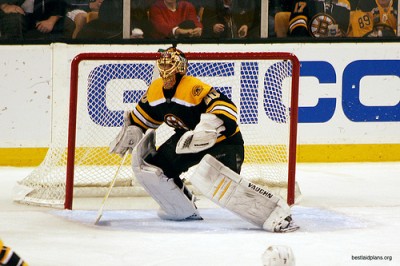 Rask was rewarded with a one-year, $3.5 million contract this offseason as the Bruins desperately needed him for the short term, but wanted to reassess his ability to play a full season before committing to a long term deal. Thanks to the lockout (with a nice assist from Jeremy Jacobs), the Bruins won't be granted that opportunity.
Rask will be the starter for Boston, but he won't be getting the full season workload he would have had the season started on time.
Again, for the short term, this is great news. Rask was phenomenal when he backstopped the Bruins in the roller coaster 2009-2010 season, only to run out of gas in May. With a shortened season and lighter workload, it's possible Rask could hit his stride just in time for the postseason. This could put management in an interesting position when it comes time to renegotiate his contract this summer.
Depending on his performance this spring, Boston could be forced to invest 4-6 years in a goaltender whose never started more than 45 games in a season.
Another key player whose prime is passing quickly is Zdeno Chara. At 35 years old, and as one of the best conditioned athletes in the NHL, Chara could easily play until he's over 40. But Boston management has to be happy that the lockout only lasted three months, so that they wouldn't have to burn a full year of slowly waning elite defensive talent in favor of a few extra cents in their split of hockey related revenue.
The lockout was a failure for everyone involved, the players, the owners, the league, and the fans. But with hockey returning in a couple of weeks, it's finally time to turn the page on one of the ugliest chapters of National Hockey League history and shift the spotlight to its rightful owner, the game of hockey itself.
Boston is out to prove that their 2011 Stanley Cup run was no fluke, and the group has had plenty of time to think about their early playoff exit last year.
Thankfully, it won't be too much longer before the black and gold hit the ice at TD Garden for the first time in a long time.
Follow Wayne on Twitter for hockey thoughts and other weirdness.