Follow Lukas on Twitter @LukasHardonk for more Leafs coverage.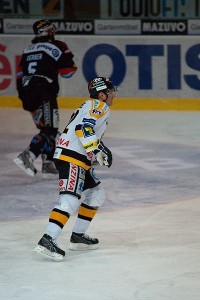 He was small, intelligent and some even described him as a warrior.
Some fans remember former Toronto Maple Leaf Robert Reichel as an under-achieving forward who never really reached his full potential. However, he was also a player that knew how to find the back of the net and make goalies look silly. However, that was never meant to be in Toronto, at least not exactly.
During his first four seasons in the National Hockey League, all with the Calgary Flames, Reichel had one 19-goal season, a 20-goal season and two 40-goal seasons. With that, many believed that he would become the league's next great goal scorer. He didn't, though, and instead went on to have just a good career in the NHL.
After playing in Germany for half of the 1994-1995 season while the NHL was locked out, Reichel returned to North America to play for the Flames. One year later, he went back to play for the Frankfurt Lions, where he scored 101 points in 46 games.
Once again, Reichel made the decision to come back to the NHL. However, he never really found his groove again, as he managed just 43 points in 70 games during the 1996-1997 season.
Reichel then spent three years with the New York Islanders, one with the Phoenix Coyotes, two more back in his home country of what was Czechoslovakia and three final seasons with the Maple Leafs.
During his time with the Maple Leafs, Reichel was known at times as a player who wasn't really interested in what was going on. He still managed to contribute 43 goals and 123 points in 228 games.
Some Leaf fans have great memories of Reichel, while others remember him for moments such as the one in the video below.
Perhaps what hockey fans remember Reichel for the most, though, is his international play.
As former team captain, Reichel won three World Championship gold medals as well as four World Championship bronze medals and one World Junior Championship bronze medal.
Maybe what he is most proud of, though, is the shootout goal that he scored against Team Canada in the semifinals of the 1998 Winter Olympic Games. It was the lone goal of that shootout, giving the Czech Republic the win over Canada and sending them to the gold medal game where they defeated Russia.
Since his time in the NHL and international hockey, Reichel has went on to have a successful career in the Czech Extraliga, the highest level of ice hockey in the Czech Republic.
That success includes a 47 points in 52 games during the 2006-2007 season, as well as 45 points in 47 games during the 2008-2009 season, not to mention impressive plus/minus ratings of plus-10 and plus-11.
He retired as a player after the 2009-2010 season and went on to coach his former team, HC Litvinov. He coached the team up until January 22, 2011. HC Litvinov finished with 23 wins in 2010-2011.
No matter what you thought of Reichel as a player, you have to admit that he was a solid contributor to each team that he played for. Still, no one can forget what could have been, especially after back-to-back 40-goal seasons in Calgary.
Twitter: @LukasHardonk | Email: lukas.hardonk@gmail.com | Lukas' archive
For every Leafs article on THW, follow @THW_MapleLeafs on Twitter.
Information from Greatest Hockey Legends was used in this article.