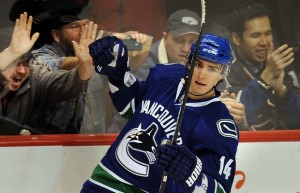 (This originally appeared on my website, causewaycrowd.com. I have since left that site and wanted more exposure for this piece, so here it is!)
After last year's postseason, one of the most hated men in Boston was Alexandre Burrows of the Vancouver Canucks. Burrows, of course, bit down on Patrice Bergeron during Game 1 of the finals and then proceeded to score the overtime game-winner in Game 2.
From that point on, Burrows drew the ire of not only fans, but also a number of Bruins' players. Milan Lucic and Mark Recchi taunted Burrows by sticking a finger near his mouth, daring him to bite, and a number of creative vendors sold a "Burrows Bites" shirt – or a variation thereof. For about three weeks to a month, Burrows was the most hated man in Boston. Even mentioning his name now usually invokes some type of biting joke and/or profane language.
But today, I would like to share a dirty little secret: Alex Burrows is actually a nice guy.
In late August, I had the pleasure of meeting Burrows at a 3-on-3 street hockey tournament in Drummondville, Quebec. The tournament, dubbed the "Burrows Cup" after Burrows, drew over 130 teams from across Canada, which competed in one of eight divisions – five for men and three for women.
Burrows was an accomplished street hockey player long before anyone knew who he was in the world of ice hockey.  He was named MVP in 2003 after leading Canada to the World Street and Ball Hockey Championship and was a key member of the 2005 title team (I was a member of the USA team Canada beat along the way). In addition, his club team, Montreal Red Lite, won seven straight Canadian National titles from 2000-2006 and was named Canada's greatest ball hockey player in a 2005 poll.
Burrows was in attendance at the tournament for most of the final day, during which teams competed in three outdoor rinks despite the rains, winds, and hail being thrown at them by the remnants of Hurricane Irene.  I myself witnessed Burrows in the rain, watching his former Red Lite team defeat my team, the Leominster (Mass.) Flyers to win the $17,000 prize that went to the winning team of the A Division.
After the game, Burrows posed for pictures with each team, and went out of his way to search out our team, talking to us about how well we played and how happy he was to see a team from near Boston competing in Quebec in a sport he loved and how skilled the game was despite the heavy rains and wind. He joked about us being Bruins' fans (though many of us on the team are primarily Detroit fans) and said playing in the Stanley Cup finals was an incredible thrill, adding he hoped his Canucks could win one more game this year.
Burrows stuck around for another few hours and continued talking with players and fans when our team departed for Massachusetts later that evening. He was cordial, funny, personable, and friendly – much to the chagrin of the many Bruins' fans who expected him to be a jerk. Most found they really liked him.
In all honesty, he is a hard guy to dislike. He worked his way from the ECHL to the AHL to the NHL despite not being the biggest guy, the fastest skater, or the best skills. He works hard every shift, draws penalties, and scores big goals. For Bruins' fans, he is Vancouver's Brad Marchand, who is beloved in Boston but hated everywhere else.
Though I can say I am still not a fan of the Canucks, I will hope for the best for Burrows in the 2011-12 season – and when he skates on the TD Garden ice in January 2012, he will have at least a few fans who know he is not the bad guy he has been made out to be. In fact, at least a few of us may even cheer when he inevitably scores a goal.
***
Feel free to leave comments. Follow me on Twitter @skendallhockey