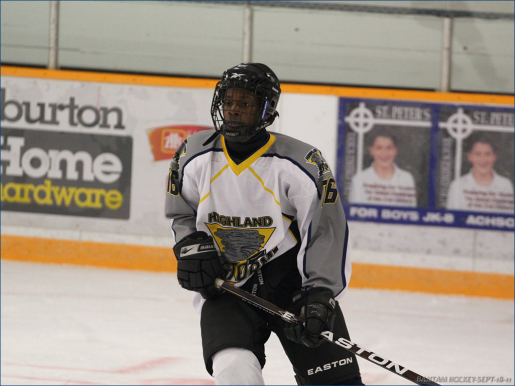 By Terrance Gavan – Sens Correspondent
Last weekend I walked into the rink inHaliburton,Ontario, camera in hand, on the way to my catbird perch at the far end of the arena. It's the one spot in the rink where there's no safety netting. And thus, one of only two prime spots in Dysart et al arena where you can take uncluttered pictures.
On the way I pushed my way through the standee section, and purposefully shoved my long lens into my managing editor's gut and made the usual comment about empty seats, crowded aisles and then asked how the hemorrhoids were. That's my ongoing nudge in the direction of the 159 spectators who choose to stand in everyone's way instead of you know, sitting in one of the 287 empty seats.
Stephen Patrick – the editor in question – is team manager for the Highland Storm Bantam A team in Haliburton.
His son Joseph plays for the Bantams and is a pretty prodigious talent. He joins old teammate and returning Triple A dynamo Curtis Ballantyne and Bantam A returnees Devon Upton and Owen Flood on a squad that could make some serious noise in the MPS League and Ontario play downs this season. Not that long ago the Haliburton Hurricane Matt Duchene – Colorado's number one pick in 2009 (third overall) – was plummeting down this same ice. Flood? He's the Hurricane's cousin. All of them have windy dreams spurred by a Hurricane.
Joseph Patrick included. The first four pitter-patter-shutter-cluster bursts I took that afternoon were of Joseph Patrick streaking down the left wing and scoring on a nicely placed drive which whizzed past the left ear of the Bancroft Jets' – they use the old Winnipeg Jets Logo – diminutive goaltender. He's quick.
Joseph also runs track and is the best young 100 and 200 meter sprinter in the Highlands.
That speed translates seamlessly to his Reebok skates. He's a blur.
Yes, young Joseph Patrick stands out on that Bantam A team.
But not only for all the reasons mentioned above.
Joseph Patrick is also black.
I know Joseph quite well and he's a goodun'. A real great kid. I taught him to snowboard up here at Sir Sam's Ski Area.
Funny anecdote here. I was a full time instructor at the time and I had Joseph on a split lesson which ran both sides of the lunch break.
Our Ski School Director, Jeff Bartlett – an elementary school teacher – was sorting out lessons after lunch and met me.
"Oh, Terry… who did you have on the split?" asked Jeff.
"I had Joseph Patrick," I smiled.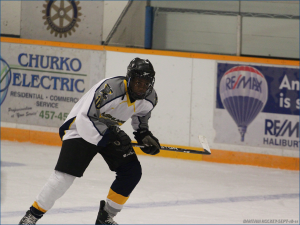 "Oh, which one is he?" asked Jeff. "Oh… wait… is he the young guy with the Blue Jacket? Oakley Goggles? Or is he the one with the Red Jacket and blue helmet?" Jeff was clearly having one of those politically correct moments.
"Joe's the black kid," I laughed. "He's like the only black kid on the hill today Jeffie."
I told that wee tidbit to Stephen and he related it to Joe later that evening. And they had a huge laugh. Jeff, by the way, also had a nice chuckle as I reminded him that it's okay. Joseph knows he's black. Joseph Patrick is a huge shredder, pops some rail, and he's a great boarder; and none of that's down to his first instructor.
And so what's this got to do with the price of a hot dog and a beer at Scotiabank Place?
Well, Wayne Simmonds – a black Philadelphia Flyer forward – had a banana thrown at him during anNHL exhibition game versus Detroit recently.
The contest was being played in London,Ontario. The banana came flying out of the stands as Simmonds was on his way to take a game-deciding penalty shot, after the overtime.
We've all been pasted by the replay, and the fallout, and the de rigueur shineola that erupted as a result of that classless bump and grind with inappropriate fan activity.
If I had my druthers, I'd go with what Tony Kornheiser on Pardon the Eruption had to say. Find the perpetrator and make sure that he/she isn't allowed entry to an NHL game. Ever. Now Tony Korn said life, but I'm a tree-hugging socialist, so I gotta' go with a reduced sentence. Five years.
PTI's Mike Wilbon said get a picture of "the jerk" then name him and shame him. In the press.
I'm actually good with Wilbon's hypothesis. And I'm not a big fan of desultory and arbitrary distributory justice or ad hominem replies to stupid people.
But, I think in this case Wilbon's predilection to press parity is a pretty nice recommendation. Because I'm personally deeply offended by the vituperative display of blatant racism. It irks me. Stupidity and crass indignities irk me. Racism and its ugly ramifications. Just tick me off.
And it's got nothing to do with Mr. Simmonds, who's a grown man with big – huge – shoulders. Simmonds is handling this incident quite well indeed. I mean for starters he buried the penalty shot. Skating around that banana.
And in the soul-sucking aftermath he has refused to reply in kind.
He's a classy young man.
Nope. Wayne Simmonds is fine. Will be fine. He's been the recipient of a lotta' love and support.
But I am worried about the fallout.
And I'm worried about Joseph Patrick and all the Joseph Patrick's playing hockey in Ontario, and Canada; and the United States for that matter.
I'm ticked, because I thought we were past all this. It is 2011. It's not 1911. And it's not 1944. Jackie Robinson pursued this nut with Branch Rickey back in 1946-47 with Montreal Royals and Brooklyn Dodgers.
Dammit. Today? I'm ashamed to be a Caucasian in Ontario.
And I went to a tanning salon on Saturday .
Because today? I wish that I wasn't quite so white.
And strangely? I'm hoping that some people in London will step up.
And if someone has a picture and a name of this gutless perpetrator?
Do the right thing.
Send it to someone.
Hell, send it to me.
Wilbon, of course is right. He's also black.
"Name 'em and shame 'em."
Close quote. Period.