The Washington Capitals, who went into this playoff series as one of the favorites to go on and win the Stanley Cup, now find themselves with their backs against the wall.
In Saturday's 6-2 loss to Pittsburgh, the Capitals had no firepower or momentum, and were in a state of panic, leading them to do something once thought impossible: pulling Braden Holtby in a playoff game. He allowed three goals on nine shots through the second period.
One of the biggest parts of the Capitals' playoff campaigns year after year is the goaltending. Braden Holtby, who holds the highest save percentage in playoff history, has not exactly looked like himself this postseason. Not only was he relieved of his duties in Game 2, but he had allowed 14 goals through the first four games of the first-round series against Toronto. Overall, he doesn't look like the Holtby we've come to know through the playoffs.
What's Happening?
Through eight playoff games this year, Holtby has gone 4-2-2, posting a .911 save mark and 2.62 GAA. These numbers are not only un-Holtby-like — they represent the worst numbers through Holtby's playoff career.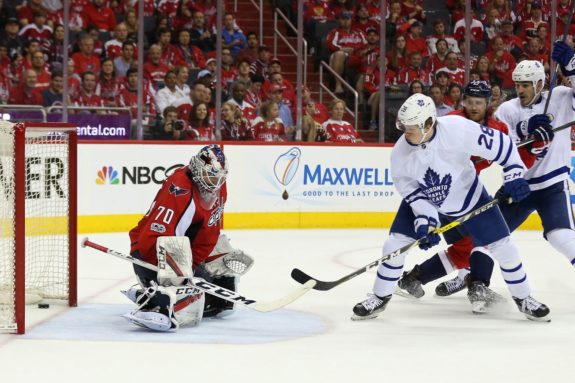 Head coach Barry Trotz commented on Holtby's performance following Game 2, saying that he wasn't "as sharp as he can be," and Holtby was also critical of himself, telling the Washington Post that he could have been better.
[miptheme_quote author="Braden Holtby" style="text-center"]Yeah, obviously, it's never where you want to be, but the playoffs are made of big moments. That third goal [in Game 2], that's a big moment. That's where your goalie needs to come up with a save, and I just didn't. Obviously, I was frustrated that I didn't do that.[/miptheme_quote]
This playoff season, Holtby is posting some of the worst numbers. He has the worst save percentage out of any of the remaining goaltenders in the playoffs. He also hasn't come up with big saves, nor has he stopped pucks that he should. By the same token, he doesn't look locked in, and he hasn't been as fast or acrobatic as he is capable of.
Why Doesn't Holtby Look Like Holtby?
It's unknown why Holtby is struggling so much at this point. Perhaps it is the pressure that the playoff brings, but saying that is a stretch. The 27-year-old goaltender works well under pressure, as we have seen throughout his career.
One shining example of this comes in 2012 when the Capitals found themselves with both starting goaltenders injured. They relied on a young Holtby to come up from Hershey and start in a tough playoff series against defending cup champions in the Boston Bruins.
However, the blame cannot be shouldered completely onto him. He has faced the third-most shot of any of the goalies still in the playoff race, and the defense has faltered and left him out to dry. They give the Penguins (and even gave the Maple Leafs) way too much time and space with the puck, and they have surrendered many opportunities that left Holtby out alone against the opposition.
For example, Sidney Crosby, who did significant damage against the Capitals in Game 1, had too much space and freedom against the Capitals, and he made them pay.
"We probably should stop giving up breakaways and two-on-ones and help him out a little bit," defenseman Brooks Orpik told the Post following the loss.
Offense is Also to Blame
When it comes to Holtby's performance and holding him accountable for the team's losses, the offense deserves some blame as well. Washington managed over three goals per game on average in the regular season. Through the playoffs, they have struggled to put up any goals, and because of that, they have lost games, been unable to recover or even the score or even take the lead. And due to their struggles, they put more on the shoulders of Holtby.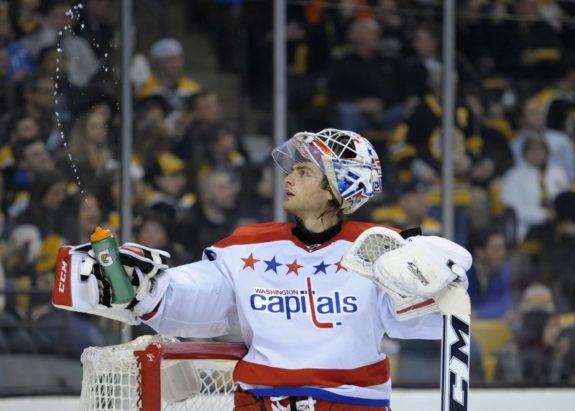 Through these playoffs, the Capitals managed to hit the five-goal mark one time, and have scored three goals in just two of eight games this postseason. Against Pittsburgh, they are struggling to find much against Marc-Andre Fleury, and they can't seem to make any kind of impact.
Not to mention, the power-play has not looked the strongest it can be. The Capitals are 6-for-22 on the man advantage through the playoffs so far. While six PPGs through eight games isn't the worst thing in the world, Washington is getting plenty of opportunities, and they cannot capitalize on all of them. This is a problem, as they have to score or get some goals to take that pressure off Holtby.
"Braden is our backbone," Trotz told NBC Sports. "He has been all year. We've got to find some goals for him, too. We can't just put it on Braden Holtby."
Washington held a players-only meeting following the Game 2 loss, and hopefully, whatever was said will ignite Washington's offense and give them momentum and push going into Game 3 on Monday.