When you lose five games in a row, it's usually not a single issue that's plaguing your team. The Carolina Hurricanes — who, in recent weeks, are looking more like tropical depressions — are no different. They have a culture of losing instilled upon them, and it's getting tougher and tougher to shake.
Fans are getting restless. It's been the same story under three different coaches and two different captains. With just one playoff appearance since the Cup win in 2005-06, any losing streak is met with a "here we go again" attitude. While the current streak exists early in the season, the 'Canes need to right the ship before another year is lost.
But what have been the problems this time?
Lack of Quality Goaltending Only the Beginning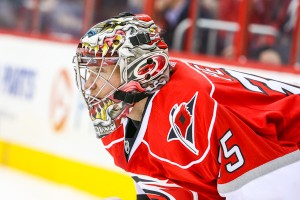 While it's easy to point to the injuries sustained by starting netminder Cam Ward and backup Anton Khudobin, the actual issue goes beyond that.
Though, numbers aside, Justin Peters hasn't played poorly when thrust into duty, his 4-16-1 record over the last two seasons speaks for itself. There appears to be little confidence in Peters, and the team is just waiting for next goal against to come. It happened Saturday night in Madison Square Garden.
"Obviously we need to score more for him and get a lead, but I think it's safe to say we didn't get the saves at the right time tonight," said Kirk Muller after the 5-1 loss. "We came out ready to go again in the third period, pushed, and just didn't get the timely saves."
That night, as has been the case in 11 of their first 14 games, the Hurricanes gave up the first goal. Their record is just 2-7-2 in those games.
"Little bit of a fragile team when giving up that first goal, which seems be a pattern. It kind of pushes you back on your heels a bit after that first goal."
In Peters' last ten starts, the 'Canes have given up the first goal every time, going 1-8-1. Trailing first more often than any team except the Buffalo Sabres (2-13-1) is tough on any goaltender, especially one who has yet to stick at the NHL level.
While Muller was pleased with his team's first period effort against the Rangers, they still trailed after one. It's as if they resign themselves to a loss when Peters gives up the first goal. Against the Chicago Blackhawks, Los Angeles Kings and  Washington Capitals, the 'Canes put together some impressive comebacks, but those were with different goaltenders in net.
Both Ward and Khudobin are still at least a week away. Neither have even been practicing, so expect to see a heavy dose of Peters over the next few games. Giving up the first goal — and then giving up — is a tend that cannot continue.
A Dearth of Scoring From Top to Bottom
When Peters has stepped up, keeping his team in the game, they haven't responded. In games against the Pittsburgh Penguins and Tampa Bay Lightning last week, he gave his club a chance to win. Going into the third period, neither opponent held more than a one goal lead. But the Hurricanes scored just once total in the two games, a 5-on-3 marker by Nathan Gerbe against Pittsburgh.
While the powerplay has improved a few percentage points, the five-on-five play has taken a nosedive. They're in the midst of a 197:20 scoreless streak at even-strength dating back to Andrej Sekara's third period goal against the Colorado Avalanche — four games ago.
"The system hasn't changed since we've been here. Goal scoring was never an issue. I think we just have to continue to bear down. We're getting opportunities, we just have to bury it."
But so far, few have. A year ago, Eric Staal, Jiri Tlusty and Alex Semin were all over 0.5 points per game at even strength, and Jordan Staal was just a hair under. This year, only Jeff Skinner is at the marker and no one else is even close. Skinner's absence cannot be overstated, but the truth is, too many players are off to slow starts. Eric Staal himself is on pace for just 47 points. His slow starts have become an all-too-common sight.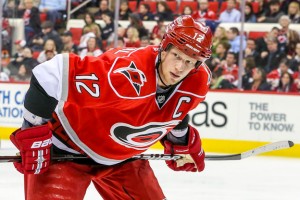 "I feel pressure every year. Nothing changes," Staal said with a thousand yard stare. "I've been here a long time and I want to be in the playoffs. Right now, in my position, I need to be chipping-in offensively, doing in a little more in the offensive zone. It's not going for me right now."
While not at a good enough clip, at least Eric has been scoring. The same cannot be said of younger brother Jordan, who's on pace for just 17 points. He's been thrust into a "shutdown" role, routinely getting the toughest assignments, and though he's excelled, he's not getting paid $6 million to be a defensive specialist. The goals and points have to come.
The Walking Wounded
It may sound like an cop out, but there's no way to overlook it — injuries are taking their toll. The list reads like a starting lineup: Skinner, Pitkanen, Ward, Gleason, Dvorak. Altogether, the Hurricanes have lost more games to injury than all but five teams. Their depth isn't what was once thought, and it's becoming very evident through the losing streak.
Even players that appear healthy may not be there quite yet. Tuomo Ruutu has been in the lineup for a few games but hasn't made much of a positive impact. He looks tentative and is easily pushed off the puck — not the same player we are used to seeing.
The solution to what ails Carolina may be as simple as waiting to get healthy. In an 82 game season, losing streaks and injuries are inevitable, but there is plenty of time to regroup. With the next five at home, the chance to turn it around will never be better. And if they don't, anger may turn to apathy.
"We've got a good group. We've got a good team. Once we get healthier, we'll be fine. But we have to stick with the program and stop this slide as soon as possible.