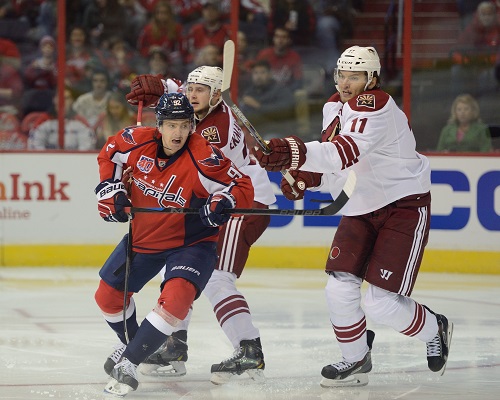 In June 2010, a teenage hockey player from Chelyabinsk, Russia was drafted 26th overall in the NHL Entry Draft by George McPhee and the Washington Capitals. Evgeny Kuznetsov was considered a fast skater with plenty of skill, but like all Russian-born players, he had to face the stigma of potentially not feeling comfortable on the shorter ice rinks of the NHL. Despite being ranked the third best European Skater by the NHL Central Scouting Bureau for 2010, plenty of less successful North American Skaters were drafted ahead of him; including Dylan McIlrath, Austin Watson and Derek Forbort.
With that, one team's trash is another team's treasure. Washington DC, was healing from one of the most scarring playoff exits in the city's history and they needed something to cheer themselves up. The 2011 World Junior Championships did not cure the hockey club's 40-year curse, but it was a nice temporary solution. In the gold medal game, a super prospect was born with not one, but three beautiful assists that led Russia to a comeback victory over Canada. The next year, a 20-year old Kuznetsov would go on to be named the best forward of the tournament at the 2012 World Juniors and would finish his International Junior career with 10 goals and 24 points in 14 tournament games.
The numbers also translated to how well he was playing against men in the KHL. From the fall of 2010 to the spring of 2013, Kuznetsov would score 55 goals and 117 points in 144 games. During that three year span, he was in the top twelve in points, goals and points per game amongst those that played over 100 KHL games. To put things in true perspective, Jori Lehtera was another highly touted KHLer during this time before he came back to St. Louis this season. Lehtera's per game rates were the same as Kuznetsov's, except Lehtera was doing this while being five years older.
Things would turn for the worst for Kuznetsov from here. Criticism and bad luck began to fly around him since the start of the 2013-14 season due to his undying loyalty to the Traktor Chelyabinsk team that developed him into a hockey player and a human being that caused him to delay the start to his Washington Capitals career until last Spring and his shoulder and lower body injuries that he picked up that KHL season and would only allow him to pick up eight goals and 21 points in 31 games. Capitals captain and fellow countrymen, Alex Ovechkin, went out of his way to criticize Kuznetsov for his decision making to stay in the KHL when fellow hockey players with his age and his talent would play in the NHL a year or two earlier. Personally, I had an issue with it too because more data is coming out that hockey players peak much earlier than we expect. When it came to the Capitals' window for a Stanley Cup, they couldn't afford to let Kuznetsov stay in the KHL any longer.
But what's done is done. Kuzya is finally in the NHL, but it hasn't been at the level where one of the best prospects in the NHL would be. After playing 86 career NHL games, Kuznetsov has only been able to record 11 goals and 38 points. Recent comparisons of this two-year stretch have him align with Colin Wilson, Chris Higgins and Andrew Cogliano, but to see the likes of Kevin Hayes, Johnny Gaudreau and Nikita Kucherov surpass him on the pecking order of great under-23 players in the NHL has to be disheartening.
Analytically, it hasn't gotten much better for Kuzya, as only Jason Chimera has had a lower even strength shot attempt for percentage at 48.1% since he made his debut on March 10th of last year. His linemates and lack of playing time certainly haven't helped him out over his short NHL career. During the end of the Adam Oates error era, the first six games of Barry Trotz's tenure and most of November, Kuznetsov was down on the fourth line and being forced to play a forecheck game that doesn't suit his style of play. Otherwise, he has usually been on the second line center role with Troy Brouwer and Marcus Johansson. Since the trade deadline, Curtis Glencross has come in for Johansson's place on the line.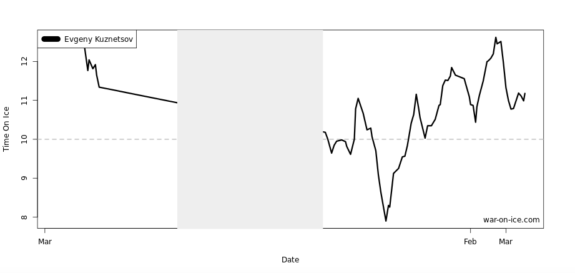 Despite playing on the second line, Trotz has really counted on the checking third line centered by Eric Fehr more than the more sheltered, but ideally more offensive second line. It has paid dividends for the Capitals as their shot attempts against rates have dropped significantly this season; one of the few positive signs that Washington has a chance for competing for a Stanley Cup.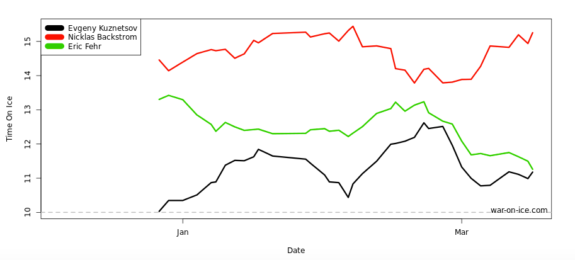 One thing preventing Trotz from using the second line more often is that Kuznetsov has not fit in well with his linemates. 53.3% of Troy Brouwer's on-ice shot attempts go in his favor while playing without Kuznetsov versus the 48.5% with him. Marcus Johansson doesn't paint a positive light either by having 54.8% of his shot attempts on his side without Kuzya versus the 49.1% with him. On the graph below, you will see that Johansson's puck possession is much improved in February as a result of playing with Ovechkin and Nicklas Backstrom on the top line. One positive sign could be that since the March 2nd trade deadline, Glencross has had 51.9% of his shot attempts go in his favor while playing with Kuzya, so maybe we are finally seeing some good chemistry happening along the second line.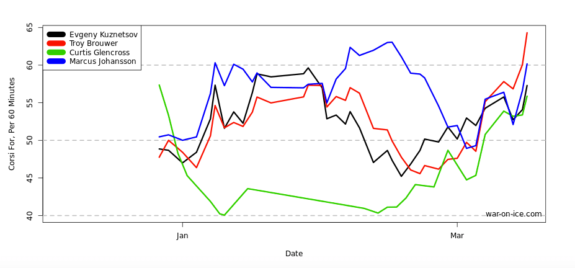 What needs to be added as a disclaimer is that Kuznetsov usually played on the left wing in his KHL or International career. Usually you would see a center compromise to play either wing, not the other way around. Especially at center, having a grasp at playing both ends of the rink is much more critical than playing on any of the wings. For Kuznetsov, there have been some definite growing pains.
While faceoff percentage is not an ideal way of looking at a centerman's success in driving offense, Craig Tabita has developed a statistic called net shots post-faceoff (or NSPF) to determine how much offense is generated after an offensive zone faceoff or how much offense is prevented after a defensive zone faceoff. Amongst all those that have taken over 100 faceoffs in the offensive zone, Kuznetsov is only better than Mikael Granlund and Andrew Shaw at generating offense from offensive zone faceoffs and both have winning percentages over 51 percent. Kuznetsov's is a shocking 37.5% in the offensive zone. On the defensive zone, his numbers are better; winning 53% of his draws and sitting in 87th out of 135 centerman in shot prevention after the draw amongst those taking over 100 faceoffs in the defensive zone.
So with more than one regular season's worth of NHL games under his belt, it is proven that Evgeny Kuznetsov has underachieved, but could and should be used in a different role in order to better his chances of living up to his full potential. Being slotted at center should be an indictment as to how poorly Washington has been able to find a suitable and long-term second line center since Sergei Federov left in 2009. Since then, the likes of Brendan Morrison, Johansson, Mike Ribeiro and Mikhail Grabovsky have been given that role with mixed results.
By scoring on nine of his 15 shootout attempts, there is proof that Kuznetsov is still a very skilled hockey player. The real question, is whether he is skilled in a Brad Boyes type of way or in a much more aggressive version, like World Junior teammate Vladimir Tarasenko. Kuznetsov will only turn 23 in May, but time can't be wasted anymore in waiting to see if he can become a better player.
Ben covers the Washington Capitals at the hockey writers. He has been blogging about the NHL since March 2013. Follow him @DCSportsDork