Blackhawks PR is alive and well, even if Patrick Kane is still down for the count, recovering from surgery on his broken clavicle.
The two faces of the franchise were in a Go Pro commercial (or, as the company behind Go Pro is terming them, episodes) that highlight the players' on-ice strengths and weaknesses.
And we've never missed Patrick Kane more.
Toews gives us some excellent defense against Kane — once he gets beaten well and good to the net a few times — snagging the puck once or twice and even interrupting Kane's stickhandling of the puck with a well-timed shot of his own puck.
Kane, on the other hand, goes to the net single-mindedly in this video.
He's a scoring machine, and he's not going to let us forget it. After approximately four weeks out on LTIR, and staring down possibly eight more, Kane is still in the top 11 NHL players in points overall and goals at 64 and 27 respectively. According to NHL.com he is number 11 in each category. Kane remains the leading goal-scorer for the Chicago Blackhawks. His next-closest teammate in goals is Jonathan Toews with 23 goals and 59 points.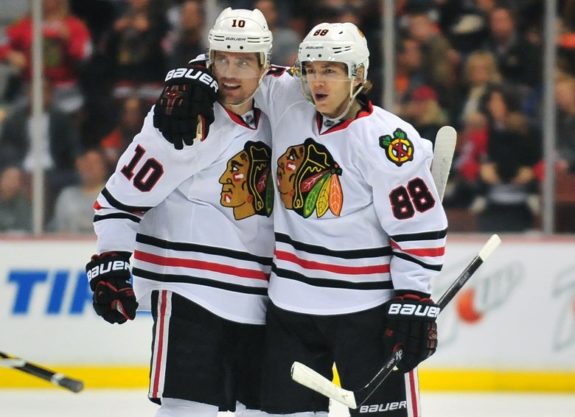 While it's unfair and wrong to flatly say the Blackhawks are built around Patrick Kane's style of play, they are, to a certain extent. Quenneville's system with the Blackhawks relies on having a sniper like Kane who is unfairly good at reading the opposition's plays. He's not the only scorer on their team, but he's one of the most prolific, year after year. Sharp is the other, racking up the most goals and points for the team in the regular season only last year, but this year has been in a bit of a points slump.
Kane being out has hurt the Hawks, though cap-wise it's done them a favor, giving them the opportunity to bring on players right at deadline using Kane's pro-rated cap hit while on LTIR.
The Blackhawks haven't been hurting too badly since Kane stumbled and caught himself on the boards. They're acquitting themselves well against opponents at 6-1-1 in games played since Kane was injured against the Panthers. If their newest additions to the team aren't bringing down the house in goals scored each night, Vermette and Timonen are slotting in well on their lines and contributing every night.
But Kane's presence and creative touch with the puck is certainly missed on the ice, if only for the clips of him yelling "showtime" and dangling the puck to hell and back. We're not thinking about the playoffs right now, because it would hurt too much.
While the GoPro episode 4 is a fun video for fans to watch on their lunch break and teenagers to try and emulate in their driveways, it's also a well-timed reminder that it will be a long time before Patrick Kane is back.