As the calendar creeps toward Aug. 15, Jimmy Vesey gives the hockey world one more possible playing destination: Chicago. According to his agent Peter Donatelli, the Blackhawks are on the short list of teams with mutual interest in the left winger. The 2016 Hobey Baker Award winner made some noise last March when he announced that instead of signing with the Nashville Predators, who drafted him 66th overall in 2012, he would pursue other options. In response, the Predators turned around and traded his rights to the Buffalo Sabres.
Though the possibility of Jack Eichel and Vesey playing together has Sabres fans drooling, he hasn't given any hints as to where he'll end up. Eichel and Vesey currently play on the same summer team in the Foxboro Pro League, and a Chicago scout was recently spotted at one of their games.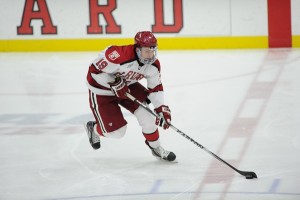 "Chicago will be a team we want to talk to on Aug. 15," Donatelli told The Athletic's Scott Powers. "Chicago will be on the list, but it shouldn't be read as they're ahead of anyone else."
"He really has no idea where he's going to be. It's going to be up to the teams to sell him," Donatelli continued. "Yes, [we have criteria], but we're interested in what the teams say rather than telling the teams what they have to say."
Vesey's junior season at Harvard saw him pick up 32-26-58 totals for the Crimson. Many thought he should bolt for the NHL, but he stayed for his senior year (and an Ivy League degree) and put up 24-22-46 totals in 33 games.
Though his team defeated Quinnipiac for the 2014-15 ECAC Tournament title, Vesey didn't get the chance to play for a powerhouse in college. That might change eventually if he signs with Boston, Toronto or Buffalo. But he'd step into a modern-day dynasty right away if he comes to the United Center.
If Vesey Signs with the 'Hawks, Who Does He Play With?
With Patrick Kane and Artem Anisimov?
Not very likely. Panarin's breakout year proved that the left wing slot on the top line is his to lose. The Russian Rookie of the Year had 77 points in 80 games. He and Kane developed chemistry on opposite wings, and their smooth skating and soft hands go too well together to break up just yet.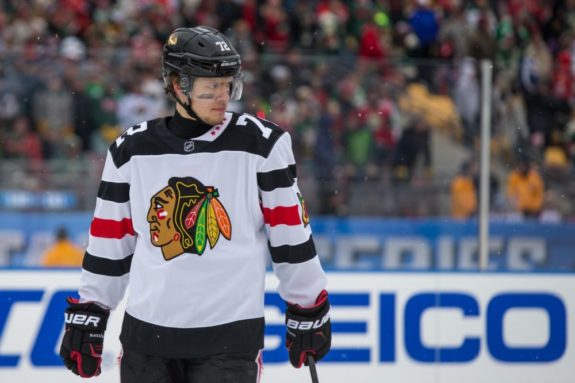 With Marian Hossa and Jonathan Toews?
This has the potential to be the best fit for Vesey. He'll need to adjust quickly, as Hossa and Toews have been teammates in Chicago for seven seasons already, but he'll add production potential that's higher than what's there now. Richard Panik had just six goals and two assists in 30 regular season games last year, and he only added three more assists in the playoffs. His passing ability and vision on the ice have the potential to make this an ideal fit.
On the To Be Determined Third Line?
Though nothing is set in stone, this is where newcomer Nick Schmaltz will likely play. The thought of having Vesey and Schmaltz – two of the most exciting players in college hockey in 2016 – on the same line is almost as enticing as thoughts of Vesey and Eichel playing together. The third line will likely be the least experienced. Ryan Hartman is a 21-year-old former first round pick by the Blackhawks in 2013. He's played in just eight NHL games in two seasons. Tanner Kero is an undrafted 24-year-old who also plays center. He has 17 NHL games under his belt, but not much to show for it. Point is, Joel Quenneville would be lucky to add another dynamic young forward to this line.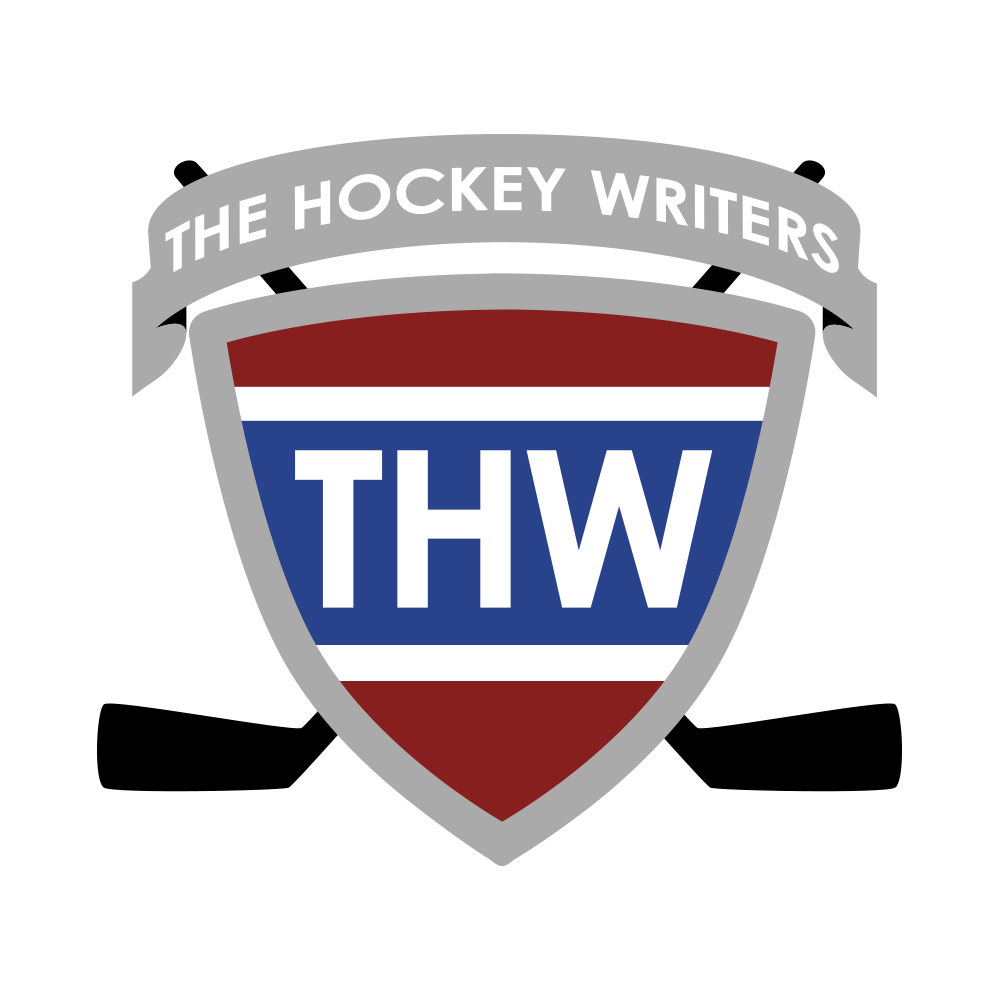 The Hockey Writers is:
1) A top-tier hockey media company delivering a top-notch, in-depth look at the NHL
2) A collective of some of the best hockey writers anywhere
3) A multimedia provider with daily podcasts and YouTube shows
4) Well-respected and widely-cited NHL prospect and draft resource